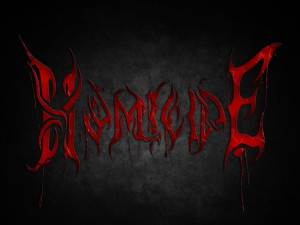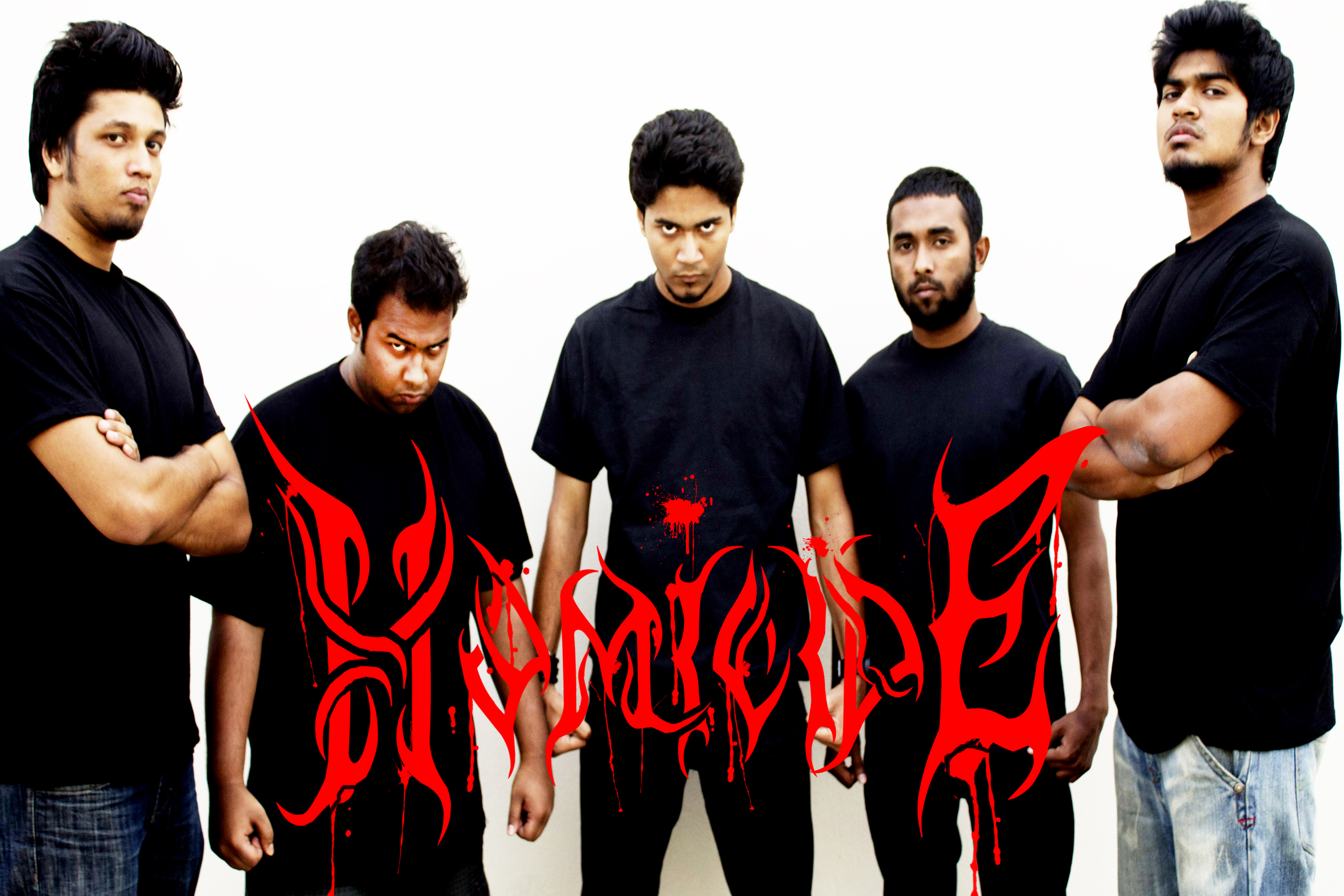 Summon: How did the band get started?
Jordison: The band started in December 2008, in the era were Brutal/Technical Death Metal was almost absent in Bangladeshi metal music scenario. Some of the band was there but listener always wanted to have some more extreme music. Concerts in that time Death Metal was not highlighted. So in that situation three musicians came forward Leon on riff guitar, Istiaque on Vocals and Anas on bass guitar, Homicide always had trouble with drummers because they couldn't full fill our requirements. At the end of 2010 we found our new drummer Mim (Jordison) who can play some fucking technical stuff. To move forward Homicide had decided to have a solo guitarist to make the sound more technical. Showmik joined the band and Homicide move forward with a new level. Now this is not a Band like you are thinking we are the fucking Blood Brother family.
Summon: What kind of music do you play?
Jordison: From the beginning Homicide always had the similar taste of music. Brutal/Technical Death Metal was and will be the only preferred genre for us. We never want our genre to be manipulated with other genres.
Summon: How has the fan response been?
Jordison: We think for Homicide fans are like clouds and we are the lightning. Fans are our inspiration to stand at this level of Music. They always with us and be our side in good times or even in hard situation.
Summon: Where did the band name come from?
Jordison: As we are doing some Extreme Metal music we looked for some good names that can tie up our lyrical theme. But we didn't look for a name that can break your jaw. So we came up with a name that can easily communicate and represent our brutal lyrical image.
Summon: Introduce the band members and what they do in the band.
Jordison: Leon: Riff guitarist; highly influenced by Nile and Cannibal Corpse, Started playing guitar at the age of 15. Istiaque: Vocalist; influenced by Nile, Psycroptic, Origin, Cannibal corpse, Suffocation, Severe Torture, Behemoth, Arsis, Necrophagist, Vital Remains……This page will be flooded with my influence and from local bands Severe Dementia, Satanik. Started with thrash metals and later on decided to go for something more extreme and turn out as a Death Metal Vocalist. Anas: Bass Guitarist; Inspired by my elder brother. Started playing guitar when I was 13 years old, I have a dream to take Bangladeshi Music In a different level. Influences- Dream Theater, Iron Maiden, Nile, Origin, Cannibal Corpse, Autopsy, Decapitated. Mim (Jordison): Drummer; I started playing drums when I was 9 years and I was a percussion drummer In my school. Later on I was highly influenced by Slipknot's Joey Jordison. Then I decided to Play extreme metal music before that I had explored almost all genres. Nile's George kollias is one of my influences in music. Showmik: lead Guitarist; I started playing guitar when I was 16. From the beginning I was highly influenced by Psycroptic. I liked playing off notes and complex time signature riffs. When I was 19, I decided to shift my interest in playing solos. I am basically die hard technical death fan and my influences are: Death , Cannibal Corpse , Arsis , Psycroptic, Vital remains, Suffocation, Nile, Behemoth!!. Got huge influence from some local bands like : Severe Dementia , Chromatic Massacre etc. BAND MANAGER: Imtiaz Salim Tawkir.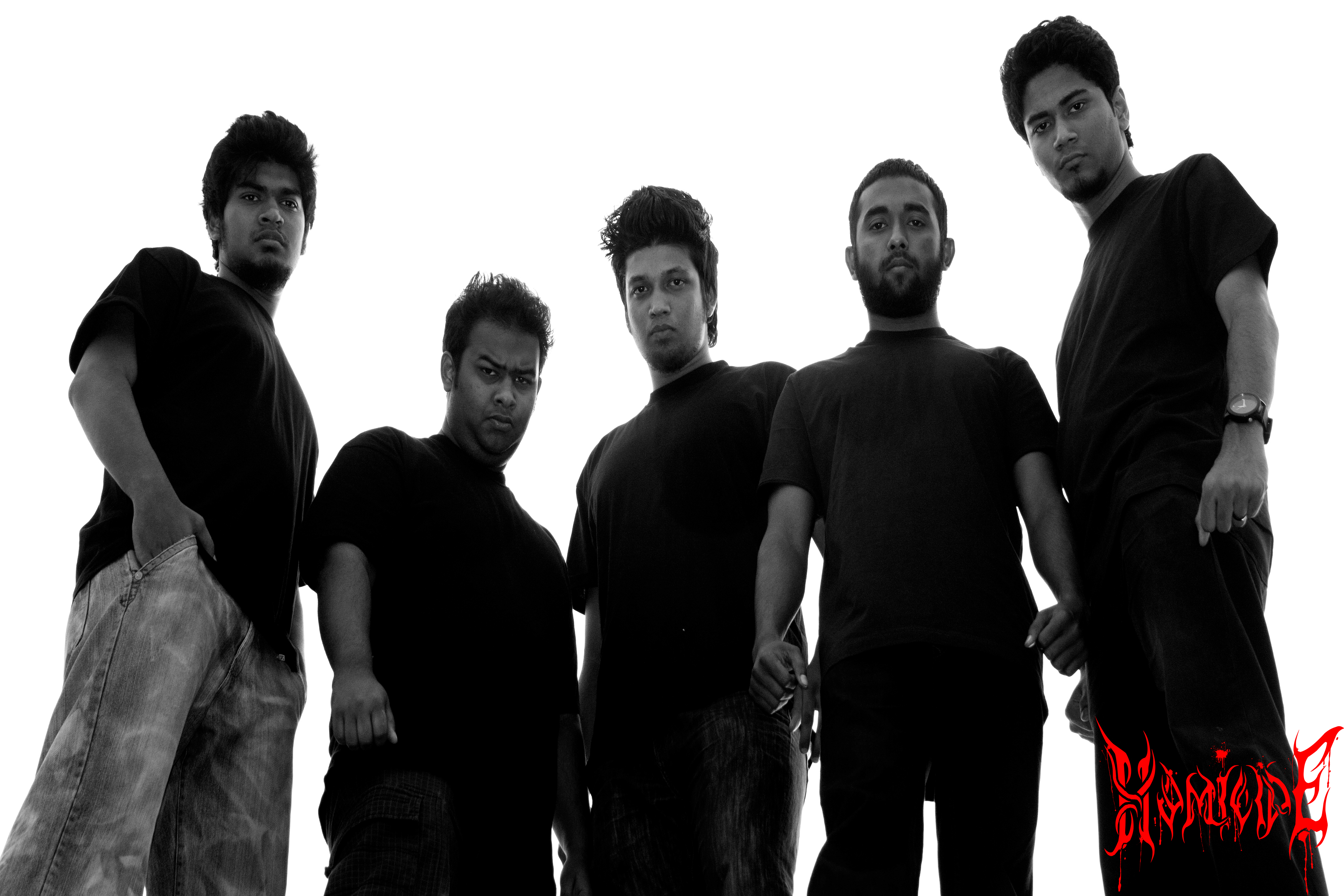 Summon: Who writes the music? Lyrics?
Jordison: Usually we compose songs with the contribution of all the members. And most of the lyrics are written by our vocalist Istiaque.
Summon: And where do the lyric ideas come from?
Jordison: Violence, Torture, Suicide, Rage, Social disorder, Domination, Death, Gore, Darkness, Historical war
Summon: What is your view in Satanism and Occultism?
Jordison: Death metal is not all about Satanism. For those who are doing Satanism and relating it with music it's completely there point of view and we are not going to argue with that. They have the freedom to speak out what they believe that's why they are metal heads.
Summon: How many albums/CD have you released?
Jordison: We are working on it.
Summon: Tell me about some the songs on the latest CD?
Jordison: No CD released yet.
Summon: Do you have any side projects?
Jordison: No HOMICIDE is committed band we don't believe in playing in different band at the same time.
Summon: Who are some of your musical influences?
Jordison: Cannibal Corpse, Nile, Vital Remains, Hate Eternal, Hate, Suffocation, Necrophagist ,Death, Morbid Angel, Deicide, Behemoth, Psycroptic, Dying Fetus, Quo Vadis, Origin, Severe Torture
Summon: What is the band like when you play live?
Jordison: BEAST and that's the fuckin' answer.
Summon: Have you guys ever played in another country?
Jordison: Not Yet.
Summon: How big of crowd shows up at shows usually?
Jordison: Around 300-400.
Summon: How is the crowd response when you play?
Jordison: Fuckin' Brutal.
Summon: What do you think of the US Black Metal/Death Metal scene?
Jordison: United States got a lot of talented musicians. Now we are thinking to call some of the well known bands In Bangladesh For some kick ass gig in future.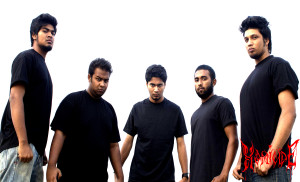 Summon: What do you think of the Overseas scenes?
Jordison: Well now a day's Death metal bands are spreading frequently and most importantly we heard a lot of songs from bands that we don't even know about their origin. So it's growing each and every day.
Summon: What does the future hold for the band??
Jordison: We want to lift HOMICIDE at that stage where we can represent Bangladesh. We are working hard on our first EP and we will take this insane music in that level where we will be the myth for our next generation. Hailzzzzz
Contact them at:
HOMICIDE: indreth@gmail.com
Website: http://www.reverbnation.com/homicide666
Face book: https://www.facebook.com/pages/HOMICIDE/196549977088679