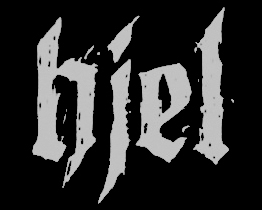 Summon: How did the band get started?
Raureif:  In 2012 I was being asked by Anagnorisis to start a black metal project called Wolfseibe. After material were written he didn't have time to proceed, so I took some songs with me and started Hjel on my own. Later I found support in Munin for the vocal duties.
Summon: What kind of music do you play?
Raureif: I would describe it as a mixture of traditional Norwegian black metal with influences of the German post black metal scene. There are also some atmospherical elements, which naturally appear during the songwriting process.
Summon: How has the fan response been?
Raureif:  After releasing our debut EP 'Gedanken aus dem Grab' there indeed have been some euphorical responses, even a few labels asked us whether we would work with them. One of them I chose to work with, it should be set up soon.
Summon: Where did the band name come from?
Raureif: Hjel came to my mind as an alternative to the word 'Hel', which means hell in Germanic mythology, just giving it a different, smoother sound. I later found out that it is similar to a Norwegian word for death, which made it very fitting indeed. But actually, it's only onomatopoeic.
Summon: Introduce the band members and what they do in the band.
Raureif:  Well there is at first me on guitars and bass and then Munin for the vocals. Anagnorisis programmed drums for the first EP but his seat is now vacant. Last but not least a friend of mine, Szallejh, helped out with some female vocals and will probably also do on further releases.
Summon: Who writes the music? Lyrics?
Raureif:  To now it has all been in my hand and most of the writing will also remain there. We will see how the songwriting process develops now and what Munin can bring in to it, especially in the lyrics department.
Summon: And where do the lyric ideas come from?
Raureif:  My mind at midnight.
Summon: What is your view in Satanism and Occultism?
Raureif:  I find it interesting as an opposing force to Christianity and other religions, and I think it has had a great time during the medieval ages, but I do not believe in any entities other than what I see.
Summon: Tell me about some the songs on the latest CD?
Raureif:  There are five songs on the EP, including an intro and an instrumental track. The intro contains one of my favorite lyrics spoken by Szallejh, then comes the opener 'Leichenmädchen', which is basically the first song that had been written by me for Hjel. 'Schneefall' starts of with a Darkthronish riff but later continues with some quite unusual elements which has been called black'n'roll by some who have heard it. I don't know what to think of that, for I wrote that song in a single day and it all came naturally. After the instrumental track which carries a huge atmosphere comes the last one, featuring piano, acoustic guitars and shit like that. I'd call it the Burzum side of the EP.
Summon: Who are some of your musical influences?
Raureif:  Aside from the above mentioned bands, mainly Taake and Gorgoroth for the Norwegian parts and Der Weg Einer Fahrenheit and Heretoir from the German scene.
Summon: What do you think of the US Black Metal/Death Metal scene?
Raureif:  Not too much I must admit, but speaking of death metal I'd like to recommend a great and way too much underrated band from the death/doom scene. It's name is In Ruins and they released one of my all time favorite albums in 1996, called 'Four Seasons Of Grey'.
Summon: What do you think of the Overseas scenes?
Raureif:  Aside from Europe I also like some bands from South America and South Africa, as well as a few from the Middle East. Diversity is an important point in metal.
Summon: What are some of new favorite black metal/death metal bands?
Raureif:  Mainly bands from the newer post black metal scene, besides the above mentioned also Thränenkind, who released one of the best demos to date in 2008. Then there's Wildernessking from South Africa and So Much For Nothing from Norway, too. But if I had too mention them all… no that would be too many.
Summon: When do you guys plan on writing any new material?
Raureif:  I am already into the songwriting process for the next release, at the moment I write some riffs and gather existing ones to songs. I'd definitely say there's some Bathory influence now, but we will see when the songs are finished. Most probably one or two older songs from the Wolfseibe era will be used, too.
Summon: What does the future hold for the band??
Raureif:  It looks like we're getting our current EP distributed soon by a professional label and then… well, it all depends on the music and sound and how it develops, that's the essence and the future.
Contact them at:
https://www.facebook.com/hjelofficial
http://www.youtube.com/user/hjelofficial