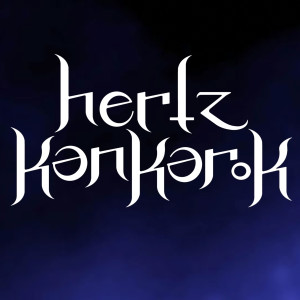 Summon: How did the band get started?
Hertz Kankarok: It simply started from a need. Hertz Kankarok is the nickname I have used in the past while I was involved as a singer/lyricist in other bands: Anatomic (atomic black metal), with Frank Tudisco; Neonerves (technical thrash metal), with Dario Laletta and Andrea Spina. When Neonerves disbanded, around 2008, I started to work alone on many riffs and ideas I had been collecting in the previous years. It was only at the end of 2o12 that I realized the best solution was not searching for a new band, but starting out a solo project. Since I'm a music illiterate and not able to play any instrument, I needed somebody to record, arrange and produce my songs. Here it is when my close friend Dario Laletta got into this project: I asked him if he was interested and willing to work on Hertz Kankarok's first EP, he agreed and… Here we are!
Summon: What kind of music do you play?
Hertz Kankarok: I chose as a label avant-garde Gothic metal, but really, for us it's so hard to label ourselves… I think each song has a strong personality and all my influences somehow appear in our music. There are many sides to what we play: a raw, core, thrash/death side; a more theatrical and goth side; a more avant-garde, progressive and experimental side. I love goth and horror music and I wanted to sound as dark as I could. Who cares about labels? Music has no boundaries.
Summon: How has the fan response been?
Hertz Kankarok: Our first EP, Livores, was released on the 31st of October 2015 through Bandcamp. It's so short a time span. We are an absolutely unknown project and we have no fan base yet, he he he!
Summon: Where did the band name come from?
Hertz Kankarok: Hertz Kankarok is my nickname. Of course there are reasons behind it, but they are not that important to be shared. I mostly like the way it sounds.
Summon: Introduce the band members and what they do in the band.
Hertz Kankarok: Hertz Kankarok is more a solo project than a proper band. We are only two people, Dario and me. I write on the computer the basic structures for the songs, let's say the bone. I also write the lyrics, besides recording the vocals. When the structures are ready Dario starts to work on them, adding tissues and muscles, turning them into real music. He arranges and records bass and guitars, he programs drums and synths and he works on the mix… Believe me, this guy is a fucking genius and his musical talent can hardly find a peer! That's it at the moment, but in the future we will try to get a full line-up for playing live.
Summon: Who writes the music? Lyrics?
Hertz Kankarok: At first I write the songs alone, moving from single riffs, melodies or ideas and building up upon them. While a song is growing I start thinking about the lyrics and topics that might fit its style and character. When I feel that the basic structure for the song is ready (all the riffs, passages, bridges and so on) I pass it to Dario, who starts working on it. Of course he is not simply an arranger, he is definitely part of the project and his contribution is crucial for the results. He develops my ideas and also comes up with new ones, turning base metal into gold like an alchemist would do. I'm really thankful for the great job he did on Livores!
Summon: And where do the lyric ideas come from?
Hertz Kankarok: Many sources, really. But mostly books and other music. All artists create art upon the art they learned to love and grew up on, I suppose. What really matters is the way we combine our influences. All my lyrics are born from multiple sources, not only one: for example, "Our Will Injection" talks about the deep relationship between music and magic on one hand, between magic and will on the other, and it was inspired by authors commonly quoted in metal music, such as Aleister Crowley and Friedrich Nietzsche, but also by a great essay written by Marius Schneider, a German ethnomusicologist.
Summon: What is your view in Satanism and Occultism?
Hertz Kankarok: I've always been fascinated by Satanism and the occult, but mostly on an aesthetical level. I've never seriously got into occultism. Let's say that I'm a pretty rational guy, although I knowledge the limits of rationality. Anyway I think art, poetry, music have a lot in common with occultism and magic: instinct, rite, creativity, hidden knowledge, secret languages and forces… I'm an atheist and I don't believe in any god or divinity. Satan, for me, is the symbol of a decadent-aesthetic choice I made when I was really young. In a way, I chose not to be as other people are. "Occvlta Plaga Inferorvm" talks about it, how I got infected by the dark side of music and art, how I became who I am.
Summon: How many albums/CD's have you released?
Hertz Kankarok: Livores is our first EP, the only one to date.
Summon: Tell me about some the songs on the latest CD?
Hertz Kankarok: "We Are the Ghosts" is the only song I have not mentioned yet. It's kind of a philosophic song about the meaning of time and space, but it's also inspired by ghost stories, especially the ones written by Henry James.
Summon: Do you have any side projects?
Hertz Kankarok: Well, I recently started a weird one with a couple of friends, but at the moment it is kind of top secret, ha ha ha! I'd say it's something between stoner and death metal. Dario is playing in a rock fusion band together with a great guitar player and friend of us, Fabrizio Licciardello. They're composing crazy music with weird time signatures, weird scales… I simply love what they're doing! Besides, Dario works recording and arranging stuff at SiNe Studios in Acireale, our home city in Sicily.
Summon: Who are some of your musical influences? Which current bands?
Hertz Kankarok: I must say I have been strongly influenced by the extreme metal of the 90s, especially the European scene. Livores is meant to be a homage to all the bands I grew up with. Just to name a few: Moonspell, Tiamat, Meshuggah, Sepultura, Morbid Angel, Type O Negative, Samael, Celtic Frost, Katatonia, Arcturus, Aborym, Emperor, Satyricon, Slayer… Dario loves all these bands as well: I would say we have a pretty similar background and similar tastes in music. However, I always try to listen to different genres. I love stuff like Mr. Bungle, John Zorn, Secret Chiefs 3, Zu, Ulver, Danny Elfman, but also Nick Cave, Massive Attack, King Crimson, Alfred Schnittke or Radiohead. Lot of different stuff and too many influences, really.
Summon: What is the band like when you play live? Have you guys ever played in another country?
How big of crowd shows up at shows usually? How is the crowd response when you play?
Hertz Kankarok: At the moment Hertz Kankarok is only a studio project. It is not a choice, we are kind of forced not to play live because we don't have a full line-up yet. Moreover, I'm living in Lisbon, Portugal, while Dario lives in Sicily, Italy… Right now I'm more focused on writing and recording new stuff, but I do want to bring Hertz Kankarok on stage. It's only a question of time and will.
Summon: What do you think of the US Black Metal/Death Metal scene?
Hertz Kankarok: I grew up in the 90s and at that time American death metal was at its best! I fucking love Obituary, Morbid Angel, Death, Cannibal Corpse, Deicide, Suffocation and so on. When it comes to black metal the only American band that comes up to my mind is Absu. The USA have always been really influential for rock and metal music, there's no doubt about it, though I think the 80s and 90s were more interesting from my perspective. The underground had more to say. I also have to admit I don't know that well today's American extreme metal scene, though.
Summon: What do you think of the Overseas scenes?
Hertz Kankarok: I'm definitely more into European extreme metal. I think it's simply because I live on this side of the Atlantic, he he he! But then again, I must confess I prefer stuff from the 90s and 2000s. That's why it was my generation's sound, I guess, but it's undeniable bands were making more experimental music, contaminating extreme metal with different genres, each band with a different sound and style… Good old times, ha ha ha!
Summon: What are some of new favorite black metal/death metal bands?
Hertz Kankarok: I'm not sure I know that many new bands… A couple of relatively new death metal bands I like are Vastum and The Faceless from the USA, and Hours of Penance from Italy. In the black metal field I would mention Deathspell Omega and Aosoth from France, and Darkspace from Switzerland. Sorry for not being so… up to date!
Summon: When do you guys plan on writing any new material?
Hertz Kankarok: I'm already writing new material, a bunch of songs are almost ready. At this stage Dario has not yet been involved, but we will hopefully start to work together at the beginning of 2016. It took us almost three fucking years to record Livores, I do want to go faster this time and to have a new EP or a a full-length out as soon as I can.
Summon: What does the future hold for the band??
Hertz Kankarok: We have no specific goals. Making music is a need for us, something we can't live without. For sure we will go on writing and recording new songs and we will try to get some more visibility, some reviews and interviews here and there. I know our music is kind of weird and maybe complicated to get in, but I hope we will find few people who can appreciate and like it. We thank you very much for the time you gave us, Altara Blakthorne and Blackened Horde Zine! "Music is what we are. Here a destiny starts".
Contact them at:
https://hertzkankarok.bandcamp.com
https://www.facebook.com/hertzkankarokofficial