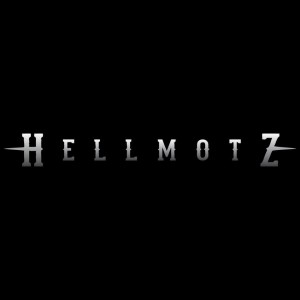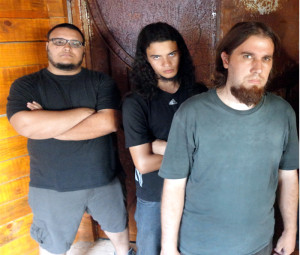 Summon: How did the band get started?
Hélio: Well Hellmotz was formed from the ashes of my previous band, called Steelsoul, which was sort of technical thrash it lasted from mid 2006 until…I believe it was 2008. Then again on 2009 I tried to reform Steelsoul, calling Ronnie to the band, among other musicians, but when everything went south we decided to stop, dismiss everybody, and then start a whole concept again. Since Ronnie was, and still is, a country and Southern Rock enthusiast, we decided to include this element on our new project. I know the guy for a long time, and we get along very well, and since from the beginning he has been a great bandmate. So at first the band was only me and Ronnie, so we had to find a guitar and bass player. Neither of the musicians who previously was on Steelsoul was good enough, – 'cause they lacked commitment and professional seriousness – so the hard task of forming a band was just beginning. At first we thought of a friend of Ronnie and I, but then we dismissed him after found our first guitar player, the one who recorded the demo actually, called Gabriel Nogueira who was invited as bass player to the band, but after we saw him playing guitar we dropped the idea. With Gabriel on guitar, we only needed a bass player, and then we found Rafael Nobre who also participated of the demo as well. And then the band was complete, and Hellmotz started…

Summon: What kind of music do you play?
Hélio: Metal, as simple as that. But we like to mix lots of things into our songs…At first we were settled to do Southern Metal, but once we started to write the songs, we thought that wasn't sound like that…So we abandon that, and started to just write metal songs we would like to listen, believing that this way people might identify themselves and appreciate what we have to offer. But I believe people can identify elements of thrash groove, sludge, progressive and maybe –just maybe- a little bit of death metal in our songs. It depends of who and how people listen to our songs, a death metal fan might find something that sounds like death to him, and a thrash fan can find other totally different thing…It varies, I believe.

Summon: How has the fan response been?
Hélio: Well we don't have to many fans yet, a few here and there, mostly friends of ours, and some girlfriends so far…But we don't have a "fan-base". The reason for that is that we haven't done too many shows, believe or not. And it isn't the local scene here "the one to blame", but actually our former bass players. Everyone of them, after two or three shows, left the band. Mostly for disagreements or for not feeling totally satisfied with what we were doing…And since our songs are not so easy to be played, and the metal scene of Campo Grande isn't too big, finding bassist was always a challenge. It kept the band always off-stage, and going on and off, whenever happened, and that prevented us to do too many shows, thus not getting fans. But when we played, people's response was always very good, sometime complimenting our songs, I even gave a few autographs and took pictures sometimes! But we were never "harassed" or something like that (lol)…And I also believe that since we were always "playing once in a while, then vanishing again for a long time" it made people to often forget us from existence. So its kinda normal that people don't know us, but we're working to permanently change that.

Summon: Where did the band name come from?
Hélio: It came from Fisics! Long time ago a friend of mine told me "why don't you call your band Helmholtz?", which is the name of a famous fisicist who discovered and enhanced the concepts of sound propagation and resonance. And when Ronnie and was discussing band names, the only thing I could remember from this name was "Hellmotz"…And then we decided to keep it.

Summon: Introduce the band members and what they do in the band.
Hélio: The current line-up is me, Hélio Guará, on vocals; Ronnie Solano on drums; Marcos Thadeu Lima on guitars; Alex Bittencourt on guitars and Guilherme Baioni on bass. Marcos joined the band in 2010 – after our previous guitar, Gabriel, left to pursue his professional career – and since then never left, Alex and Guilherme joined the band last year, until there we had only one guitar on the band.

Summon: Who writes the music?  Lyrics?
Hélio: The songs are composed during rehearsal, someone brings a new riff or idea to the table, and then the others follow it. It is mostly like this. The lyrics are all written by me.

Summon: And where do the lyric ideas come from?
Hélio: I do mostly, but whenever someone comes to me with a idea, being it good or not, I try it. 'cause that's how you find out what works and what don't. Unless it is a really, really, stupid idea…Then I ignore it completely.

Summon: What is your view in Satanism and Occultism?
Hélio: Nobody on the band is Satanist, but everybody in the band enjoys a few things of Occultism. Stories, books, music, art in general concerning the occult we found interesting. But religion itself, being Christianity or Satanism, isn't our thing. We don't rise any flag in that matter, our songs are about having fun, getting drunk, fights, social disagreements and things like that. We rather leave Satanism to artists who like to defend it, and we respect them as such, but that isn't our thing at all.

Summon: How many albums/CD's  have you released?
Hélio: So far just the demo released in 2010, Redneck Rampage. But we are recording our first Full-Length this year.

Summon: Tell  me about some the songs on the latest CD?
Hélio: Two of the five songs on the demo, are leftovers from my previous band. Respectively "Rage, Pain & Gore" and "Watchers", the other three were made specifically to the demo. And even when they were played on Steelsoul, both were completely different songs…Concerning the lyrics, Watchers its about the recklessness of humanity, Rage Pain and Gore was inspired on the story of comic book character Spawn, El Diablo Vindo Por Ellos is about humanity's demise but the title itself was taken from a line on the movie Predator, Wake Up Call is kind self-explanatory and Conscious Void is about not being a moron.

Summon: Do you have any side projects?
Hélio: I guess only Guilherme Baioni has other band, it is called Vintage Buzz and they play stoner rock…Things like Queens of Stone Age, Wolfmother and so on. They're very good! I used to have lots of bands at same time, but since Hellmotz started I rather keep myself focused on it.

Summon: Who are some of your musical influences?
Hélio: That's a difficult question! Well, as vocalist, I mirror myself on great masters such as Phil Anselmo, James Hetfield, John Bush, Tom Arraya, Dave Mustaine, Randy Blythe and Jens Kidman. I know that Ronnie likes a lot of Tomas Haake from Meshuggah, Marcos is heavily influenced by guitar players as such Zakk Wylde, John Petrucci, Eduardo Ardanuy and of course Dimebag Darrell. I'm not sure if I can name precisely the influences of Alex and Guilherme. Alex I know likes very much Andreas Kisses and Kerry King…And the only I can say 'bout Guilherme is that he likes Dream Theater a lot, and Led Zeppelin, so I believe John Petrucci as well and Jimmy Page.

Summon: Which current bands?
Hélio: The bands that we most get influenced by are: Pantera, Lamb of God, Meshuggah, Periphery, Graveyard BBQ, a little bit of Dream Theater and maybe a little of Motörhead.

Summon: What is the band like when you play live?
Hélio: As loud and aggressive five metal-heads havin' fun can be.

Summon: Have you guys ever played in another country?
Hélio: Not yet, but we totally intend to. It would be a great experience.

Summon: How big of crowd shows up at shows usually?
Hélio: Considering that Campo Grande's metal scene isn't a big deal, is pretty much okay. Around 50-100 people per show, of course sometimes has less people then that…But it's a "ok" standard, for now. But very soon we're gonna expand our horizons and play for bigger crowds.

Summon: How is the crowd response when you play?
Hélio: They're always curious about, especially because we got some reputation for playing a few of Pantera's cover, so isn't rare having them watching our shows awaiting for a cover. But either way, they respond very well: mosh pits, headbanging, screams of "fucking yeah" and sometimes giving us beer to drink on stage. Its always fun!

Summon: What do you think of the US Black Metal/Death Metal scene?
Hélio: We don't like Black Metal very much, but four out of five members of the band likes a great deal of death metal. We found it great!

Summon: What do you think of the Overseas scenes?
Hélio: I believe metal is a worldwide culture, everybody from everywhere in the world can enjoy metal. And every band, every song, and every metal musician has always something to offer. So, all together, metal is one giant universal entity. Be from USA, Brazil, Europe or whatever part of the world it came has always something to sum. There's not part of the world there cannot breed a good metal song or band. And European metal in special is very diversified, but as Norbert said on his answer "We are part of it".

Summon: What are some of new favorite black metal/death metal bands?
Hélio: I'm gonna speak only for myself on this one. I don't like Black Metal, as said before, but I like a few bands that some people might consider "old school black metal" or part of roots influences of Black Metal such as Celtic Frost, Venom…But in Death Metal I like a lot of bands: Death, Opeth, Cancer, Hate, Obituary, Possessed, Suffocation, Nile, Kataklysm, Obscura…To name a few.

Summon: When do you guys plan on writing any new material?
Hélio: We are already doing that, have lot of things already done and recording!

Summon: What does the future hold for the band??
Hélio: A full-length album, a video clip, and of course lots of shows.

Contact them at:
https://www.facebook.com/officialhellmotz
http://www.youtube.com/hellmotzoficial

E-Mail: hellmotz@hotmail.com or hellmotzsouthernmetal@gmail.com
Download Our Demo – Redneck Rampage: http://www.mediafire.com/?3rttr5wtb464n7y