Hellfire
Goat Revenge
8 Track Debut Album
Witches Brew Records
Release Date: 31st January 2017
By: Pagan Hel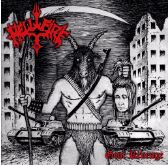 Hellfire – Ukraine, Russia
Links:
https://www.facebook.com/hellfire
Listen/Buy here:
https://witchesbrewthrashes.bandcamp.com/album/goat-revenge
The album was recorded in winter 2016 at Goatlord studio, Kremenchuk, Ukraine.
Produced by Hellfire
Genre: Black/Death/Thrash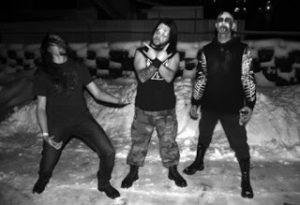 Biography:
"HELLFIRE was formed in late 2014 in Kremenchug, Ukraine. The band was created by Karagh (Guitar/Vocals) and Necrobafomet (Bass), former members of the black metal band Paranomia. Later, they were joined by drummer Skullcrusher and second guitarist Max, together they began rehearsing and writing original materials. Initially, it was decided to make black metal music with the influences from old-school thrash and death metal. October 31, 2015, the first live performance of the group took place. Shortly before this, guitarist Max left the band, and since then HELLFIRE continues to work as a trio format. Next, live performances took place in different cities of Ukraine and the response was always very positive from the audiences.
The recording of their debut release "Goat Revenge" was completed at the end of 2016 and later released on 31st July through German label Witches Brew.  The Album consists of a haunting intro leads into 7 great songs, crafted into a fine dark brew of genuine Black Metal mixed with crushing Death Metal! An erudite listener will eventually find a lot of first waves black metal and speed metal influences on these tracks. These goat lords will appease all who crave heavy riffs, blasphemous vocals and attention to keeping the Heavy Metal in Black Metal, something is sadly forgotten by a lot of today's Black Metal bands.  When it comes to comparison, Bestial Mockery and Impiety eventually come to mind. The vocal brings back the ravaging grim voice of Nocturno Culto, at the same time he delivers some gruesome death growls!"
~~~~~~~~~~
When you think of Black Metal your mind is usually drawn to the symphonic embellished kind, not the sort where the music is remotely melodic but here Hellfire has managed to incorporate a solid sound with just that a melodic core. The Intro is just that but moving on to Hellmass Attack you can hear the black influences but also the death metal too and this has outstanding qualities. Goat Revenge hosts unusual time signatures and dark ambient tempos that will curdle milk. The vocals are definitely demonically crude, but the rhythms are indeed ready to form a mosh pit being loud, fast and savage. War Apocalypse Battery the sound of marching feet take charge until a compelling rhythm ascends on the audial devices and brutalises them with a persistent eagerness and passionate energy. Field of Screams is just a complete battering ram that charges at the senses and leaves one feeling totally bewildered as the rhythms rage frantically, there is no stopping the band on this track with their melodically charged offering and deep roaring growls. Unholy Cult this title made me chuckle somewhat, but that's another story! The track itself broods under spiced grooves and a dark ambient charm and steps up to grab the attention. Unleash the Beast being the longest track on the album at four minutes thirty-nine seconds definitely unleashes a beast, as its lustful appetite spawns evil but haunting hooks and provides a platform from which the band can shout or should I say roar from. The track isn't shy to pull out all the stops and delivers some fierce complex beats and rhythms that you can head bang to. Lord of the Mighty Horns I think should be re-title Lord of the mighty roar. Vocally and musically Hellfire are just feisty and predatory. They know just how much evil to inject and for a debut album definitely wins a thumbs up, being enjoyable and loaded with intrigue!
9/10
Tracklist:
Intro
Hellmass Attack
Goat Revenge
War Apocalypse Battery
Field of Screams
Unholy Cult
Unleash the Beast
Lord of the Mighty Horns
Line-up:
Karargh – Guitars & Vocals
Necrobaphomet – Bass
Skullcrusher – Drums