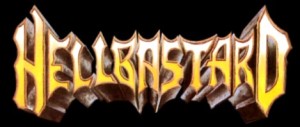 Hellbastard
"Sons Of Bitches"
2012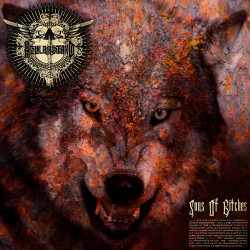 The first day that I listened to Hellbastard I was incredibly sick and in a very bad mood. If I had written the review that day, it would have gone very very different, so I am glad I waited. Hellbastard is an appropriate name for they have committed what I consider one of the greatest crimes against humanity after genocide and thing related. To make this clear, there are forms of music that are unforgivable to the individual ear. Hellbastard has committed such a crime. There are some things you just don't do. I don't care if you think it is original, unique or even somehow groundbreaking in a post modern era you just don't inflict upon anyone who loves metal a reggae song. For you pretentious lying assholes out there who say you love all kinds of music, you are full of shit and pure mendacity. Reggae and its bastard offspring Ska are dog shit. If you LOVE Metal, you love aggression and that is opposite of this other crap. The first time someone played a Ska song for me, I literally became nauseated. If they had not turned it off, I would have totally thrown up. Perhaps one could say from an artistic point of view they did their job, getting me worked up over having inflicted such horror upon me, but no one on earth should ever be subjected to Rap, Hip Hop/Pop, Reggae, Country and pretentious American Jazz.
For the rest of the EP I think you will find a lot to get into. The songs are a combination of drives, catchy rhythms, arpeggios and guitar runs. There are some riffs, like on the song Sons of Bitches that remind me of Pantera. And the opening of We had Evidence sounds like the opening to Lizzy Borden's Love You To Pieces. System Whore is probably the strongest track.
The Vocals have a real retro sound to early Thrash Bands. Sort of a talky growl but perfect for the band.
Overall if you avoid track 6 I highly recommend Hellbastard. To be clear, there is no tongue and cheek in my first paragraph.
To All Bands out there if I can't find a place to cut and paste your band members I am not typing them one by one. Putting funny statements on your FB about the band helps no one.
Tracklist:
1. Wolfsong
2. Arcadia
3. Sons Of Bitches
4. System Whore
5. We Had Evidence
6. Throw The Petrol Bomb
https://www.facebook.com/hellbastardofficial
Members:
Laine Pearce-Rees – Bass
Nathan Ellis – Drums
Pete Salvage – Guitars
M.S. "Scruff" Lewty – Vocals/Guitars
Rating: 8 out of 10
~Alaric Barca
alaricbarca.com