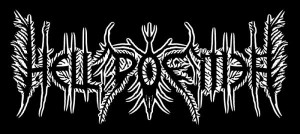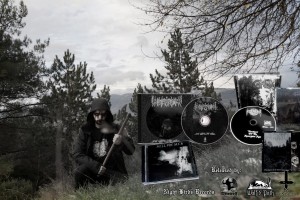 Summon: How did the band get started?
Infernal Lord: Hell Poemer was formed in Loannina, Northwest Hellas in the summer of 2005, by 5 individuals in order to play melodic black metal as our influences. We have released one demo, one MCD, one split tape and one full-length CD from various underground labels. Also we have played live shows with bands like Septic Flesh, Varathron, Rotting Christ etc.
Dark Archon: Me and Infernal Lord had many raw riffs and rythms during the period 2004-2005 and when we met the other guys we created this band with the name Hell Poemer, and step by step after line-up changes we developed our musical skills.
Summon: What kind of music do you play?
Infernal Lord: We play old-school melodic black metal with epic atmospheres.
Summon: How has the fan response been?
Infernal Lord: Generally we have a positive response from supporters.
Gragonith: Well when the new CD came out it went really fast. Everyone liked it and that's a big plus. And our first performance after the CD came out was a really big success.
Summon: Where did the band name come from?
Infernal Lord: The name "Hell Poemer" came from the magical card game "YU-GI-OH" that is connected with invocations of ancient dark Gods. This was an old funny inspiration of our first bassist Fivos "Demonworshipper" during the period 2004-2005, when he was influenced by these monster-figures. Of course back then we were teenagers so every dark and obscure figure that was similar to Dimmu Borgir's and Bal-Sagoth's covers were very attractive for us. Today the word "Hell Poemer" is a metaphorical/symbolic word for a dark artist/poet/musician who creates art against the modern way of life and Urban oppression.
Summon: Introduce the band members and what they do in the band.
Infernal Lord: HELL POEMER members after the departure of the long-time guitarist Neron in 2014 are: Infernal Lord (Vocals, Keyboards), Knafos (guitar), Dark Archon (drums), Gragonith (bass), Demonious: Session guitar (live)
Summon: Who writes the music? Lyrics?
Infernal Lord: Me and Knafos write the basic riffs and melodies and the other guys add rhythms and improve the songs. Also I write the lyrics.
Summon: And where do the lyric ideas come from?
Infernal Lord: The lyrics of Hell Poemer came from the hidden side of my soul and some epic/sorrowful melodies that we write. My main lyrical inspirations are the dark side of nature, Isolation, Homeric Epos, Hesiod's cosmogony, Orphic hymns, Melancholy, medieval battles, werewolf cults, ancient ruins, folkloric pagan myths and personal nightmares.
Summon: What is your view in Satanism and Occultism?
Infernal Lord: In our first demo "Hell Poemer" we were influenced by the biblical-Evil and we used some Satanic lyrics to express darkness and Nihilism. During the next years I realized that there is no need to get inspiration from the inversion of Abrahamic religions and tales of fallen angels, so we choose to follow the pure path of our Ancestral Dark mysteries of the underworld and nature's fertility. From the time that we have a variety of myths and occult rituals in our civilization like the Eleusinian and Kaveirian mysteries, the Delphic and Acheron's Oracles etc, why should we follow the dualistic/theistic/ego satanic systems of the 20th century?And in the end why should we follow individualism or spirituality by modern systems of urban satanism, when we have a 2600 year philosophical heritage with original theories by Ionian Philosophers? Even if I have read some books on chaos-gnosticism like "Gulveigbook" and "Panparadox" and some aspects of Nietzsche, I only did it for encyclopedic knowledge. Of course Satanic imaginary is attractive to classic black metal bands (I could not imagine Darkthrone's logo without the pentagram-sigil). On the other hand for me the true occult knowledge is hidden in the deep forests and isolated mountain peaks where you can find true spiritual enlightenment. Wild nature is the purest place where philosophers, poets and scientists focused on their thoughts and where most of the ancient mysteries were born. .
Gragonith: We as a band don't follow Satanism but I as an individual believe in the paranormal although not with the form it has taken as a trend.
Summon: How many albums/CD's have you released?
Infernal Lord: > "Hell Poemer" – demo 2007 (self-released) > "Worshipers of the Apocryphal ages" – MCD 2010 & tape (Wolfs path productions/Night birds records) > "Crossing the ancient path of Molossian tribes" – split tape with The eternal Darkness (GR) 2011 (werewolf promotion) > "Arcane Mysteries of Dead Ancestors" – Full length 2013 (Tenebrd Music).
Summon: Tell me about some the songs on the latest CD?
Infernal Lord: Most of the songs have epic black metal riffs/atmospheres with fast tempos but also there are 2 ambient tracks.
Gragonith: We have an epic characteristic to our music and that's why I think "triumphant battle in hyperion's winter" is the greatest song in the album in which we had the help of Necroabyssious from Varathron. But as I personally lean towards doom I also like "astral pathway" too much.
Summon: Do you have any side projects?
Infernal Lord: Not projects, full-bands. We play also in 2 raw black metal bands called Varg Order and Chaotic symmetry. Furthermore Demonious plays in the Blacksters Infected Blood and death metallers Obscene Evisceration.
Summon: Who are some of your musical influences?
Infernal Lord: As a band: Hellenic black metal scene of 90's (Athenian storm studios) and Nordic majestic black metal bands. Generally we listen to main kinds of music like: thrash/death/power metal, folk and traditional music, Classical music, experimental rock etc.
Summon: Which current bands?
Infernal Lord: Dissection, In the woods, Varathron, Rotting Christ, Necromantia, Immortal, Sorcier des Glaces, Summoning, Graveland, Kawir, Emperor and many more…
Summon: What is the band like when you play live?
Infernal Lord: Nothing ritualistic. Only powerful black metal from the heart.
Summon: Have you guys ever played in another country?
Infernal Lord: No.
Summon: How big of crowd shows up at shows usually?
Dark Archon: From 80 persons the less, until 300 persons the maximum.
Summon: How is the crowd response when you play?
Infernal Lord: Sometimes the crowd has a lot of energy (violent pits) in our live-shows, but there are also times when the things are more quiet, because they keep their energy for the head-line band.
Summon: What do you think of the US Black Metal/Death Metal scene?
Infernal Lord: Great death metal bands of Florida's scene (Deicide, Obituary, Death) and other great post/black metal individuals like wolves in the throne room and Sadhaka.
Summon: What do you think of the Overseas scenes?
Infernal Lord: Every country offers great music in different genres. For example I highly respect the old Norwegian black metal scene and their "frozen" riffs. Poland has also a great pagan black metal scene and Greece has a unique "Mediterranean" black metal sound.
Summon: What are some of new favorite black metal/death metal bands?
Infernal Lord: Every day I listen to tones of new promising bands. The list is endless…
Summon: When do you guys plan on writing any new material?
Dark Archon: We have 2 new songs in progress for an upcoming split with 2 other black metal bands…
Summon: What does the future hold for the band??
Infernal Lord: No one knows, maybe some new split releases and some new live-shows.
Contact them at:
https://www.facebook.com/pages/Hell-Poemer-Official/276164329161420?ref=hl
http://www.reverbnation.com/hellpoemerblackmetalgr
https://myspace.com/hellpoemerlegions