Summon: How did the band get started?
Kacper: Around 2010. Me and Tomek used to stay after rehearsals of our thrash metal project – Decease – to jam some post/experimental stuff. Then some line-up changes appeared through next 2 years which resulted in Kuba's joining. Marcin was the last member to join.
Summon: What kind of music do you play?
Marcin: Post metal – if using currently popular official names, experimental music – to say from my personal view.
Summon: How has the fan response been?
Marcin: Hard to speak about "fans". This is a young band but nevertheless we have been given couple of positive feedback. Even people from other countries reached for Luminosity album which feels really good.
Kacper: Rather good, I think we filled the missing gap in the genre.
Summon: Where did the band name come from?
Marcin: Greek goddess of fruits' mastery and bloom. We – after songwriting process and getting to know each other – started to perceive that name as moment of madness' mastery which reflects the music we make.
Summon: Introduce the band members and what they do in the band.
Marcin: Kacper Jachimowicz – founding member and guitars, Tomasz Towpik – drummer, Marcin Szpot – bass/vox and Tomasz Stanuch – electronics, who overtaken the role after Kuba Kowalczyk's departure.
Summon: Who writes the music? Lyrics?
Marcin: Music – all together, sometimes in groups, sometimes alone… Lyrics – me mainly.
Kacper: It looks differently. Sometimes we bring ideas and other time we just jam and there is a song ready.
Summon: And where do the lyric ideas come from?
Kacper: From everywhere…
Marcin:…from what is above, below, within and outside.
Summon: What is your view in Satanism and Occultism?
Marcin: We live in far worst stuff then hell and shit – it's called reality.
Kacper: Combining religious stuff with music is not what I feel and would like to do.
Summon: How many albums/CD's have you released?
Kacper: Luminosity. Outtake song "False presence" got released on "Cold wind is a promise of the storm" (post-rockPL portal compilation).
Summon: Tell me about some the songs on the latest CD?
Marcin: Better not…
Kacper: "Writing About Music is Like Dancing About Architecture"~F. Zappa. Or something like that…
Summon: Do you have any side projects?
Kacper: I do vocals in grindcore act Final Six. Other grindcore project – Tołpyga Terror – is a studio only with our drummer (Tomasz T.).
Marcin: I had in the past crust/doom project The Preacher but that's over.
Summon: Who are some of your musical influences?
Marcin: All kinds of music – from doom/black to electronic soundscapes.
Summon: Which current bands?
Marcin: Same as above.
Kacper: All psychedelic, well played, terrifying and heavy sound is good.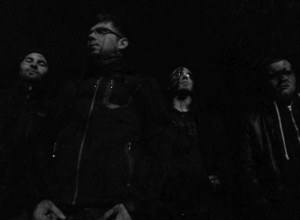 Summon: What is the band like when you play live?
Marcin: Like mastery of fury…
Summon: Have you guys ever played in another country?
Marcin: Not yet but we are open for any possibilities. We'll see what may come.
Summon: How big of crowd shows up at shows usually?
Marcin: Max was 100? I don't recall now. I remember the club was full when we played with Thaw and In Twilight's Embrace.
Kacper: That's not important. The reaction/quality of the crowd matter more to me. I'd rather have 5 people who "fell" it then 50 drunk assholes.
Summon: How is the crowd response when you play?
Marcin: I saw them being ground by the sound…
Kacper: I don't look at them, I'm in different place then….
Summon: What do you think of the US Black Metal/Death Metal scene?
Marcin: For me its awesome. Xasthur/Lurker of Chalice/Judas Iskariot are my faves.
Kacper: My fave is Cobalt.
Summon: What do you think of the Overseas scenes?
Marcin: It doesn't work this way. Good bands are all around the world. Also in every country there can be a band that plays shit but still thinks it's good idea to play live/release anything but what do we know. We don't give a shit. However, bands in other countries can allow themselves to organize independently a tour in other countries due to economy. In Poland, going to Germany for one show is a fortune for a band. So for overseas bands they are in a better position.
Summon: What are some of new favorite black metal/death metal bands?
Marcin: Currently into Anagnorisis/Triptykon/Celtic Frost.
Kacper: I'm into Parmnesia right now.
Summon: When do you guys plan on writing any new material?
Marcin: We are doing stuff all the time. It's bit chaotic and frustrating but definitely new tunes will come up.
Kacper: Depends on the potential of improvisations.
Summon: What does the future hold for the band??
Marcin: Play at least couple of shows this year to promote Luminosity, continue working on new songs. There are various ideas which path to take. We may take one or mix the whole stuff and see what happens… Who knows…
Kacper: Write new songs and play shows/tour (as much as possible)
Contact them at:
https://pl-pl.facebook.com/Hegemonepzn