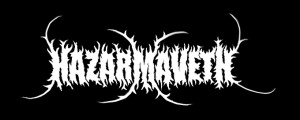 Summon: How did the band get started?
Jameson: We started it the fall of 2009 because we wanted to play progressive technical death metal. No one that lives near us likes that kind of music though…
Summon: What kind of music do you play?
Jameson: We play Progressive Technical Death Metal. Or what you want to call it…
Summon: How has the band response been?
Jameson: So far, we haven't got a ton of feedback, but the feedback we have got has been great. Tell all of your friends about us! haha
Summon: Where did the band name come from?
Jameson: We came up with the band name because we wanted something uncommon and that sounded metal. "Hazarmaveth" means 'Dwelling of Death' in Hebrew or Latin, or something like that.
Summon: Introduce the band members
Jameson: David Sterling plays guitar and drives. We kind of have a bassist, but we may need to get a new one because we feel like the one we have may not be that interested in the band anymore. Jameson Borreson plays the other guitar and does growls and such. We need a drummer right now.
Summon: Who writes the music? Lyrics?
Jameson: Jameson Borreson writes the guitars, bass, drums and lyrics.
Summon: And where do the lyric ideas come from?
Jameson: The ideas for the lyrics come from any kind of old mythology, folklore, or space themed things. Basically anything fictional and brutal.
Summon: How many albums/Cd's have you released?
Jameson: We haven't released any albums or Cd's yet, but we're trying to get some sort of EP/Demo thing together to sell. You can listen to our songs on Youtube or Facebook! Just look for Hazarmaveth.
Summon: Tell me about some the songs on the latest CD?
Jameson: We don't have a latest CD unfortunately… Our latest song that we posted is 'Dragging Seasons into Centuries'. It was written really fast actually. It's basically about a giant stone creature that drags people down to the inside of the Earth to kill them or eat them. Or something like that.
Summon: Do you have any side projects?
Jameson: No, we don't have any side projects, but maybe in the future.
Summon: Who are some of your musical influences?
Jameson: Some of our main musical influences are Opeth, Necrophagist, Obscura, The Faceless, Meshuggah, Arsis, Between the Buried and Me, Gorod, Death, Born of Osiris, and there are many others!
Summon: Which current bands?
Jameson: Bands we've been listening to lately are Fleshgod Apocalypse, Son of Aurelius, Periphery, Augury, Spawn of Possession, The Faceless, Gorod, and Cynic.
Summon: What is the band like when you play live?
Jameson: We have yet to play a show… We need to get some new members who are actually dedicated.
Summon: What was the best band you played with?
Jameson: Again, we haven't played a show yet.
Summon: Have you guys ever played in another country?
Jameson: No. We're starting to feel pretty bad.
Summon: How big of crowd shows up at shows usually?
Jameson: No crowds yet…
Summon: What do you think of the US Scene?
Jameson: As far as the music in the US goes, We think it's great. We look up to a lot bands from here! So much brutality and technicality and musicianship.
Summon: What do you think of the Norwegian and Swedish scenes?
Jameson: There's a lot of really good black metal coming out of Norway and Sweden, like always. It's what they're known for.
Summon: What are some of new favorite black/death metal bands?
Jameson: Favorite new Black Metal band is Agalloch for sure! They're American and they made one of our favorite Cd's of 2010. Another good one is 'Lustre'. It's really atmospheric and hypnotic kind of stuff. Fleshgod is one our new favorite Death Metal bands. There so fast and melodic!
Summon: When do you guys plan on writing any new material?
Jameson: We're actually writing new material now. We probably won't stop for a long time…
Summon: What does the future hold for the band??
Jameson: We want the future to involve us getting some more band members and some attention in the metal scene and releasing music and go on some tours! \m/
Contact them at:
http://www.myspace.com/hazarmaveth