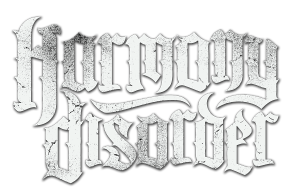 Harmony Disorder was formed at the beginning of 2012, consisting entirely of members emerging from the ashes of other deceased bands, determined to bring some exciting, but not trend influenced metal to the UK, where true passion, sweat, blood and headbanging seems to have been drowned out by the current state of the scene.

With their debut 2 track EP released at the end of August 2012, Harmony Disorder quickly found themselves being regularly booked with gigs across the country, while also attracting PR interest, label offers and achieving international radio play.

It's immediately obvious with this band that there is an "all or nothing" sense of fellowship among them, where every drumbeat, guitar note and scream means everything. This band truly follows the work ethic of if you want something- you go and get it.

In anticipation of their upcoming debut album release "Timequake" Harmony Disorder toured across Holland, Germany and Poland in August 2013 to overflowing venues and eager crowds, merely expanding the ripples already in place across the metal community, worldwide.