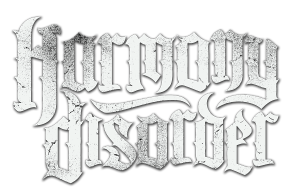 Summon: How did the band get started?
Mark: Our guitarist, Mark formed the band and I guess we all found each other! The lineup came together after we were all looking for something in common as a band.
Summon: What kind of music do you play?
Mark: We would describe ourselves as groovy melodic death metal. But its something we struggle with as we don't really fall into any boxes.
Summon: How has the fan response been?
Mark: We've always had a great response through sites like Facebook and it's been awesome to see people from so far away listening to our stuff. We recently did a short headline tour and the crowd response just got crazier and crazier after each show, which we weren't expecting on our first tour!
Summon: Where did the band name come from?
Mark: It was something we thought we could relate to with what our music is all about. Harmony Disorder is such a contrast in words, but hopeful in the sense that there's always peace in chaos.
Summon: Introduce the band members and what they do in the band.
Mark: We've got Mark and Mike on guitars, Jack on bass, Pete on drums and Cole on vocals.
Summon: Who writes the music? Lyrics?
Mark: All the music is written by the band, we all write different riffs then blend them together in the studio! Our guitarist, Mark generally builds the song structures and gives them a kick! all our lyrics are written by our vocalist.
Summon: And where do the lyric ideas come from?
Mark: All of our lyrics are inspired by personal issues that are confronted in the song, be it relationships with friends, family, girlfriends or simply just Cole's view on the state of the world, which is usually a pretty aggressive one! We also use this in a positive manner too, letting listeners know that they aren't alone, can stand together, take on the world and be whatever they want to be!
Summon: What is your view in Satanism and Occultism?
Mark: As a band, we don't have any personal strong beliefs in any kind of religion, satanic or not. But will always push for people to be able to believe in what they want, music brings people together, even in the occult world.
Summon: How many albums/CD's have you released?
Mark: We released our EP in August 2012 and we're currently leading up to our debut album release "Timequake" at the end of October!
Summon: Tell me about some the songs on the latest CD?
Mark: We feel that the tracks we selected for Timequake really demonstrate what we're all about. Some tracks are groovier and faster than others, while they're all just as hard hitting, passionate and musically aggressive as each other, touching on varying topics like grief, hope, faith, anger, trust and a general hatred.
Summon: Do you have any side projects?
Mark: All of our members are committed to Harmony Disorder and I doubt we'd have time for side projects even if we tried!!
Summon: Who are some of your musical influences?
Mark: All of us are inspired by different styles and eras of music, be it brutal death metal, punk, funk, rock and metalcore.
Summon: Which current bands?
Mark: As a band we are equally as inspired by bands such as At The Gates, Killswitch Engage, Death, As I lay Dying and Lamb Of God to name a few.
Summon: What is the band like when you play live?
Mark: We know how important a memorable live show is, so we give it 100% every time. Nobody stands still, the headbanging is non stop, Cole is usually jumping around amongst the crowd or climbing things in the venue and if one of us isn't dripping with sweat, we've not done it right! We like to feel that we give the fans what they go to a metal show for.
Summon: Have you guys ever played in another country?
Mark: On our headline tour, we traveled across Holland, Germany and Poland, playing a few shows in each country. It was awesome.
Summon: How big of crowd shows up at shows usually?
Mark: We're lucky that we've attracted a really loyal local following around the south west of the UK, so we've often got a decent enough crowd. In Holland and Poland we filled the venues out, which was an amazing shock for us.
Summon: How is the crowd response when you play?
Mark: We try our best to boost the crowd participation, mostly meaning singing amongst them which we get a great response from. I guess that way fans see you as "one of them" as opposed to being demanding on a stage. We're all there to have fun together! our set works quite well to loosen the crowd up, so the room starts spinning after a couple of songs.
Summon: What do you think of the US Black Metal/Death Metal scene?
Mark: Its certainly a lot more active than in the UK! Even with black metal predominately coming from Europe, the US have really taken the reigns with it. Some amazing death metal bands have been making their mark in recent years.
Summon: What do you think of the Overseas scenes?
Mark: We were lucky enough to play a bit around Europe and the scene is so much more alive than in the UK. People still care about buying merch/CD's and will turn up at shows on weekdays… and get crazy while they're there! Some countries the further East you go just don't get enough live metal, so they seem to crave it that much more.
Summon: What are some of new favorite black metal/death metal bands?
Mark: The Black Dahlia murder's latest release is amazing. Thy Art Is Murder have really made a name for themselves lately too. Whitechapel too, of course.
Summon: When do you guys plan on writing any new material?
Mark: It's already happening! With our first big release about to come out, we know that some time next year we're going to be asked on the future of record number 2. So we need an arsenal of songs to prepare for that! it's definitely early days, but we are writing. Always writing.
Summon: What does the future hold for the band??
Mark: We've got a few shows left in the UK this year after the release of Timequake. So in our down time we're promoting that as much as we can, followed by our second single and video release to follow our video for Earthquake. Next year we're stepping up our game, gig-wise. We've got a few big festival appearances in the pipeline, more regular shows across Europe, particularly France and Italy. We'll also be stepping our touring up, going further afield and for a longer period. We're really hoping for a year as good as 2013 has been and we're grateful for anything else that happens to come our way.
Contact them at:
http://www.harmonydisorder.com/
https://www.facebook.com/harmonydisorderband