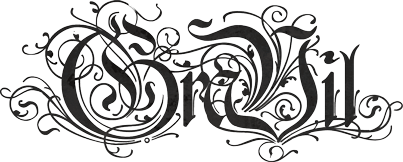 GraViL
No More Forgiveness
10 Track Album
Self-released
Release Date: 5th May 2017
By: Pagan Hel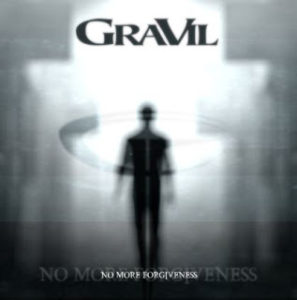 GraViL – London
Links:
https://www.facebook.com/gravil
Genre: Metal
Having just reviewed the band's new single Decommissioned I am now in the favourable position of being given a sneak preview of the band's new album 'No More Forgiveness'
Detonate is a powerful surge of electricity that will burn right through your carcas in seconds! Contagious and raw it licks the blood from your wounds with relish while devouring you to your very core! Are we alive? Prowls with a hungry appetite and seeks out its prey like a ravenous animal. It will certainly take a lot to put out this flame for sure! I am the Blood the life giver and the life taker, it infects with a rabid poison that smoulders in the face of the brutality it creates. Plagues, Thieves and Murderers broods with angst and ambience, slowly coming into view but yet still in the shadows so as not to reveal its identity too quickly and to catch the unsuspecting prey unawares. It holds a magnetic stance that is solid and rare. Choke in Silence – a great title! It blisters into action, which makes me immediately reach for the volume and turn it up just that bit more to bathe in its compelling embrace! The track is a loaded gun that is about to blow your heads off! Locate the Traitor pummels its way forward into oblivion, stomping on everything in its path and leaving utter devastation. Vocally engaging it screams and seethes with utter contempt for the audial. Fractured, Divided is a magnificent track that shows the band in a different light. It casts a golden glow over the previous tracks just for its regal and majestic strides and powerful boldness. The clean vocal gives it a different slant and is proof that GraViL is a mixed genre band with so much to give from all angles, from mellow to technical. Decommissioned is an animal Unleash it and it causes chaos within seconds. Complex and intense it weaves its raucous magic into a menacing medley of rhythms and just sends you on a boisterous journey of malevolence and feisty intrigue. Forever is a Prison holds a driving force that can be likened to an army tank as it will destroy everything beneath its tracks. It drives the temperature to a fever pitch and brutalises the cerebral cortex as it instinctively increases its vicious brooding pressure on the general public. One Eyed King lashes out as its rage quickens with gusto and explodes into a rampaging and rampant beast! This is seriously catchy foreboding and will trigger its imposing cruelty with each step it takes nearer its end.
"Devastatingly brutal it will show contempt as it bares its horrific fangs ready to devour and then parade what's left to the masses" Killer Album! I bet you can't wait for the 5th May!
10/10
Tracklist:
Detonate
Are we alive?
I am the Blood
Plagues, Thieves and Murderers
Choke in Silence
Locate the Traitor
Fractured, Divided
Decommissioned
Forever is a Prison
One Eyed King
Line-up:
Grant Stacey – Vocals
Tony Dando – Lead & Rhythm Guitars
Charlie Webster – Rhythm Guitars
Sparx – Bass and Backing Vocals
Perrin – Drums
GraViL
Decommissioned
Taken from their sophomore album
No More Forgiveness
Self-Release
Release Date: 5th May 2017 By: Pagan Hel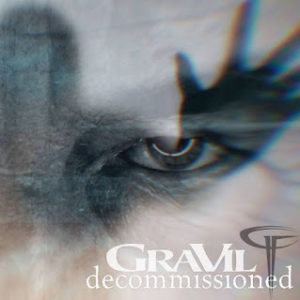 GraViL – London, UK
Links:
https://www.facebook.com/gravil
Genre: Melodic Death Metal
The masters GraViL have spoken, no, in fact, they have growled out their latest single entitled Decommissioned so it is only fair that you throw yourself on your knees and worship the metal masters of melodic death metal wholeheartedly.
Their new single is more than rewarding, holding plenty of riveting face melting riffs and banshee screams. It is just ripe and ready to create chaos and will brush aside anyone who doesn't comply with their rules.
The track is imposing as it is involved and complex throwing a lot of brooding bass and riveting riffs into the fray. The harsh abrasive vocal edge completes the scene with a mesmerising array of beats that cement the fury together and so compelling the listener with an absolute passion!
It's distinct character should have you on the edge of your seat chewing your fingernails down to the quick and probably half way up your arm as the menacing leaping medley of rhythms draw you in closer to their chainsaw of horror and taking you on a bold and boisterous journey that although will strike the fear of darkness into your very soul will also enlighten you through the sonic melody that is entrapped within the track.
The video holds your attention through an eerie malevolence that captures what the band are about and that is a raw pleasure straight from their dark hearts and they will never let you out of their sights – once you listen it is like you are put under their evil spell forever, however it is a spell that is welcomed and probably practised by many.
This is one blistering track that will feed your appetite on a daily basis – one cannot help but be impatient for the album to hit in May. This will leave burn marks on your forehead!
10/10
Line-up:
Grant Stacey – Vocals
Tony Dando – Lead & Rhythm Guitars
Charlie Webster – Rhythm Guitars
Sparx – Bass and Backing Vocals
Perrin – Drums
GraVil
"Thoughts of a Rising Sun"
2013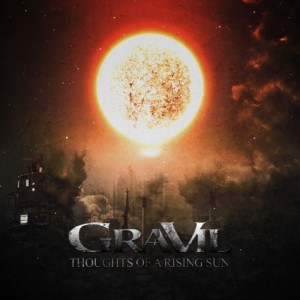 If a band has numerous influences or should I say a multitude of influences then there is a danger of being afflicted with showing all of them at once. If GraVil has committed any misdeed it is that the songs are all over the place. Death Metal, Pop Metal, Symphonic Metal, Progressive Metal, Nu Metal, Opera, Deathcore etc. On the plus side there is a lot  to like or in some cases grimace if you don't like the influence. Heavy to poppy and light can be a tricky transition. The Progressive element keeps you guessing what is next. Low vocals, high vocals. A heavy guitar drive or shredding runs with clean arpeggios that will make guitar nuts stop and pay attention. 
When it comes to creativity I do not believe in any rules. Do What Thou Will Shall Be The Whole Of The Law. Sometimes wisdom tells us though that certain combinations or doorways may not lead us where we want to ultimately go. That being said, when I looked at the track list for the CD one title really stood out and seemed unnatural which led me to believe there would be a lot of exploration on this CD before I started playing it. Thematically Through The Eyes Of The Spartans just felt out of place as a title among the rest. Ironically all the genres explored, never feels so out of place musically that it is detrimental. True one minute the vocals are screamy, then guttural, then clean and melodic but the diversity feels true despite occasionally uncomfortable. 
GraVil is from London and perhaps that is what makes them over achievers in the genre mixing. Delivering prowess. Musically there appears to be a lot of talent and competency. I do think that the diversity has let to some really great moments where the heavy drives that GraVil employ are some of the catchiest I have heard in a while, and when they pass you want to go back and play them again. I RECOMMED Thoughts Of A Rising Sun.
Tracklist:
1. Structurally Unsound
2. Enemy Within
3. Beyond Reprieve
4. The Wanderer
5. Something Worth Chasing
6. Interlude
7. Thoughts of a Rising Sun
8. The Struggle
9. Through the Eyes of Spartans
10. Bottle of Shadows
11. March of the Titans
http://www.gravilmetal.com
https://www.facebook.com/gravil
Members:
Grant Stacey – Vocals
Andy Slade – Guitars
Tony Dando – Guitars
Sparx – Bass/Backing Vocals
Conor Harkness – Drums
Rating: 8 out of 10
~Alaric Hannibal Barca