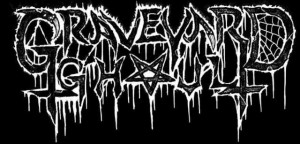 Graveyard Ghoul
"The Living Cemetery"
2014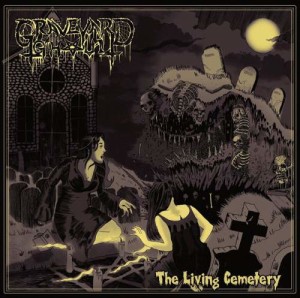 This is the second album released in February 20, 2014 by Final Gate Records, with the same line of the previous album but in this new recording, Tyrantor, besides of playing drums now helps in the voices of some songs giving more variety to the band, this time we have intro and 10 songs for 31 minutes long.
In this production we have more elaborate compositions, some very short grindcore style, others more than 4 minutes, a powerful sound while retaining the same line as its predecessor with doom parts and changes to fast rhythms, even a noticeable influence on some songs by Hellhammer.
Tracklist:
1. Lunatic Possession
2. Living Cemetery
3. Vomit to the Grave
4. Scraping From a Coffin
5. Who Goes There
6. Putrid Stench of Death
7. Secrecy of Dying Flesh
8. Rotten Gore Excrements Whore
9. Sentenced to the Knife
10. Funeral Priest
Top songs: Lunatic Possession, Vomit to the Grave, Who Goes There, Putrid Stench of Death,
https://www.facebook.com/GraveyardGhoul
Members:
Tyrantor – Vocals/Drums
Disgracer – Vocals/Guitars
Tombcrusher – Bass
Rating: 8 out of 10
~Gusthav
Graveyard Ghoul
"Tomb of the Mouldered Corpses"
2012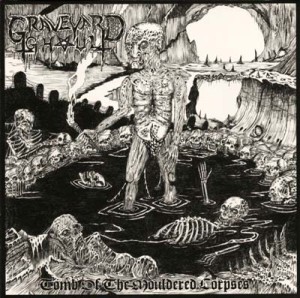 Graveyard Ghoul is a young German classic Death Metal band formed in 2011.
"Thomb of the mouldered Corpses" is their debut album recorded by Disgracer on vocals and guitars, Tyrantor on drums and Hooded Tombcrusher on bass, released on November 5, 2012 by the German label Final Gate Records ..
It consists of Intro and 9 songs with a duration of 29 minutes, a clear influence of Death and Autopsy in the early recordings.
Starts with a macabre introduction otherworldly sounds that carries you to a cemetery where you'll find tunes dire death reminded me of the background music of Return to Castle Wolfenstein mission: the crypts, with mysterious sounds and voices from beyond the grave.
The band creates macabre ambient in their compositions with time variations ranging from doom rhythms with dark passages until drum discharges, great guitar riffs, songs with average of 3 minutes.
This album ends with the song "Walking Death" sort of outro that spans more than 6 minutes repeating the same pace countless times, in my opinion after 2 minutes this track becomes boring.
Tracklist:
1. Voices from Beyond
2. Poetry of Death
3. Tomb of the Mouldered Corpses
4. Savage Note of Disease
5. Splattered Body
6. Absolute Dead
7. Rotten Death
8. Violent Beast
9. Black Lagoon
10. Walking Dead
Top songs: Poetry of Dead, Tomb of the mouldered Corpses, Savage Note of Disease
https://www.facebook.com/GraveyardGhoul
Members:
Tyrantor – Vocals/Drums
Disgracer – Vocals/Guitars
Tombcrusher – Bass
Rating: 8 out of 10
~Gusthav