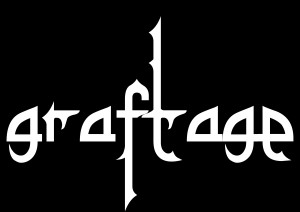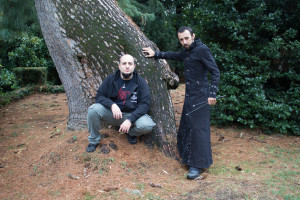 Summon: How did the band get started?
Batti: The band have been started in 2011 after Jo join the project. The solo project of Blackheart become a duo.
Summon: What kind of music do you play?
Batti: We have a personal vision of black/death metal and we want to play different styles with a foot in the past and the look wide open in the future.
Summon: How has the fan response been?
Batti: Our friends are very happy about our musical career, we will love our fans and we waiting to know them…We are at the beginning but the response seem to be good!
Summon: Where did the band name come from?
Batti: As in botanic, concept of Graftage is the quintessence of our union and collaboration, the handshake between the Gio's rhythmic and typically Italian Blackheart's melodic taste.
Summon: Introduce the band members and what they do in the band.
Batti: Graftage is a duo band and in and usually everyone do everything, but in the OUR Blackheart do everything, and "Jo" do everything else. We are an unusual kind of band, born by a "solo" project ad evolved now, into this duo.
Summon: Who writes the music? Lyrics?
Batti: Blackheart wrote both lyrics and music but the concepts of all album were born after long sessions of brainstorming.
Summon: And where do the lyric ideas come from?
Batti: They take form by Mesopotamia ancient legends, trying to get them "back in the future!" Truth is that the history that we have told in Secret garden is only an excuse to tell about mankind, with our fears, our weakness and about the darkness that we have inside.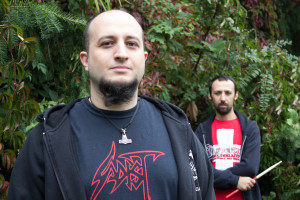 Summon: What is your view in Satanism and Occultism
Batti: As Graftage we don't have a point of view about those, we prefer to pay attention on more deeper and human sensations; religion and occultism are part of cultures, we like talking more about things that comes from inside of us.
Summon: How many albums/CD's have you released?
Batti: This year we have released our first album as Graftage, "Secret garden" is our debut album.
Summon: Tell me about some the songs on the latest CD?
Batti: We have written a concept album. In this story, every song meet a different human condition, it's a trip started from an abandonment and reach a sentence of eternity, subtitles written in our lyrics denote those conditions.
Summon: Do you have any side projects?
Batti: We have both a side project called "Bestie grame" that is a death metal band, we play with other friends and maybe we will release an album next year.
Summon: Who are some of your musical influences?
Batti: Blackheart comes from black and death metal, "Jo" loves Scandinavian Death but we take our influences in all we can heard.
Summon: Which current bands?
Batti: Arcturus, Flashgod apocalypse, Immortal, Dark Tranquility, Inflames, Amon Amarth… and so on.
Summon: What is the band like when you play live?
Batti: Bip..bip..bip..bip..biiiiiiiiiiiiiiiiiiiiiiiiiiiiiiiiiiiiiiiiiiii….. MEDIIIIIC!!!! 😉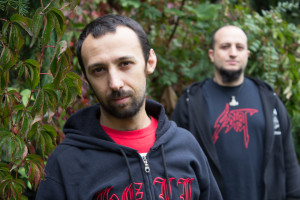 Summon: Have you guys ever played in another country?
Batti: No, our particular line up don't allow it, but in future maybe…
Summon: How big of crowd shows up at shows usually?
Batti: As a debut album, come and see with your eyes at the first live, we think you will be not alone.
Summon: How is the crowd response when you play?
Batti: Keep in mind, that Italy is not a good place for spread this kind of music. Is easier find fans and have more success in other country.
Summon: What do you think of the US Black Metal/Death Metal scene?
Batti: We think that in a world of global influences, walls between different cultures and music, will disappear soon; US scenes have the same importance for us as our scene.
Summon: What do you think of the Overseas scenes?
Batti: In the vast music scenario, everything can be an opportunity to learn or be influenced, and we, as a result of our culture, our growth and other music that gave us form, have an enormous respect of everything and everyone.
Summon: What are some of new favorite black metal/death metal bands?
Batti: The same that influenced.
Summon: When do you guys plan on writing any new material?
Batti: We have some ideas for a new concept based on another story born in the mind of blackheart, but we need time to promote "Secret garden". We also need to assimilate some criticism to improve our songwriting otherwise the next album could be a copy of "Secret Garden" and we do not want it
Summon: What does the future hold for the band??
Batti: Hard dick in "Thisdick inn"! <- (our recording studio) 😉
Contact them at:
https://www.facebook.com/graftagemetalband