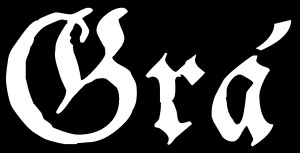 Grá contains members from Swedish black metal acts such as Domgård, Cursed 13, Spazmosity and WAN. The band started up in 2010 and has since released an EP ("Helfärd", through SonicDeath Armageddon Records, Greece), a full length album ("Grá", through Unexploded Records, Sweden) and just recently an M-CD ("Necrology of the Witch", through Unexploded Records, Sweden).
Grá is an active live band and has played with bands such as Taake, ABSU, Glorior Belli to mention a few. This spring will take Grá on a mini tour in Finland, Estonia and Sweden with Finnish "Antagonist Zero", Norwegian "Fortid" (in Finland and Estonia) and Swedish "Kill" (in Sweden).
Regarding the musical aspect, Grá stick to the early 90's Scandinavian black metal sound with inspiration from bands such as early Burzum, Satyricon and Emperor to mention a few. Strong musical influences also comes from old Scandinavian folk music which has a traditional a gloomy sound.
Intellectually, spiritually and literary, Grá focus upon the dark aspects of Scandinavian, but also Greek myth with the ferryman Charon as a symbol and guide. Death is always present, as a phenomenon but also as a tool in the search of freedom from the chains of Cosmos.
Grá is always interested in breaking new ground, be it interviews, reviews, live bookings, merchandise or whatever might be of interest.
Official band contact:
grahorde@gmail.com
Links of interest:
Officiell hemsida: www.grahorde.com
Visual representation for the "Helfärd" EP: http://www.youtube.com/watch?v=wvRh8G1IwAg
Visual representation for the "Grá" album: http://www.youtube.com/watch?v=_m970k2dfMI
Visual representation for the "Necrology of the Witch" M-CD:http://www.youtube.com/watch?v=sjYxBdg63t4
Spotify:http://open.spotify.com/album/4nI4etHhmMRZFLLnB2SelO
Facebook: http://www.facebook.com/pages/GRÁ/163426903683650