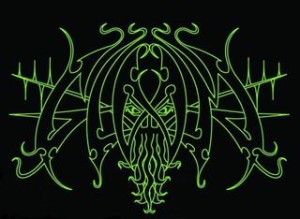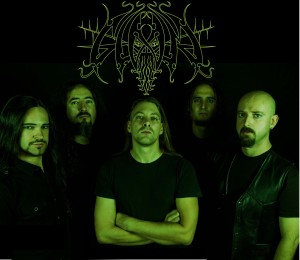 Summon: How did the band get started?
Fer: Well, after several failed attempts with different bands, we decided to join some friends coming from other bands, with the only intention of having fun playing death metal. Over time the aims have grown and members have been changing until today.
Summon: What kind of music do you play?
R. Necroseheiim: Atomic! That is what a Spanish fan said about us ha,ha,ha. The truth is that the death metal we play has no commitments and considering that each band member comes from different parts of the metal, you can expect a diverse music(death, black & grind) with black parts and grind without forgetting a powerful, fast and elegant death metal.
Summon: How has the fan response been?
R. Necroseheiim: Pretty good, we get very good reviews from fans. Gradually the name of Gloom is growing and there are more people who come to the gigs of the band and is interested in us buying our CD's and T-shirts.
Summon: Where did the band name come from?
Fer: It came from the title of an album of Macabre … sounded good and we liked it's different meanings, so we stopped worrying about it.
Summon:  Introduce the band members and what they do in the band.
R. Necroseheiim: Fer: B. Guitar (Si), brain and composer of the band. Maiki: Guitar (Mi). Ayuso: Drummer: Manu: Bass. R. Necroseheiim: Vocals.
Summon: Who writes the music? Lyrics?
R. Necroseheiim: Fer is usually in charge of the music. He brings us an idea and among us we give it shape until we get the result we like. The lyrics of "…bless you all!!!" were written by Fer. I am currently writing the lyrics for the new album.
Summon: And where do the lyric ideas come from?
R. Necroseheiim: I am a great horror and fantastic movie buff and I have to admit that much of the inspiration comes from there. On the other hand H.P. Lovecraft's world is a big influence, which is constantly in my mind. In fact, the new album will have two songs based on two Lovecraft's short stories.
Summon: What is your view in Satanism and Occultism?
Fer: I think the question is very general, because there are many ways of seeing Satanism (some ridiculous in my opinion) and on the other hand I think that throughout the history Occultism has involved many fields (alchemy, medicine, magic, etc.) although I admit I am quite unaware about it. I personally am pretty skeptical and have always considered that accepting a doctrine, ideology o whatever you like to call it like a way of life, it impoverish yourself and it can become a fanatic behavior, what means stupid. We are not a satanic band, each one of us has their own beliefs and they may not be the same, in fact we never agree ha,ha,ha.
Summon: How many albums/CD's have you released?
R. Necroseheiim: Gloom recorded their 1st demo in 2006. When Ayuso joined on drums in 2009, Gloom recorded their first LP 'Mater Tenebrarum'. I joined on vocals in 2011 and then we edited our first EP '…bless you all!!!' by Crystal Eyes Records.
Summon: Tell me about some the songs on the latest CD?
Fer:
End of the Wicked: It has to do with the Fanaticism that can lead the people to behave in an absurd manner. For those who want more info, check who is Helen Ukpabio.
Coltan: This is the name given to a mineral compound that is used in almost in all electronic devices. Its exploitation has caused millions of deaths in countries such as the Democratic Republic of Congo, where it is thought that there are the 80% of global reserves.
X-Way: It refers to not accept or refuse things without questioning, wherever they come from and whoever come from. It has to do with learning to think for oneself and get your own conclusions no matter who likes them. Come on! Don't be a bleating sheep!
Dark side of desmodromic pantheon: Well, it's not very usual to discuss this kind of topics in a death metal band, but I lovebikes and speed and the song talks about the feelings on the bike …if you think about it, I suppose we are the only species thatrisk our own life for pleasure.
Dies nefastus: This one is instrumental and the title refers to those days which the Romans considered very inauspicious to do business or go to the war.
Evil Fuels: This is a story we have made up around a cosmic entity called Gloom and it will be continued in the next album.
Moebius Syndrome: I think that the society in which we live called 'most advanced countries', where we have more free time than ever in history, is a factory of whiners and I hate whiners. We often complain for real bullshit and behave like spoiled kids. The point is that people who have gone through a bad and extreme situation, they usually appreciate much more the things that are really important. The title refers to a disease that paralyzes the muscles of the face preventing from smiling.
Summon: Do you have any side projects?
R. Necroseheiim: Yes. Ayuso plays drums in Unsouled. Previously I was in The Art of Blasphemy and I can tell you I was a member of Cryfemal.
Summon: Who are some of your musical influences?
R. Necroseheiim: Morbid Angel, Nasum, Bolt Thrower, Dark Funeral, Dying Fetus, Napalm Death, Immolation, Deicide, etc.
Summon: Which current bands?
R. Necroseheiim: Although we listen to current bands, any of them has no influence on the time to composing in Gloom. I guess the classic bands are the ones who really have always a strong influence on all of us.
Summon: What is the band like when you play live?
R. Necroseheiim: Brutal, very aggressive and at the same time very dynamic.
Summon: Have you guys ever played in another country?
R. Necroseheiim: No, we haven't had the chance to play abroad yet but for the presentation of the new album we do plan to do so in another country, too.
Summon: How big of crowd shows up at shows usually?
R. Necroseheiim: As for the shows in general and due to the world crisis, it's obvious that the flow of people to the gigs has dropped, when not long time ago the venues were really crowded.
Summon: How is the crowd response when you play?
R. Necroseheiim: Despite the situation I have mentioned earlier, people respond quite well in our gigs showing interest in Gloom. We sell very CD's and merch after the shows very well ha,ha,ha
Summon: What do you think of the US Black Metal/Death Metal scene?
R. Necroseheiim: I think the US Black/Death Metal has always been really good, and I guess it is also in the same way nowadays. We have the examples of Cannibal Corpse, Magrudergrind, Xasthur, Mortician and Dying Fetus.
Summon: What do you think of the Overseas scenes?
R. Necroseheiim: I think that little by little the barriers of the extreme music are breaking down and more and more bands from anywhere of the world are coming out with a lot of quality.  Lately, I am listening to a lot of Czech bands and I think they have a great scene.
Summon: What are some of new favorite black metal/death metal bands?
R. Necroseheiim: Entrails, Negator (old Negator), The Decapitated Midgets, Behexen, Horna, Dishammer, Benighted, Flesh God Apocalypse, Ravencult, Fuck the Facts, Looking for an Answer, Isacaarum…
Summon: When do you guys plan on writing any new material?
R. Necroseheiim: Right now we are about to finish composing our next album. We have the intention of entering to record in Sadman Studios after the summer .It will be a faster and more aggressive material. As an anecdote I can tell you I will take charge of the art work of the new album. I hope we can talk again about it at the time.
Summon: What does the future hold for the band??
R. Necroseheiim: Hopefully we can give a lot of gigs and many interviews ha,ha,ha and gradually being able to have a place in the international extreme scene. I take the advantage of this last question to thank you for your support to our band and for this great interview. Many greetings from Spain!!
Contact them at:
https://www.facebook.com/gloomdeathmetal