Gazers
"Gazers"
2013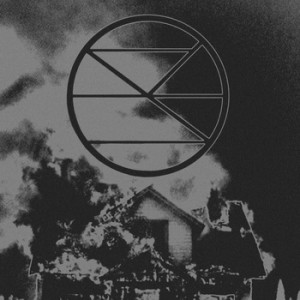 Gazers are a Parisian band formed in late 2012. They came delivering to give a wild show inspired by the Post-Hardcore scenes, Blackened, Noise and Screamo from bands like 'Messiah' and 'Cult of Luna'. Soon after the band got together, they started working on a self-titled EP.
The EP contains of four songs and is short and crisp. In it, the band has used full use of their heavy bass lines, screamo vocals and variations in their sound levels having used a lot of breaks in-between tracks and feedback.
The opening track 'Doggoned' opens up with a long bass intro with feedbacks making you enjoy every bit of the heaviness. As the song progresses, you hear a sudden drop with blackened riffs and screamo vocals. The song goes on with variations, short, few second breaks in the track making you feel like the song may be over, but it rises again with full force. Thus, making you listen hard. The second track, 'Lifewreck' used drum variations, sounding a bit different from the previous track and using more vocals. Subtle breakdowns and distortions on the guitars with the heavy use of the bass keeps you listening. This song uses many breakdowns of which the longest breakdown is heavy and energetic, one of the few fresh parts on the EP. It probably is the best thing about the track along with progression changes. By the time 'Rotten to Core' pulls into full gear, you feel like the sound of the band is stretched too long until a sudden break. At times, you may feel like the song is a little overdone. It is not as compact as the others are, but the vocals stand out, however with the over use of repetition in the half of the track brings the monotony back. The start to the final track 'The Decline' is quite similar to the first track. The track goes on with very simple riffs and one note continuously struck in the background, which gives a very ringing eerie feeling to the track. Overall, The Decline would form my favorite on the EP with riffs that are more melodic and a very ringing sound to the track. The heaviness of Doggoned however was also another part I enjoyed. The other two tracks are ones that you may not remember after you give the entire EP a listen. There are times on the EP when you feel like you have heard a riff previously on the EP itself. The intro to every track is almost the same, but the levels in sound variations are what keep the album the running. The bass completely stood out in the entire EP.
I hope Gazers goes out and takes their own sweet time to figure their own style to their music instead of jump to make a new album. Their creative use of feedback has however been impressive on the track.
Tracklist:
1. Doggoned
2. Lifewreck
3. Rotten to the Core
4. The Decline
http://www.facebook.com/Gazersband
http://gazersparis.bandcamp.com
Members:
William
Adrien
Loïc
Arthur
Hans
Rating: 6.5 out of 10
~Srishti