Funeral Tears
Beyond the Horizon
6 Track Album
Label: Satanath Records (Rus) & Cimmerian Shade Recordings (USA)
Extreme Music PR
Release Date: 13th April 2017
By: Pagan Hel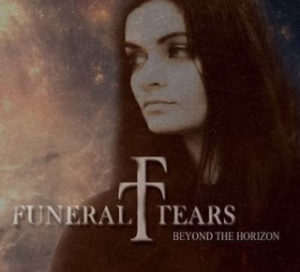 Funeral Tears – Tomsk, Russia
Links:
https://www.facebook.com/FuneralTearsRus/
Genre: Funeral Doom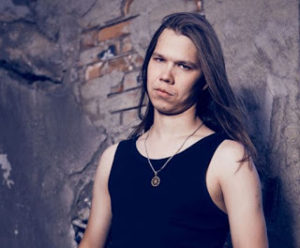 Nikolay Seredov
Biography:
"Initiated from Tomsk, Russia during December 2007, Funeral Tears is the solo Funeral Doom project of Nikolay Seredov (leader of bands like Стахановцы [Stakhanovite] and Taiga).  Dark melodic music and lyrics convey the inner state of Nikolay at different periods of life, the struggle for spiritual balance, at war with himself for the only purpose – to find his own eternal peace.  With two grief-stricken full lengths and a split with Poyezd Rodina, Funeral Tears has made their place in the realm of underground Funeral Doom Metal.
The third full-length of Funeral Tears, "Beyond The Horizon" is filled with the musician's thoughts about people – that we are who we are, with our doable or unrealizable dreams, with our own individual perception of the world and with our ideas about the future. The fact is we strive to be closer to the stars but lose the Earth. The album is having all of the components that a classic Funeral Doom album should be tempered with: deep, desolated growls, alluring acoustic guitar transitions, drown oriented synthesiser parts, mournfully slow yet heavy riffs and tasteful yet dreary melodic guitar components.  The album, clocking in at near an hour, creates the aura of getting buried in the grave of intense depression. Prepare to be crushed amongst the gloomy passages of six unadulterated Funeral Doom tracks!"
~~~~~~~~~~
I don't know whether I am really ready for this E.P/Album.  I suppose it depends on what mindset you are in at the time and at the moment I am in a pleasant happy mood and don't want this to be destroyed. The only thing urging me to review this is the fact I am curious, I want to know what is going on inside Nikolay Seredov's mind, and work out why he should record such mournful tracks, when there is enough sadness and misery in the world, to begin with, but the only way of finding out is to press the play button. The fact I am a little apprehensive speaks volumes as I am in an upbeat mood so far today, anyway… well here goes!
As Close my Eyes begins the sense of solemn isolation begins to take over and a brood forecast emerges. However, just out of nowhere a thunderous rhythms comes surging through the listening devices and washes you into oblivion. It is a very powerful track with devilish rasping gargles of breath that somehow draw me to it like a magnet to metal. So not bad at all and not what I was expecting!
Breathe begins like a very soft caress and can hardly be heard but after the last track, I got caught out volume wise, so very wary of a repercussion. This has tempered strings that dominate until a little further into the track comes a shrill clash of cymbals and beats. The solitude is felt highly and makes for a gripping encounter. Vocally sustaining its harsh raspy growls it intrigues and captivates, despite its melancholy feel.
Dehiscing Emptiness begins the same way as the other tracks with soft noises and poignant jabs of music but created very subtly. As it opens further it reveals a very dark, sorrowful but melodic side. The vocals, however, have turned even more dispirited and mournful. Making them sound utterly evil.
I Suffocate begins as before with its despondency and pensiveness and then snaps (although gently) into a more lachrymose state. The vocals speak softly so much so you can almost feel the breath in your ears. The vocals are in English and can just about be heard over a doleful rhythm. How unusual would this sound in Russian, I wonder?
Beyond the Horizon again holds subtle encounters and an agitated nature. It is the dreariest of tracks so far on the EP but this is exactly what it says on the label. The textures don't reach out they amble on their way and cast a darkened shadow over the already black misty atmosphere and smother you alive.
Eternal Tranquillity is what we all want but maybe in different quotas, although it would get highly monotonous if we all wanted the same thing. This track could be labelled as epic in every sense of the word as it breaks off from each angle and re-emerges with a shrill and slightly uplifting tempo. The grazing hellish vocal is gnarly and uproots your feelings and emotions as it splurges from its sleep and continues to blend the track into a masterpiece.
Not as doomy and gloomy as I first thought it would be, although yes it is doom-laden in places but it also holds a very fiery spirit that is attached to its icy tendrils. So, a good blend of everything, well mixed, well written and well executed!
Powerful and intriguing music! It doesn't take long to look Beyond the Horizon! One question needs to be asked and that is "Have you found yourself yet?"
9/10
Track – List:
Close My Eyes
Breathe
Dehiscing Emptiness
I Suffocate
Beyond The Horizon
Eternal Tranquillity
Line-up
Nikolay Seredov – Everything