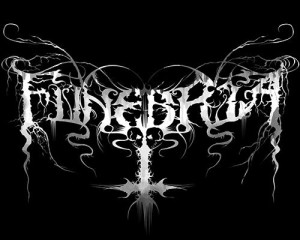 Funebria: Within our circle sanctified by the incipient fire of candles .. born a child- beast of 5 heads named for funebria, releasing the hatred of our serpentine tongue under the stench and gnashing of skulls, symbol of the cosmic serpent biting its tail curled in the sun slowly dies …Implementation and realization of Luciferian power about pain that devours all divine lights in total darkness.
As dogma or ANTI: funebria has become the living representation of our darkest ideologies which austere living ghost leaving the sigil irrational fear permeated the human mind.
Recordings:
Funebria Launches Media Production first attack in 2006 titled "Holocaust in the desert wicked Golgotha". In his joy funebria exalts 6 issues plagued a Black Death Thrash Metal heavily influenced never forgotten the old school metal.
In early 2009 "In dominus Blasfemical Satania Est .. Ad Noctum" is launched becoming the first LP Style Black Death Metal in the region of Zulia, giving it a more distinctive and mature sound the beast. Starting from guitar riffs hateful as devastating voices and batteries which were guided by an ideological basis is more personal as Nihilism in your absence and full of anger against Christianity.
In 2012 an agreement was reached with the black metal band Venezolana Veldraveth for a split album name "Two Headed Beast"-A Journey of Venezuelan Black Metal under the label Metal Militia Attack Records Store CA containing 8 songs of pure fucking Total devastation and antichristian black metal
Rituals on Stage:
Opening for the Norwegian black metal band ANCIENT year 2007
Band invited to the macro event called metal Maracaibo Zulia in the 2007 whit the bands: Arsenal, Trauma, Atlantica, Infernia, Inside, Angelus, Innuendo!
Guests to the Metal Eterno festival held every year in the city of Barquisimeto, year 2008 with the bands: Apok, Astadmia, Ar Ishtar, Cabriah, Extreme Unction, United Cursed, Sect Canibal, Axariel, Evola, Heretics, Infernal Moon , Porta Infernum, sigil Diaboli.
Metal Darkness and shadows macro event in Caracas with 4 different dates with the most renowned extreme metal bands 2008 with: Lessthanot, Morbus and Azif.
Dead Plan Tour event where the band shared tables with metal band Venezolana / Dutch: CULTURA TRES in 2008 with the participation of: Serpent Christ, Zardonic, Epitaph, Psicosis, Forget The Fallen, etc Cabriah
Opening act of gothic black metal band from England CRADLE OF FILTH 2010
Participants in the Pre-Gillman Fest San Francisco County Zulia State along with 32 regional bands (09/07/2011)
In June of 2012 funebria joins forces with Black Metal band from Ciudad Ojeda: Khristenn Corpse, in what would be a trip between two hordes under the name of "The Occidental Chaos Rising". There were several dates for the territory west of the country being the first tour of the genre known black gang within our homeland.
Description
ALL PRAISE THE SERPENT!!!
Band Interests
Música, Rituales antiguos, ideología anticristiana, devastación de todos los valores e ídolos modernos, total reverencia al gran caído..
Music, ancient rituals, anti-Christian ideology, destruction of all values and modern idols, total reverence to the great fallen ..
El Logo de Funebria fue hecho por Christopje Szpajdel (Horna, Eternal Drak, Covenant (NOR), Graveland, Impiety Enthroned, Desaster, Moonspell, Emperor, Arcturus, Old Mans Child, Tsjuder, Lord Belial ETC )
Funebria Logo Was made by Christopje Szpajdel (Horna, Eternal Drak, Covenant (NOR), Graveland, Impiety Enthroned, Desaster, Moonspell, Emperor, Arcturus, Old Mans Child, Tsjuder, Lord Belial ETC )