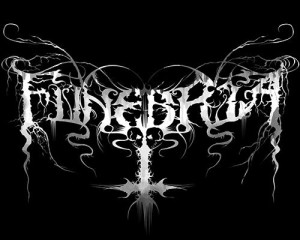 Summon: How did the band get started?
Dae: Cheers! Well, Funebria start with a big idea, and that's play a something different on my country.
Venezuela (Zulia St) the black metal has always had two ways. something really pure and underground or anything really commercial. well, I have one idea!. Old school black metal with death/thrash influences!. blinded by the sounds of any bands like dissection, old mayhem, dark funeral, Marduk, so I create the spell, but the monster is unanimous today
Summon: What kind of music do you play?
Dae: Seriously? I have no idea but I prefer to be labeled like a "Black/Death Metal" band. You know! We just pissed off upon the cross with our twisted ideas and the Magik's born!. making some riffs and lyrics and that's all!! really don't care anymore.
Summon: How has the fan response been?
Dae: We have good acceptation in south America and a little bit in the north. Is like anything in this world, we have good & bad reputation! I really love when the people say "Hey! Your band really suck's" that feed our inner demons The "ENTHRONED LUCIFERIAN KINGDOM" lyric say's. "Let my servants be few and secrets, they shall rules the many and the known" and this words are Carving on our head!

Summon: Where did the band name come from?
Dae: It's not so easy, first of all I am a big fan of the classic music, scenic Cantata and the opera.
I found this name in a rare manuscript named "Carmina Funebria in Obitum Clarissimi" a Carl Orff influences in cantiones profanae and in second place, I have a fascination for Latin and Italian words so, I was fascinated with the funeral procession, bell's clang, the death screams and the human hysteria to knowing someone is dead. Fear to the concerto funebre di le campane.

Summon: Introduce the band members and what they do in the band.
Dae: We are:
Seth Aum Xul: Screams
Daemonae: Guitar
Iblis: Bass and backing screams
Addu: Drums
Summon: Who writes the music? Lyrics?
Dae: I am the song-writer but always iblis, Seth and addu give me an idea within the parameters that I own to Funebria today, Seth is the only lyric-writer in Funebria, initially Holocausto (first drummer) write songs like "Tormento, Perpetua Decepcion and Manifiesto al esclavo", I write songs like "In dominus blasfemical est, Sickness & Hecate and Lazos de un profano matrimonio". Seth has written the others lyrics until today.
Summon: And where do the lyric ideas come from?
Dae: Luciferism, Satanism, Sumerian, Babylonian, Death, Occultism, Nihilism, Suicide, War, Invocations, Crowley, Lavey, A.O. Spare, F.W. Nietzsche, A. Shopenhauer, Latin words. He's a fucking walker Occultism Library.
Summon: What is your view in Satanism and Occultism?
Dae: Well, I do not really consider "Satanist" at all, my conviction is very personal, I'm a fucking smoke with a dark purpose in this hole world, fascinated by the occultism and paranormal, always searching for the Real truth. We have different points of view but Seth, Yeah! He's Satanist, every beat of your heart is a Lord of depth devotion and everybody knows that!
Summon: How many albums/CD's have you released?
Dae: We have 3 Releases.
Holocausto impio en el desierto de Gólgota
In dominus blasfemical est… Ad Noctum Sathania
The latest release is in split format with a good friend band named "Two headed beast – a journey of Venezuelan black metal" with 3 new songs.
Summon: Tell me about some the songs on the latest CD?
Dae: Two headed beast is a more mature work that we came making, much more death metal, something fast, dark with a deep sound, a fat sound!, a weird shit in few words and another thing, is the first recording with ADDU and IBLIS on drums and bass. Seth and I just take Funebria and carry on to the subway of the same hell.
Summon: Do you have any side projects?
Dae: I have a personal doom/death project named Season of Grief, Seth is screaming in a good black metal project named Goat Serpent, Iblis in a grind-core band named Vomitando with Holocausto (our first drummer) and the last one is Addu, he don't possess another project but he's a session drummer of another bands but I can't remember one right now.
Summon: Who are some of your musical influences?
Dae: Dave Murray, Chuck Schuldiner, Galder, Nergal, Zakk Wylde, Moyses Kolesne, Blasphemer & Euronymous, Lord Ahriman but the first one of my influences is Dimebag.
Summon: Which current bands?
Dae: Are few, Dodecahedron from Netherlands, Ascension from Germany, I'm in a coffin from United Stated and a few others.
Summon: What is the band like when you play live?
Dae: Alcohol, Madness, Bitches, Lucifer, Drug people, Devotion, Wall of death… I don't know man!! Hahaha. The same thing of always.
Summon: Have you guys ever played in another country?
Dae: Ever, but very many proposals have come from Bolivia, Colombia, Chile, Brazil. but always emerge mishaps… really bad things bro.
Summon: How big of crowd shows up at shows usually?
Dae: Always comes in large mass events, we are big fans of metal (I'm a big fan of metal too!) always want to grow our scene!
Summon: How is the crowd response when you play?
Dae: Venezuelan metal scene is rather small but there are good public, who supports, buy your stuff, scream your name and ask for some songs. I remember the concert with Cradle of Filth, the public of Caracas began screaming our name. "Funebria, Funebria", was something that really struck me as odd and impressive. These are our servants, small and occult!
Summon: What do you think of the US Black Metal/Death Metal scene?
Dae: Black metal scene is becoming something amazing. begin to take their place in the world and I see that rise many atmospheric metal bands and suicidal, I like and the death metal scene always be the number one man!. If you want some extreme and fast death metal, US have millions, is a highly respected scene.
Summon: What do you think of the Overseas scenes?
Dae: Metal is always good so made ​​in Tibet, When you make it with heart and hate, those feelings carry a superhuman strength when it is linked with musical notes, can be Magnificent
Summon: What are some of new favorite black metal/death metal bands?
Dae: Sincerely I have not heard much new black metal or death metal, my mind has stayed with old favorites bands like dissection, Dark funeral, Setherial, Marduk, Krisiun, Decapitated, Behemoth, Etc.  Could I can mention a band which I liked a lot called Ulcerate from New Zeland. Making a good Technical Black death with a painful atmospheric shit!
Summon: When do you guys plan on writing any new material?
Dae: We have in the pre-production of a new Full Length album, and another thing is "I'm playing alone", we don't have a Second Guitar player, it most easy to work with only four twisted heads.  The new material is a shotgun on your head, I promise that! Soon we'll be providing more detailed information on our official Facebook!
Summon: What does the future hold for the band?
Dae: More insane, good shows and new drunk tales on the road!. Invite those who do not know Funebria, follow our official site www.facebook/funebriaband, ear our goddam stuffs, become a fan!  And if you're listening now, keep the fire burning to praise the mother serpent!
PRAISE THE SERPENT DEMONS!
Contact them at:
https://www.facebook.com/funebriaband