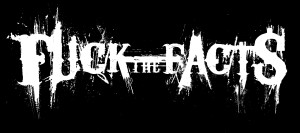 Started as a band in a basement in Ottawa, Canada during the winter of 2001, it was only about a month before Fuck The Facts did their first recording and not much long after that the band would hit the stage for the first time. 10 years later and not much has changed; Fuck the Facts has maintained the same sense of urgency with constant releases and a hefty touring schedule which has taken them numerous times across North America as well as much of Europe. In 2006 Fuck The Facts signed a multi-album deal with one of the underground metal scenes' biggest labels: Relapse Records. The same year the band released the album "Stigmata High-Five" and toured extensively, only to take a break from the road to record their sophomore release "Disgorge Mexico" in 2008. Following the release of "Disgorge Mexico", Fuck The Facts took a step back to the band's more DIY roots and released a number of independent releases including the "Unnamed" EP, Disgorge Mexico: The DVD & the "Live In Whitby" cassette. Now with their 3rd full length for Relapse Records completed and entitled "Die Miserable", Fuck The Facts shows us that there really is no end in sight.
Members:
Topon Das–Guitar
Marc Bourgon–Bass, Vocals
Mélanie Mongeon–Vocals
Johnny Ibay–Guitar
Mathieu Vilandré-Drums
Select Discography
Die Miserable 2011
Relapse Records
Unnamed EP 2010
Independent
Disgorge Mexico 2008
Relapse Records
Stigmata High Five 2006
Relapse Records
Legacy of Hopelessness 2004
Ghetto Blaster/Capitol Kill Records
Collection of Splits 2002-2004
Galy Records Backstabber
Etiquette 2002
Grind It Records
Mullet Fever 2001
Sonic Deadline
2011 Ottawa's FUCK THE FACTS returns with their long-awaited new album Die Miserable. Even heavier than their previous works, Die Miserable sees the band exorcise darker shades of metal and varied strains of punk amongst their imitable grinding attack. No matter the synthesis, Die Miserable is relentlessly heavy and a furious assault from front to back from one of metals most underrated and prolific bands. Listento DIE MISERABLE:http://fuckthefacts.bandcamp.com/album/die-miserable
It seems that it has been awhile since the release of "Disgorge: Mexico". What was the reason for taking so much time to release "Die Miserable"? Pretty much just the way things worked out. We definitely haven't been taking it easy since then, we recorded a split with Leng Tch'e and our Unnamed EP between these 2 albums and we wrote enough material for Die Miserable to release 2 albums (hence the Bonus EP "Misery"). In some ways I wish we would have gotten this album out earlier, but at the same time I see that over the years we push ourselves more and more, so getting it done and out any quicker wasn't really an options. Every album since Stigimata High-Five has been more and more mentally draining and every time I wonder if we'll finish it. I wouldn't be surprised if the next album results in one of us jumping off a bridge with the master hard drive in hand. The new LP is all over the place. Was there any hard and fast blueprint for this record? There never is, we just start writing and see where it takes us. Die Miserable is very much a collective effort of 4 individuals, so there's bound to be some unexpected twists and turns. This band is a sum of its parts; when it's parts change the sum changes. We're just in a time now that everyone in this band is taking an active role in what makes Fuck The Facts and it's very noticeable on Die Miserable. Not a lot of grindcore bands really hit the road as much as Fuck the Facts. Why do you guys feel the need to tour as much as you do? We love to play live and we love to travel. Honestly that's the main motivation for us to hit the road as often as we do. I'm not delusional enough to think that the touring will lead to some great success. Maybe if one day I get cable and a self cleaning oven I won't feel the need to travel as much. Music and everything that surrounds it seems to have changed quite a bit since you first started Fuck the Facts in your Dad's basement. What are the differences that you personally notice the most? It used to be really exciting to get new music. If it was a tape in the mail or a new CD from the store, there was this excitement about having something new to listen to. Now everything is at our fingertips, so the excitement of getting something new has almost disappeared. Even giving away albums for free is not enough anymore to get people to listen to you. I hate to be the old guy that talks about how much better things were back in the day, but they were.