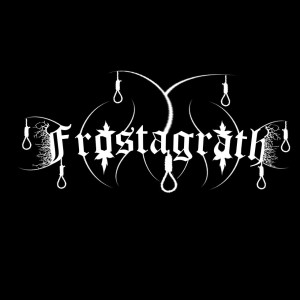 Summon: How did the band get started?
Lord Mist: First of all, I Am very happy and it's a great honor for me to be here in this interview. Since I was just a kid I always have a dream of forming a metal band. So I started learning to play guitar then the keyboards and later on I learned the basics of the drums and how to program a drum line. Finally I learned and still learning till now about the mixing and the mastering process.
Summon: What kind of music do you play?
Lord Mist: I Play a Depressive black metal music, it reflects what's inside my mind and what I truly feel. And I try to mix this sub-genre with the raw sound of the old school black metal, creating a new
level of darkness and sadness.
Summon: How has the fan response been?
Lord Mist: So far it's pretty good ,there is a great progress in the band.
Summon: Where did the band name come from?
Lord Mist: I Wanted a name that best describes the music and the lyrics, the most suitable name that I came up with was Frost, then I added the part (Agrath) because I am a very huge fan of Nargaroth and Gorgoroth…so I put the two parts together and here it is, Frostagrath.
Summon: Introduce the band members and what they do in the band.
Lord Mist: Frostagrath is a young project Started by me "Lord Mist" as a one man project, I took on my shoulders the role of everything; All Instruments, Vocals, Programming, Lyrics, Mixing and Mastering. But later in 2012, Mohamed Azzam joined me in Additional Mixing and Mastering.
Summon: Who writes the music? Lyrics?
Lord Mist: All the music and the lyrics is written by me.
Summon: And where do the lyric ideas come from?
Lord Mist: The lyrics I wrote is like a mirror of what's going on inside of me. Most of the time I am
either depressed or frustrated, so technically, I try to get out all the negativity and sorrow within me. According to my way of thinking, I see that life, is just a big lie and an everlasting illusion and a never-ending nightmare that we are trapped in. No way for us to wake up from it.
Summon: What is your view in Satanism and Occultism?
Lord Mist: For me, I think everyone should have his beliefs and his religion. For me it's not a big deal if someone is a Satanist or not. I must respect him/her as long as he/she respects me.
Summon: How many albums/CD's have you released?
Lord Mist: I Have released a Demo via " Depressive Illusions Records" in Nov. 2012, entitled "A Depiction Of Melancholic Reality". Then I released my first full-length via "Rigorism Production" entitled "A Journey Of Infinite Sorrow" in April 2013 and it was released digitally in Feb. 2013 via "Visionaire Records". And finally I released a Single track for free download entitled "Into a Dimensional Timeless Void" in March 2013.
Summon: Tell me about some the songs on the latest CD?
Lord Mist: The album name explains it all "A Journey Of Infinite Sorrow", at that time when I was writing the lyrics I was influenced by Dante Alighieri's Divine Comedy and that's the reason I put an Italian phrases in track number 04-In Cor Silva "Which is Latin for Into The Heart Of The Forest". I started the album imagining that I am standing in front of a forest painted by the others tortures and sufferings. Then moving to the second track, I walk in a passage in the forest which is full of illusions and woe, then I go nearer to the heart of the forest where I can hear the screams of the dying souls which are becoming lower and lower as I reach the heart of the forest. Then in track number four, the illusions and the spirits are talking to me, and order me to enter the heart of the forest to find a cure and a relief from my sufferings. All you can find there is the pure reality… Then moving to the fifth track that I bury myself in a grave wishing the death to embraces me. And at last the last track, which is my favorite track throughout the entire album, it's about a conversation between me and the spirits of solitude that reveals the true face of life, the meaning of life, and how the world became now.
Summon: Do you have any side projects?
Lord Mist: No I don't.
Summon: Who are some of your musical influences?
Lord Mist: I am most influenced by Xasthur, Nyktalgia, Nargaroth, Anti, Drudkh and a lot more.
Summon: Which current bands?
Lord Mist: I Have been a guest vocals on two of Xathrites Upcoming album "My Last Day Story" tracks.
Summon: What is the band like when you play live?
Lord Mist: I didn't perform live yet, but maybe in the future, I will.
Summon: What do you think of the US Black Metal/Death Metal scene?
Lord Mist: Well, I like a lot of Death Metal bands from USA like "Deicide, Vital Remains and Morbid
Angel". But I think in the black metal I only listen to few bands from USA like "Leviathan, Xasthur:.
Summon: What are some of new favorite black metal/death metal bands?
Lord Mist: There is black metal bands i just discovered recently like The Germans " Der Weg einer Freiheit" and The Italians " Misere Nobis" these two bands make a very great music and i think they will have a great future…
Summon: When do you guys plan on writing any new material?
Lord Mist: Currently, I am working on an EP which will be released very soon with a special guest vocals. And I am also working on the upcoming Full-Length that will be released this summer it will contain 7 tracks, entitled "Extinguishing The Flame Of Life " it will be a very remarkable music with mind blowing atmosphere. It will be indeed something very different, and I think it will take FROSTAGRATH to the next level.
Summon: What does the future hold for the band??
Lord Mist: I Think the future will be very good, specially with the new stuff. So Stay tuned everyone, you don't want to miss the next release.
Contact them at:
https://www.facebook.com/FrostAgratH
http://www.reverbnation.com/frostagrath
http://www.myspace.com/frostagrath
https://soundcloud.com/frostagrath
http://www.youtube.com/user/frostagrath