From Eden to Exile
Modern Disdain
Attic Records/PHD
Stampede PR
8 Track Album
Release Date: 2nd June 2017
By: Pagan Hel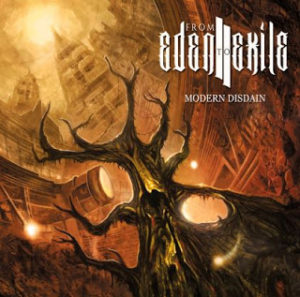 From Eden to Exile – Northampton
Links:
https://www.facebook.com/fromedentoexile
Debut album produced by Neil Hudson (Krysthla) at Initiate Audio and Media
Genre: Metal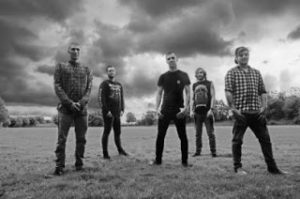 Biography:
"Producer Neil Hudson was quick to spot the potential of the group and took them under his wing, providing not just his skills as a producer, but also mentoring the group, thanks to his own experiences as a member in successful metal acts Gutworm and Krysthla. "From Eden to Exile are going to make serious waves with this album. Make no mistake. From start to finish it's an absolute monster" states Hudson!"
~~~~~~~~~~
I have come to learn the names to fear when being instantly drawn to the more extreme end of the musical scale and the name Neil Hudson makes me shudder with excitement as when he gets his mitts on your work you know he is going to squeeze everything he can out of it – Krysthla are proof of that for sure. Eden to Exile are now reaping their rewards with this mesmerising album produced by the master himself and it shows. Gospel Untold is gut-wrenching and gnarly and instantaneously is corrosive and noisy until the last! Modern Disdain gets increasingly dark and repugnant as the large metal slabs make a bee-line for your ears and split them in a second. Your ears do not have any time to react to the bullying they are about to receive… and may we be truly thankful! Violate simply molests with rampaging urgency. How on earth do they play something to that level of quickness? I can almost see Neil standing over them with a horse whip!
Victim allows for the drums to make an appearance while the riffs judder and scream for their lives. It is a moreish track with plenty of lingering violent emotion. The Dreamer holds a rugged forthright beat and as fleeting as the riffs are creating so much frenzy and intoxicating rhythms that can't be ignored.
From Eden to Exile wounds with serious intent but just with whiplash as it intentionally pushes you to obey its whims with rhythmic causticity. What you've done is a rhythmical dodgem car that literally has sparks flying from its wheels as they turn frantically to a monstrous swathe of high intensity. Sentiment twists and turns so much it purposefully digs its own hole. It is a screeching passionate delve into the band's world of an exciting and thrilling compendium of rhythms.
This album has teeth so just be prepared to be bitten!
9/10
Tracklist
Gospel untold
Modern Disdain
Volatile
Victim
The Dreamer
From Eden to Exile
What you've done
Sentiment
Line-up:
Matt Dyne -Vocals
Tom Kelland – Guitars
Joey Jaycock – Bass
Mike Bell – Guitars
Liam Turland – Drums
From Eden to Exile
Volatile
Track is taken from their Debut Album Modern Disdain
Attic Records/PHD
Stampede Press
Release Date: 2nd June 2017
By: Pagan Hel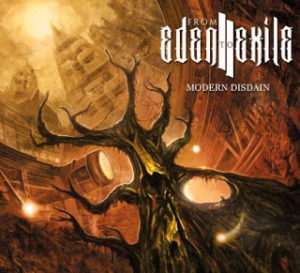 From Eden to Exile – Northampton, UK
Links:
https://www.facebook.com/fromedentoexile
Recorded and produced by Neil Hudson (Krysthla/Gutworm) at Initiate Audio and Media Studios in Wellingborough Northamptonshire
Genre: Thrash Metal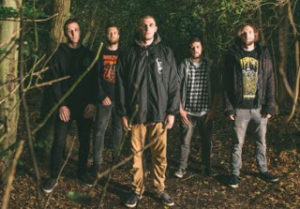 Biography:
"UK based heavy metal juggernauts From Eden to Exile are one of the UK's most exciting talents.  Having secured a slot at the 2015 Bloodstock Open Air Festival the band concrete their place in the future of UK metal.  Playing alongside acts such as Trivium, Black Label Society, Death, Cannibal Corpse and much more, From Eden to Exile hold their own and prove that they belong in the metal elite!"
~~~~~~~~~~
You know immediately that this is thrash metal with its gut-wrenching melee that spreads like wildfire through a forest! It kicks seven bells out of your ears as I am enjoying the volume at a reasonable level so as to devour the morsels left in its wake.
It's a very savage track that brutalises using gigantic rhythms and soaring beats. The vocals are low toned and delicious as the harshness becomes apparent. The rambunctious flurry of riffs just excites and compels as the track moves forward towards its end goal, sucking all the energy from your body.
The virulence is emotive and yet seductive if that be the word, depending if you crave this kind of metal, but anything with meat on its bones has to be good in my book and this is tremendous.
If this single is anything to go by then the album 'Modern Disdain' will absolutely take the roof off!
10/10
Line-up:
Matt Dyne -Vocals
Tom Kelland – Guitars
Joey Jaycock – Bass
Mike Bell – Guitars
Liam Turland – Drums