Forged in Black
Fear Reflecting Fear
4 Track E.P
Independent
Imperative PR
Released 29th April 2016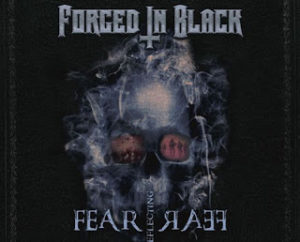 Forged in Black – Southend on Sea, Essex, UK
Links:
https://www.facebook.com/forgedinblack
Genre: Metal
For fans of: Judas Priest | Grand Magus | Memory Garden | Helloween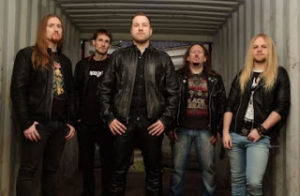 Biography:
"Forged in Black came into being in 2013, when the members of Merciless Fail decided a stronger, more metallic name was needed to accompany a new, more focused and driven attitude to their music. Their aim was to bring together the virtuosity and guitar melodies of traditional metal, the power and energy of thrash metal, the atmosphere of the darkest doom and the epic scope of power metal. Everything they loved in music alchemically blended into one potent potion of metal magic!
Having released their self-titled debut album – an expanded version of a Merciless Fail E.P with additional material and new cover art – Forged in Black quickly powered ahead, barely pausing for breath, before unleashing a new four track E.P entitled The Tide. This highlighted their formidable new found sense of purpose and lead to them recording a single, 'The Exodus', with producer Romesh Dodangoda, noted for his work with Motörhead, Sylosis and Bullet For My Valentine.
Now, in 2016, Forged in Black are preparing to unveil their finest release to date, their music honed to perfection through years sharing the stage with the likes of Breed 77, Savage Messiah, Praying Mantis and Beholder. The Fear Reflecting Fear EP was recorded with the legendary producer Chris Tsangarides, a man who helped to craft some of the finest albums recorded by bands such as Thin Lizzy, Judas Priest, Black Sabbath and King Diamond.
Soaring vocals, thundering rhythms, scything riffs and swirling, cascading solos; with Fear Reflecting Fear, Forged in Black are poised to make their mark in the annals of metal history, following in the footsteps of those great names mentioned above!"
~~~~~~~~~~
Fear Reflecting Fear – Embracing a powerful canopy of subtle and sinister, the irresistible and thunderous riffs are driven out like a demon from a writhing body! The fever pitch is reached quickly during the tracks debut from the speakers. Fiercely demanding its appetite feasts quickly on the ears and hunts down its prey. The vocals are clean but remorseless in their delivery while backing them up are some festering riffs that are damaging and outstanding.
Renegades of the Last Rites – A contagious spree of riffs and hammering beats that wildly surf on a tempestuous vocal lure. The guitar screeches in agony as they reach their skyward journey, onward and upward, the volatility seething through immense relentlessness.
1000 Wings – Throws you off kilter with a bristling beat and fuzzy electric guitar riffs that possess a vibrant rhythm and scathing grooves that pulsate with emotiveness, reflecting a harsh horizon on which a vocal adventure sits.
Shadows Still Remain – With equal measure the boisterous riffs come hurtling into a more tempered rhythm that none the less challenges on all levels. Fiery grooves of metal aid and abet its metal path and erupt with a superb guitar encounter that captures  monstrous hues of intensity.
Summary:
In keeping with their old school roots, although only forming in 2013 and a far cry from the 80's NWOBHM, However, Forged in Black have captured a time gone by and transported it into the 21st Century, both musically and vocally.
Their 4 Track E.P allows us just a short spell to glimpse back into a past where music only had two genres – Rock and Metal and both were and still are appreciated today.
For all metal heads being around during the 80's this E.P will definitely whet your appetite and for those who were still in infancy, maybe it's time you sampled a bit of your rock and metal history!
8/10
Track List:
Fear Reflecting Fear
Renegades of the Last Rites
1000 Wings
Shadows Still Remain
Members:
Chris Stoz Storozynski/Lead Vocals.
Andy Songhurst/Guitars.
Kieron Rochester/Bass and Vocals.
Chris Bone/Guitars.
Kev Rochester/Drums.