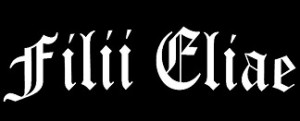 Filii Eliae
"Cimiterivm"
2015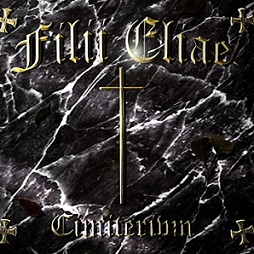 Filii Eliae is an Italian amalgamation of black and doom. They take pride in writing their songs in Latin, which is a rather unique feat itself. And this second album sports this. The album starts with a rather generic intro for the genre, clean guitars and organ sounds over some effect. Should not be mistaken for mediocrity though for it creates a good atmosphere.
Their second track retains that atmosphere, while exhibiting skilled musical articulation accompanies by heavy guitar riffs. The vocals hold a tempo with the drums which gets rather monotonous after a while. This changes in the next track for the better. I particularly like how they transition from downbeat section to more rhythmic ones. All the songs are of the same average 4 minute length which is a respectable length, especially considering the album boasts 10 tracks.
I'm not too keen on the sound mix; the guitars could do with a bit of a clean-up, and the vocals employ excessive delays at points in time. I really like the drums however, clear but not overly punchy, feeling organic and real. The keyboards are also well placed in the mix, although the choirs sound very artificial. The overall soundscape sounds ominous and negative.
So, the album is skilled and sounds above par. So what about the artwork? I know it's called Cimiterivm (which means graveyard) and the album cover does indeed show the point of the album but showing a dark marble gravestone is rather bland in my opinion.
Will I listen to it again? Personally I will, there is a certain vibe that makes me want to go through it again. Indeed I did so at least five times before reviewing which means it's an album that makes you want to go through it again and that's very good to know that there is such music out there which feels unique while not overdoing it. Also that funeral march at the end of Exeqviae? Very nice touch. As a Mediterranean person you hit a nostalgic note in me.
Tracklist:
1. Introitvs
2. Cimiterivm
3. Cinis Cineri
4. Tabvla Rasa
5. Exeqviae
6. Plvrimvm Sangvinis
7. Ivs Vitae Ac Necis
8. Fvneralis
9. Odivm Aeternvm
10. Extrema Pars
Favourite track is #9
https://www.facebook.com/Filii-Eliae-109896732426639/timeline/
http://filiieliae.bandcamp.com
Members:
Ossibus Ignotis – Drums
Martirium – Vocals/Guitars
Vastum Silentium – Bass


Rating: 7.5 out of 10
~Carnivean