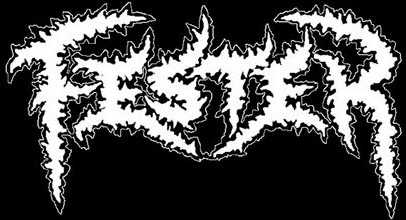 FESTER -" Death the way it was meant to be"
FESTER was founded back in '89 and hails from Askim in Norway. This quartet of teenagers had a wish of playing hard, extreme music which described their dark inner self. It didn't matter if it was called black, death ,doom , thrash metal, or what ever influenced by old school acts of the time like Slayer, Pestilence, Obituary and Kreator. FESTER never liked being labeled , and being open to whatever came into their mind and hands, FESTER made original dark music witch no other band to this date has made anything similar to.. The band themselves describes their music as Heavy, dark, atmospheric, gloomy extreme music with touches of Death, Black and Thrash metal. Or as an old flyer said : " Death the way it was meant to be".
The band , especially Tiger, was heavy into the Norwegian scene from '91. Many claimed the band being part of the "Inner circle", though the band never got the recognition they deserved due to the music style they played. It was only pure black metal who counted, and lots of great Death/Thrash bands got lost because of this.
Despite of this, FESTER's two demos – " The Introduction" ('91) and "Winter of Sin" ( '92) sold out fast, and the band received over 20 record deals(..). The band ended up releasing their debut album on the infamous " No Fashion Records" in mid '92. The album sold well, but due to several reasons the band made a new contract with "Lethal Records" in '93. The band released their follow up late '93. It was entitled " Silence" and tragically it was FESTER's last studio album. After the "Silence" release the band was offered touring for several months with among others "At the Gates" , and the band received great reviews . The band members wanted different things, and due to these personal differences the band split up.
FESTER was to reunite in 2000, and re-released "Silence" on No Fashion Records . When bass player died of a drug overdose a few months into the same year, these plans were crushed.
Tiger later played in a band called "Sincera", and we might see a release from that band later this year… New music are currently being made, in the vain of FESTER..
FESTER released a compilation of their two first demos and rare live stuff on Kyrck Production earlier this year, and due to public demand, their two first records will now be re- released . "Winter of Sin" has been sold out for over 15 years, and it's about time the public can get their hands on these lost gems! Both albums will be released on cd ( with brand new artwork, liner notes of the band and rare bonus tracks ) on Abyss Records, and on gatefold vinyl on Ironbonehead Production .
So why all this fuzz around a band that supposedly split up 10 years ago …?
This is the year of a FESTERing resurrection… The band will resurrect with the first studio album in 16 years! Thomas Andresen of Algol/SIncera is fetched in as permanent member on Vocals, Jontho ( Ragnarok) will session the drums, and Jon (Kampfar) will session the bass. The album will be recorded in Bonemachine studio by Raymond Pellicer, and released through Abyss records late 2011. The album will also include a Mortiis remix, and a couple of tunes that Tiger has made together with late bassmann Jørgen (..) post mortem..
Discography;
"Winter of Sin " – No Fashion Records – 1992- Cd
"Silence" – Lethal Records – 1994 – Cd
" The commitments that shattered " Kyrck Production – 2010-Cd/3 Lp editions
" Winter of Sin " Gatefold LP – Ironbonehead Production – 2010
"Winter of Sin " re-issue – Abyss Records – 2010
"Silence" re-issue – Abyss records – February 2011 – Cd
"Silence" – Gatefold LP – Iron Bonehead Production – February 2011 – Cd
"3.album" – Abyss records – tba
Bandcontact : bmfester56@gmail.com