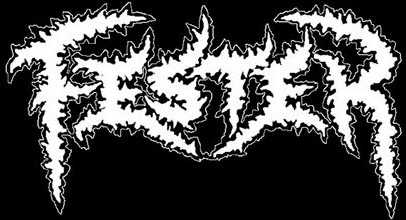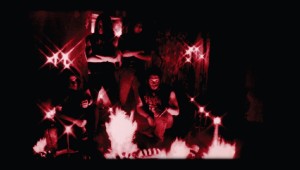 Summon: How did the band get started?
Tiger: Fester was founded in Askim/Norway back in 1989 on the remains of Heroic.. We were just 4 teenagers who were into Metallica, Slayer, Testament, Kreator, Pestilence etc who wanted to put our own dark feelings and thoughts into music.
Summon: What kind of music do you play?
Tiger: Like any other band, we would say that it's difficult to label our music…., but I guess you can call it Blackened Death metal, with toutches of both thrash and doom. It's very dark and melancolic metal, and I guess you can say it's the old school way of playing it..
Summon: How has the band response been?
Tiger: The respons back in the early 90's was good, and both our demos sold out fast. That being said: It was very difficult playing death metal back then with the second wave of black metal rising… We were one of the pioneers in blending black and death metal, and the respons with our re-issues now has been great !
Summon: Where did the band name come from?
Tiger: I had a lot of contact with several bands etc at the time, and it was actually Anders Odden in "Cadaver" who came up with the name. He even drew the first logo. The final version was drawn by Jon Bakker ( Then Balvaz, now Kampfar).
Summon: Introduce the band members
Tiger: Today Thomas Andresen does the vox ( Ex-Algol), Jon Bakker (Kampfar) takes the axe, Jontho in Ragnarok drums, and myself on guitars and vox. If one knows FESTER from the past, one might notice that I am the only original member left.. Thomas and Jon is permanent members, and Jontho sessions the drums.
Summon: Who writes the music? Lyrics?
Tiger: The new material and lyrics are all written by Tiger. Previously Rolf Tommy (The second guitarist/vocalist on the two albums) and I wrote like 50/50. We might do it slightly different with the next album 😉
Summon: And where do the lyric ideas come from?
Tiger: Some lyrics are made out of the feel in the tune, and sometimes vice verca. The lyrics comes out as stories, or feelings of hate,loneliness, the false ones, lack of will to live, and so on. Most of the lyrics are written in 1.person ( "I" form ), and are very personal. As said some are like stories, and some more like poems.
Summon: What is your view in Satanism and Occultism?
Tiger: I have read tons of occult books, and I still read. My view on the subject would be just too long to state in this interview…, but all in all I say that people shall do what they will, and praise who or what they will, as long as they dont fall for the lies of the false prophets..
Summon: How many albums/cd's have you released?
Tiger: We released our debut "Winter of Sin" in 1992 on No Fashion Records, and our follow up "Silence" in '93. A demo compilation – " The commitments that shattered 1991-1992″ was released last year on Kyrck Prod & Armour, and both of the two first albums has just been banned on vax for the first time ( Ironbonehead Prod), and just released with bonus through Abyss Records on Digi. We are currently in studio finnishing the first studio album in 17 years….
Summon: Tell me about some the songs on the latest CD?
Tiger: I will tell you some words about the tracks being finnished now, if thats ok ?
– "Rites of Ceres " – A midpaced typical FESTER tune, with toutches of dark and mystic feel.
"The black Tower " – A faster song, but with plenty melody and a bit soulside journey feel in some of the riffs.
"March of death" – A very slo, doomy, cold and mean tune… More doomy than any song we have written. Lots of athmospheres that will create chills down your spine..
" I'll hunt you down " – midpaced old school riffing ala Celtic Frost and early Kreator, but of course with a FESTERing toutch
The album will also include guest appereanses from Mr.Kyrck, Guido of Ysengrin (vox), and a special remix from Mortiis..
10 tracks all together
Summon: Do you have any side projects?
Tiger: A great old school death/black project who I started with Thomas Aamodt in 2002 called "Sincera".. The band is a lot faster than FESTER, but has also midpaced tunes. Very plain and in your face metal !! The band will release their debut on Abyss later this fall. Do check it out on www.myspace.com/sinceranorway
Summon: Who are some of your musical influences?
Tiger: Growing up with the early thrash/speed scene, and the NWOBHM, of course alot of these acts have, and will, inspire me. Names like Mercyful Fate, early Kreator, Destruction, early Metallica, early Mötley Crue, Black Sabbath, Celtic Frost/Hellhammer, Slayer etc…., but also feels from bands like Satyricon, Enslaved and Dissection.
Summon: Which current bands?
Tiger: I like alot of band from different genres, and I guess that some of these inspire me somewhere back in my head when I create music.. He he, I love the new "The Konsortium" stuff. Freakin amazing ! Other Norwegian bands like "Dead to this world" and "Allfader" are also great. More thrash/black, but fucking great bands ! Serbian "Bane" is great, Australian "Withcrist" and swedish "Diea Hard " too, just to mention the tip of the iceberg.
Summon: Why did you want to be in this band? If you weren't what would you being doing now?
Tiger: Playing metal in bands for 20 years now, and the reason for laying is somewhat different now than 20 years ago, but one reason maintains the same :- As long as something creativ comes out of my hands and head, and that I dont create just to create, then I will continue.As long as the right inspiration is there. Of course, soon turing 38 I am an old timer with family, friends and work that occupies most of my time, besides this..
Summon: What is the band like when you play live?
Tiger: Havent played live with FESTER for 16 years…… Have done some gigs with "SIncera" though, with Ragnarok, Drepjard etc, but to be honest I have never enjoyed playing live(..)
Summon: Do you have any type of stage props or special clothing?
Tiger: Never liked the "uniforms" with corpsepaint etc, black jeans, boots and either no t shirt, or a band t shirt. The closest things we have had on props are some candles and blood in the early days.. Now just pre metal and tons of light effects.. Ha ha
Summon: What was the best band you played with?
Tiger: Ahhh, several.. I have always enjoyed "Cadaver" live, "Algol" as well…, but the first that comes to my mind is "Taake" when we played in Bergen in '94. That was a blast !
Summon: Have you guys ever played in another country?
Tiger: Never with FESTER.. Like I said, I havent enjoyed playing live.. We even turned down a 3 month euro tour with amo "At the <gates<2 in 92, just because of this.. Of course the other FESTERing men has toured the world..
Summon: How big of crowd shows up at shows usually?
Tiger: I wouldnt know now… We have had some offers for some exclusive gigs , and festival appereances next year, so we'll see . Mayby I turn my oppinion around..
Summon: How is the crowd response when you play?
Tiger: That was one of the reasons I hated playing live… A few rows in front bashing, the rest in the back drinking beer/looking cool.. I have heard that that was a typical audience back then, and some, aspecially foreign/south American crowds are WILD !! Playing with "Sincera" the respons was good 😉
Summon: What do you think of the US Black Metal scene?
Tiger: I remember writing with several bands from the states a few decades ago.. Ha ha, but not to familiar with the scene today. I remember bands like Crusifier, Black Funeral and Grand Belial's Key… Act's now that I like are Maax and Hordes of Nebulah among tons.. I dont know the scene it self to good, never have, and I dont know if the scene has bad apples like the european once had.. Guess all scenes have…
Summon: What do you think of the Norweigian and Swedish scenes?
Tiger: Being part of the Norwegian scene 20 years ago, with everything envolved in that, of course the scene today is way different.. The Swedish scene as well. The times when bands like Grotesque, Nihilist, Dismember, Dissection, Amputation, Enslaved, Emperor etc where young and eeger teenagers who wanted to set the world on fire, will of course never come back. But I reccon the scene in both countries are big, and several good bands in both Black Metal and Death Metal music. There will always be special with bands playing music made in a part of the world where there are nearly any light during daytime 8 months of the year..
Summon: What are some of new favorite black metal bands?
Tiger: Mentioned "The Konsortium" are just magik, and right now a big favourite !!!!!
Summon: Any plans on writing any new material?
Tiger: We are in studio finalicing the first studio album in 17 years… It will be out on AByss Records late 2011, and will be entitled " A celebration of death ". Material for the next album is currently being written, and about 5-6 songs are under construction, so to speak..
Summon: What does the future hold for the band??
Tiger: Who knows…? We might all die tomorrow.
Contact them at:
http://www.myspace.com/festernorway