Fathomhell
"Non Pietatum Erit"
2012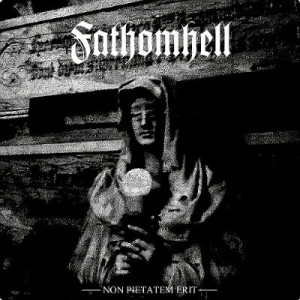 It would be difficult to not to notice that Non Pietatum Erit is  influenced by early 90's Black Metal. There appears to be an early Mayhem influence like many  bands of the genre and a little Venom here and there. Fathomhell is from Spain, and not a huge scene for Black Metal. So I sort of admire a band that comes out of a place that is not burgeoning with a huge community of support of other groups and fans. 
There are those who may notice that Fathomhell has no drummer but a drum machine. But it must be noted that the sound and programming are way above par. Fills sound a little programed and cymbals are a little over obvious at times but unless you listen for those things it most likely is not the first thing you notice. 
The vocals are strong growls and appropriate for the atmosphere of the songs. The guitars are focused on repetitive melodies and solid drives. 
The last song Fathom Hell stands out the most for me, it has some Venomy crunch in the guitar rhythms. This is a solid outing good for just throwing in and listening to in the background.
Recorded, mixed and mastered by José L. Palacios La Dama Oscura Producciones
Tracklist:
1. Intro Ad Tartarum
2. Devours the Light, Eats Their Souls
3. Illusions of Death
4. Fall to the Infinite Depths of Abyss
5. Dante's Inferno
6. Fathom Hell
https://www.facebook.com/Fathomhell
For band t-shirts: fathomhell.spreadshirt.net
Band contact: fathomhellmetal@gmail.com
Members:
Ludwigar – Lead Guitars/Synths/Drum programming
Al-Wars – Vocals/Rhythm Guitars
Necroghoul – Bass/ Add. Vocals
Rating: 7 out of 10
~Alaric Hannibal Barca