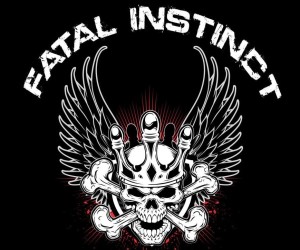 Summon: How did the band get started?
James & Scott: This band started after my last project came to an end, dude to a lack commitment. Last Project Devils Tower.
Summon: What kind of music do you play?
James & Scott: We play heavy Fucking Metal. Written from the heart.
Summon: How has the fan response been?
James & Scott: The fan response has been over whelming. Last I checked we were number 1 on the local charts with a fan base of over 5000 likes on our FB page and reverbnation page constantly growing. Every DJ, Music fan, that perhaps doesn't like or ever been introduced to metal takes an instant liking to the music and what the represents.
Summon: Where did the band name come from?
James & Scott: The band name came from a gut feeling. There's animal instinct, human instinct and were fatal instinct.
Summon: Introduce the band members and what they do in the band.
Scott Aquino – Drums
Chris Campbell– Bass
Steve Ricardo – Guitar
James Buhs – Vocals
Summon: Who writes the music? Lyrics?
James & Scott: Scott, James and Steve write the music and James writes all the lyrics.
Summon: And where do the lyric ideas come from?
James & Scott: Lyric ideas come from personal life experiences.
Summon: What is your view in Satanism and Occultism?
James & Scott: We have no view on the occult or Satanism.
Summon: How many albums/CD's have you released?
James & Scott: We've released a 3 song EP to this date, titled "Expectancy". Only available on digital distribution.
Summon: Tell me about some the songs on the latest CD?
James & Scott: Firing Squad was written about my little girl being bullied at school and wanting to kill herself from the stress. In my mind I line up a bunch of twelve year old kids and gun them down with a machine gun, Sentinel was written about my best friend dying from a cocaine overdose and his two boys growing up without a father. Skinlab was written about plenty of fish and people seeking validation from complete stranger on the internet.
Summon: Do you have any side projects?
James & Scott: There are no side projects Fatal Instinct is our baby and takes up all out time.
Summon: Who are some of your musical influences?
James & Scott: Some of our musical influences are Nevermore, Black Label Society, Pantera, Lamb Of God, Testament, the list goes back to the 80's Metal, where we gained most of our influences.
Summon: Which current bands?
James & Scott: Current bands that are our influences, Soil Work, Scar Symmetryfuge, The Faceless.
Summon: What is the band like when you play live?
James & Scott: What the band is like playing live? Put a quarter in the machine and watch us go. \m/
Summon: Have you guys ever played in another country?
James & Scott: Currently this project has not played in another country. Lining up festivals in Europe for 2014, playing Montreal. Going down to the USA and playing Seattle, Oregon and California in February.
Summon: How big of crowd shows up at shows usually?
James & Scott: Currently we have between 250 – 300 people showing up at each show and with each show the number continues to rise.
Summon: How is the crowd response when you play?
James & Scott: The crowd response when we play is one of disbelief, they cant believe a band like this exists in there own backyard.
Summon: What do you think of the US Black Metal/Death Metal scene?
James & Scott: We cannot comment on this scene because that is not our type of music.
Summon: What do you think of the Overseas scenes?
James & Scott: We think the overseas scene is what we we made for. Playing to large crowds who appreciate Metal well done.
Summon: What are some of new favorite black metal/death metal bands?
James & Scott: Sorry we don't have any favorite Black Metal/Death Bands at the moment.
Summon: When do you guys plan on writing any new material?
James & Scott: We are constantly writing new material. Always evolving, creating, pushing the music in an out of the box direction.
Summon: What does the future hold for the band??
James & Scott: Currently the future for the band looks very promising, being picked up by 20 – 30 internet radio stations weekly. Heading into the studio to record a full length album, shooting a video, designing more merch. Turning the band into a brand, being approached by management teams, to play across the states and Europe. Showcasing this brand of Metal every chance we can get.
Contact them at:
http://www.facebook.com/fatalmusic666
http://www.reverbnation.com/fatalinstinct