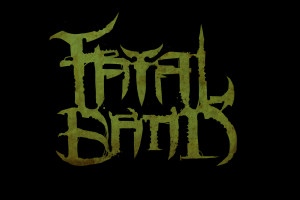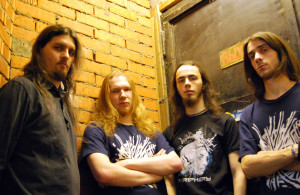 Summon: How did the band get started?
Christophor: The first full rehearsal of the group took place in early 2005. Then I was able to negotiate with an old friend, drummer Ennom of the "Eternal Sick". Find a drummer capable of decent thrash the drums in a heavy style has always been a major problem. Sometimes it takes years. (Prior to that, we together with guitarist Dimitri while engaged in using the mussel drum.) Just so happens that in this way, we do not lasted long, but it was already a group. Well, the idea of ​​the project has been brewing for years since 2003. A blank accumulated since the year 1998.
Summon: What kind of music do you play?
Christophor: We play Death Metal. Our music is admixture of other metal styles and other influences. For example, in the original material was planned many progressive. He was never implemented, but it's not the point. The main thing is always the Death Metal.
Summon: How has the fan response been?
Christophor: To answer this question you need to conduct a survey. I can not speak for everyone. But the people that had to communicate, respond more positively. So much for the fact that they had heard in the recording. At the concerts, of course, those who have seen repeatedly, react actively. We sometimes not the easiest to perceive music. Therefore, it sees the first tech is not always immediately enter. Not all of our music is easy to understand. Who you need to listen a few times. Well, there are those who have difficulty in music does not accept in principle. Songs Fatal band is not for them. Most of our students prepared thinking music lovers.
Summon: Where did the band name come from?
Christophor: Fatal band name is not accidental. I long to find him. It was supposed to reflect the essence of the main ideas of the group. Must be in style, that is to be immediately clear that this is not the name of the pop group for example. And I wanted, so it was not difficult. So that it is easy to read and memorize. So one of the original drafts of the names look like "a psychedelic band underworld» (sepulchral psychodelic orchestra). But it would be too cumbersome. Fatalism most people associate with death. Although it is not a correct understanding of the fatal words, but in this case it is appropriate as well as the correct understanding of the meaning of the word. Therefore, it is very well suited to us. The word band hint at the complexity and zamorochennost. Bands known as jazz orchestras. And jazz is a very versatile plastic music. It is very complex and there are a lot of improvisation and experimentation. We do not play jazz, but not on anything specific zatsyklivaemsya. Fatal band-sort of a dark evil band who is not afraid of experiments are obtained.
Summon: Introduce the band members and what they do in the band.
Christophor: Now part of that. Leonid – guitar. Jack – vocals. The drummer is now approved a new, yet will not say who it is. I traditionally play the bass guitar and doing organizational and administrative matters.
Summon: Who writes the music? Lyrics?
Christophor: Most of the musical material is my old piece. I've got enough to write several albums. They are used in conjunction with fresh ideas. For example, the songs on the CD «Cornered» written from 2000 to 2007. But, of course, a brutal dictatorship in terms of repertoire not. Each participant can bring their ideas, or at least play their game because it is convenient and interesting. With guitar solos have complete freedom. And now we plan to change the approach to writing new material. In addition to domestic preparations, we will create a composition of fragments of jams in rehearsals. Writing the text is almost entirely vocal lesson. One of our friend wrote some lyrics for the band. And sometimes I podkidyvayut ideas.
Summon: And where do the lyric ideas come from?
Jack: Life, art, film, literature.
Summon: What is your view in Satanism and Occultism?
Christophor: Personally, my opinion is not worth such things as Satanism and the occult play too seriously. They are as good as the ambiance and decor, for example. As a youth fashion cravings are not known. A natural interest in these phenomena contribute to the movement of a dark creative ideas. This interest has always been, is and will be. But deep thrust into such serious things as the occult otherworldly people too early. Not mature enough yet. While occultism is well exploited by charlatans, bearing only the harm. I see Satanism as well as all religions. The same human nonsense. But while the Church of Satan is not on every street, in such amount as the Orthodox circuses, mosques and synagogues, for example, Satanism is not annoying. At the moment, not aggressive Satanists, using metal Satanism themes and ideas in his work, people with the image of satanic me more sympathetic than the religious fanatics. Well, and pray to Satan, the same thing as praying to Allah.
Summon: How many albums/CD's have you released?
Christophor: The album has only a «Cornered». There was also a promo single, «The Worst», and participated in several compilations. I must say a few are not only out of laziness and love of alcohol))
Summon: Tell me about some the songs on the latest CD?
Jack: My favorite song of an album is the opening "It's All Over". I wrote instrumental and lyrics for it, this song reflects my passion for fast, brutal and technical stuff, like Benighted or Aborted do. This song has an extraordinary 4-layer guitar solo by my good friend Douglas Verhoeven from an awesome Belgian band In-Quest. I just loved how he added his hypnotic touch for our song. Another remarkable song out of the album is Million Names, Thousand Eyes. The structure of the song is really weird as it plays games with your inner clocks, time signatures never fail to surprise even the trained ears. And it was really hard to record vocals for this one, one my favorite, definitely.
Summon: Do you have any side projects?
Christophor: Yes. Fatal band musicians have always played, and played in other groups. From 2000 to 2009 I was a member of Rest in pain. Then more Fatal band was an additional project. It is actually intended as an additional project. From 2008 to 2012 I played in the symphonic band Black Sinful. It is also occasionally involved in other Death, Black groups. He played concerts and recorded at the studio. It is also recorded bass party for friends at home. And it was not just metal. This situation was until modern times. Now, I gave up everything, from participating in any projects, except for Fatal band. It may be that this failure is not always on, but at the moment I do not want to do what someone else. Jack is Back Door To Asylum, A Foggy Realm.
Leonid: I am also engaged in 2 projects, Krest (death metal). After 5tiletnego silence we are going to release a new EP and album in a completely new composition. Second – Nordissult (black metal), for the moment this project is the studio. One of these days to be released debut release.
Summon: Who are some of your musical influences?
Christophor: The formation of my musical tastes heavy, of course, influenced by Megadeth, Slayer, Pantera, Metallica. They were among the first truly snesshy roof .. As well as other Thrash, Death, Heavy groups of the nineties. And a little jazz influenced rock.
Leonid: Some of my music. influences – a classic thrash, death, black metal. As well as guitar instrumental music (shred / fusion).
Summon: Which current bands?
Christophor: If you mean the young group, I specifically do not watch them. Only if by chance somewhere in the clubs that you see. And to me they are usually not interested. At home I listen to music avidly. I can not listen for a year or anything. And then to turn around the clock. Most often it is Death, Thrash, Black metal group formed in the last century. .. Although this last heard from Benighted suddenly liked. I was influenced by groups and projects that had to participate. To better understand what is required of me, I delved into the style of the band, listen to similar artists. And thus discovering always something new and interesting.
Leonid : Among the modern performers can identify such names as Aborted, Dying Fetus, Misery Index, Benighted …
Summon: What is the band like when you play live?
Christophor: A special image we do not like Death itself in all groups, with few exceptions. And on the stage move as actively as possible. Standing still, we can not. The concert is a great opportunity chop. And it's always a thrill.
Summon: Have you guys ever played in another country?
Christophor: In other countries Fatal band did not happen. Travel to other countries rather than just organize. And this is not cheap. There should be a sense in such undertakings. And perhaps we just do not set ourselves the task. Indeed, so well go to another country should already have sufficient prominence there. And with today's huge number of local groups in all countries and all cities, the profitability of these trips is highly questionable. Even in his own country now, few tours (we have a situation). Although if there were interesting opportunities, we probably will not give up.
Summon: How big of crowd shows up at shows usually?
Christophor: At any club gig is now up to 200 people. This concerns not only the performances of our group, this situation at all, anywhere.
Summon: How is the crowd response when you play?
Christophor: People come to relax and rest in their own way. Someone is listening, who is comfortable with dancing. In this regard, we are totally original. Our students are behaving just like any metal concert. We just try to not be bored either us or them.
Summon: What do you think of the US Black Metal/Death Metal scene?
Christophor: U.S. homeland areas of extreme metal. Of course American groups have always inspired and inspiring. They are pleased with their music, their quality. In America, a huge number of highly qualified musicians playing metal. I think you do everything you know. Well, if briefly – in my play list most of the bands is from America.
Leonid: American detovaya scene is the largest in the world. On the black scene has nothing to say, because it does not differ, or an abundance of big names.
Summon: What do you think of the overseas scenes?
Christophor: As for other countries and continents. It is now certain, even in Africa there is Death metal. For all hard to follow. Well, with regard to Europe, everything is in order. Artists a lot of good.
Leonid: The European scene – the most diverse, it has everything – from brutal death metal grindcore, and to folk.
Summon: What are some of new favorite black metal/death metal bands?
Christophor: I do not just answer this question. I've never been very very favorite groups. There is no group that I would like to hear every day. All the mood. The only thing I can say for sure is now a favorite style of music for me, old school death metal.
Leonid: Among the modern performers can identify such names as Aborted, Dying Fetus, Misery Index, Benighted …
Summon: When do you guys plan on writing any new material?
Christophor: Now I'm trying not to reveal anything specific in advance. For Fatal band is a bad omen. But then soon begin rehearsing the updated structure and it is likely there will be new plans and ideas. Ideas to change the tone and approach to songwriting exact test.
Summon: What does the future hold for the band??
Christophor: Our future is underground. And that's fine. And it was good.
Contact them at:
http://www.lastfm.ru/music/fatal+band
http://www.reverbnation.com/russianfatalband
http://www.myspace.com/fatalband
http://www.facebook.com/Fatalband
http://www.youtube.com/user/MrChristophor
http://fatalband.com