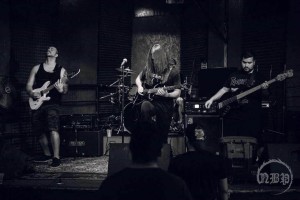 Summon: How did the band get started? 
Jessie: The band formed in January 2010 as a project of mine. Recorded my the demo version of '…to dust' and later in the year I recorded two other demo songs. From then on into the year I got a few friends to jam with and that's how it became more of a band than a project. I had a vision of making it something bigger than that and I knew that it would take time. That vision is far from fulfilled but we are definitely closer towards that vision 6 years down the road.
Summon: What kind of music do you play? 
Jessie: It would fall (no pun intended) under melodic death metal but there are certainly other elements in the music that gives it a certain sound. I take a lot of influence from artists like Katatonia, Devin Townsend and Opeth. The list goes on and I attempt to draw everything I like about what I'm really into at the moment to put into my music.
Summon: How has the fan response been? 
Jessie: So far so good. They're certainly a patient bunch and I am forever grateful for that. Our debut album The Insatiable Weakness – after almost 2 years of waiting – comes out this month (January 26) so I'm very happy to know we can finally deliver the product they've been waiting for.
Summon: Where did the band name come from?
Jessie: Initially, it's a concept from this German metal trio under the name Disillusion. They're debut album Back to Times of Splendor was so impactful on me that I dissected the music as well as the lyrics. The song A Day by the Lake was probably my favorite song and the concept of fall was that it was a sign of end times; things will change and ultimately not leave you the same person.  From then on the name got more and more of a meaning from friend's and family's own take on what the name meant (I would ask them, 'what do you think the name means?') so I would say the name is open to interpretation.
Summon: Introduce the band members and what they do in the band.
Jessie: I'm Jessie Santos. I write the songs and lyrics. My instruments used in the band are guitar, vocals and keyboards. David Gutierrez is in charge of the bass. Dan Benavides is the lead guitarist in the band. Lorenzo Perez is our live session drummer.
Summon: Who writes the music? Lyrics?
Jessie: Yours truly. I write the backbone of the songs and bring them to the guys to be arranged accordingly. I also write all the lyrics.
Summon: And where do the lyric ideas come from?
Jessie: Anything that inspires me at that moment. Could be a life moment that was impactful, or even a really good story that I read. I approach my lyrics with basically writing what's in mind first. Add and take things out as they go. I like to paint pictures and tell stories when I write them down and I aim to have the person listening or reading them visualize the whole thing.
Summon: What is your view in Satanism and Occultism?
Jessie: It's certainly an interesting subject. I'm not a religious person one way or the other, although the darker side of things tends to be more alluring. With that being said I have researched it, but not extensively.
Summon: How many albums/CD's have you released?
Jessie: Fall has released a 3-song demo in 2010, self-titled EP in March 2012, As Rust Collides single July 2012 and our debut album The Insatiable Weakness set to be released January 26, 2016.
Summon: Tell me about some the songs on the latest CD?
Jessie: It's a culmination of songs I've written over these years. So you'll hear some songs from the demo and EP on here but revved up and updated from their original versions as well as 6 new songs that haven't been recorded before. Some are aggressive, chaotic and angry as well as songs that sound melancholic and brooding. I think any metal head will find something they'll like in this album.
Summon: Do you have any side projects?
Jessie: I'm in another full-time band, Shattered Sun. I don't consider them a side project, however. We just wrapped up our 3rd tour back in November.
I'm off and on in another band, An Eaters Curse, with friends I made in college. I'll be doing some vocal tracking for them later this month.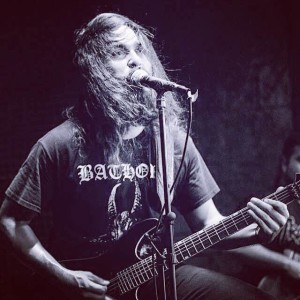 Summon: Who are some of your musical influences?
Jessie: Depends on my state of mind at the time. Right now, I've been revisiting the Silent Hill  soundtracks. Something about those games that just draw me in. Really dark and moody stuff – I love it.
Summon: Which current bands? 
Jessie: Katatonia, Devin Townsend, Opeth, Ihsahn, Tesseract, Skyharbor, Soilwork, Karnivool, Dead Letter Circus…the list goes on. 
Summon: What is the band like when you play live? 
Jessie: We strive to be tight as possible and sound just how it is on the albums all the while engaging the crowd to have a killer time with us.
Summon: Have you guys ever played in another country?
Jessie: No, although that is certainly a goal!
Summon: How big of crowd shows up at shows usually?
Jessie: We play in our hometown not very often, due to our drummer living out of state. So we have to plan in advance before we even book a date. So we make an event out of it, I'd say about 100-150 heads show up with a well-promoted show. 
Summon: How is the crowd response when you play?
Jessie: They love it, if you're into it then that will reflect in the crowds response. It's a lovely cycle.
Summon: What do you think of the US Black Metal/Death Metal scene?
Jessie: To be honest, I'm not very up to date with the up and coming black and death metal bands in the states. The bands that I have heard and know about blow me away with their studio and live work. Dark Sermon, Fallujah and Rivers of Nihil are among my favorites.
Summon: What do you think of the Overseas scenes?
Jessie: Not much knowledge there either as I've never experienced it first hand. I'd like to know how a scene is first hand before I make a comment on it. It would be awesome to visit some of those scenes in the near future.
Summon: What are some of new favorite black metal/death metal bands?
Jessie: Emperor, Bloodbath, Aborted, Old Man's Child and Enslaved.
Summon: When do you guys plan on writing any new material?
Jessie: I'm writing frequently, whether it be for Fall or something else is completely up in the air. We're also not on a time constraint/deadline so there's no actual plans to start composing the second album.
Summon: What does the future hold for the band??
Jessie: Release the album, host a CD release show/party of us doing the album in its entirety, do some tours in the spring, summer and fall, promote the hell out of the album and maybe somebody will like our music enough to pick us up!
Contact them at:
https://www.facebook.com/falltodust
https://www.reverbnation.com/fallbandtx