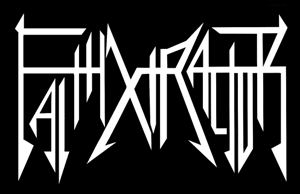 FaithXtracor
"The Great Shadow Infiltrator"
2013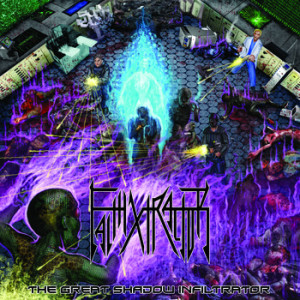 Judging a book book or album by it's cover has been considered foolish historically. Perhaps we should be able to when it comes to albums, because many times it is spot on. But there are dangers. The cover of The Great Shadow Infiltrator is futuristic, candy colored in such a way that hides the violence contained. The album itself, is rawer and much tougher than the cover would lead you to believe. This is a drive heavy album and the rhythms match deep crunchy vocals. The brothers Thomas, who are also in a Punk Horror group called the Vladimirs, both share vocals. One taking a slightly higher strike to the other guttural grind. The vocal doubling stays heavy, matched with the fullness of the guitar tones, are really a highlight to the album. The drums are really well placed in the mix and make an excellent backbone to the solidness of the album.
The track Freedom Confidential really caught me off guard. The drives are super hooky and draw you in. This is kind of a crossover song. Most of the songs are for the modern headbanger, despite the older influences. With Cold Calculation was another track I really enjoyed listening to multiple times. I think the album is solid, especially if drive laden music is your thing. There is a mild attempt at some commercialism musically but not enough to complain. 
I would expect that FaithXtractor could be likened to a rawer version of New Immolation.
Tracklist:
1. The Best Holographic
2. The Six Knives of Redshield
3. Earth to Anvil
4. In All Forms Reptilian
5. Third and Final
6. The Great Shadow Infiltrator
7. The Eye At the Divide
8. Freedom Conditional
9. With Cold Calculation
10. Coffle
11. Shackling the Long Unsurped
https://www.facebook.com/Faithxtractor-340370382698945/
Members:
Ash Thomas – Drums/Vocals
Marquis Thomas – Guitars/Bass
Zdenka Prad0 – Bass (live)
Cody Knarr – Guitars (live)

Rating: 8 out of 10
~Alaric Hannibal  Barca