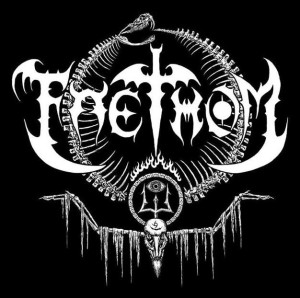 Faethom
"Mark Of The Devil"
2013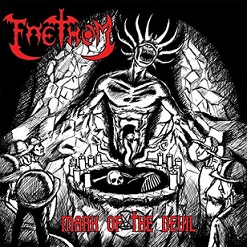 This is one of the craziest releases I've reviewed. And that's a good thing. This is a raw sounding release fronting a female vocalist which has a remarkable range of vocals, from extreme to clean complementing the skilled but not overdone guitar work. The drums are also nothing over the top, but it overall makes for a release which is easy to listen to and to appreciate. This is especially true because the album does not have the best sound a release can have. The samples are also included in a very flowing manner. Some of the best even, rivaling Funeral Mist's Maranatha.
As for sound, that is where the release loses points. The vocals are too much forward, effectively drowning the guitars and most of the drums, except for the snare which hits your ear drum like a gun. Even so, the guitars have a great primordial sound to them, with a good balance between note clarity and an extreme sound.
The artwork is an interesting notion, typical of underground bands, it's a white on black drawing with what looks like a Mayan Satan hybrid discovered by…girl scouts? I somehow consider it representing the release very well. I believe that the album's artwork should set the first vibe for a release and this one does it well.
Will I listen to it again? Yes, it is something I would go back for. There is something about this release that I like. It feels that the band put a lot of energy and passion in it and I can sense that while listening to this good, albeit short, release. Of course I might be wrong but I'd like to think that's what happened which makes this EP a great thing to listen to. Definitely worth a listen.
Tracklist:
1. Mark of the Devil
2. Héroes de las Minas
3. School Day Terror
Favorite Track is #3
https://www.facebook.com/faethom
Members:
Mariela Muerte – Vocals/Keyboards
David Diacrono – Guitar
Hermes Reyes – Drums
Ken Hayward – Bass
Rating: 8.5 out of 10
~Carnivean


Faethom
"In the Name of the Father, the Son, and the Unholy"
2011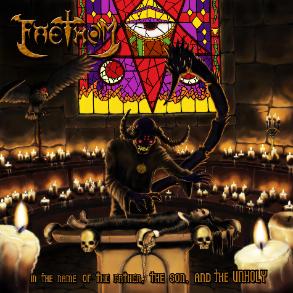 Faethom's full length release, "In the Name of the Father, the Son, and the Unholy"……I mean, what more do you want?  That should sum it up!………….Clearly this is a concept album from start to finish.  It is a clever story (which you have to find out yourself.  I won't spoil it.)  with multiple characters and facets of metal entwined through it.  Fans of thrash and black metal will enjoy this as will fans of symphonic and traditional heavy metal!  It's a win win situation!  If you don't have it, get it.  Got it?  Good!  Do yourself a favor, go see them live…..tell 'em Andrew sent ya!!
Tracklist:
1. Exiled
2. The Letter
3. Thou Shall Follow
4. By the Lake of Sacred Eyes
5. Beware the King
6. The Accused and the Damned
7. A Promise
8. At the Witch's Door
9. Live in Dread
10. Ezrahmael
11. A Lifetime of Emptiness
12. Break the Vow
13. Ophelia's Prayer
14. Lullaby for Heathen Spawn
15. Child of Mine
16. Bleakest Fate
https://www.facebook.com/faethom
Members:
David Diacrono – Guitars
Mariela Muerte – Vocals/Keyboards
Hermes Reyes – Drums
Federico Vidal – Bass
Fabian Lopez – Guitars
Rating: 8 out of 10
~Andrew
Faethom
"In the Name of the Father, the Son, and the Unholy"
2011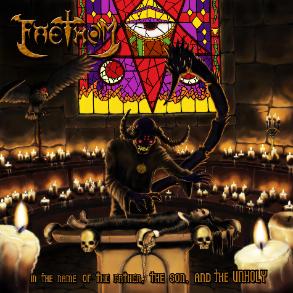 Faethom….easily defined as a ball of creativity that has so many different influences you can be overwhelmed at times. From the battering black metal to the thrash and even some progressive moments found throughout this band will keep keep your attention. After listening to their CD "In the Name of the Father,The Son, and The Unholy…I let my brain relax before assessing what I just experienced. Mariela Muerte does justice to her black metal vocals. She also uses her clean vocals to bring out the madness depicted in this production. To see this band live is like going to a macabre musical with each member of the band having their own insanely unique character. This band has some of the best musicians I have had the pleasure of meeting and they put 100% into their shows. In short…you need to see it to believe it!! I give this CD an 8/10…..I give their live performance..well you decide, but be prepared to let your mind take in the darkness.
Tracklist:
1. Exiled
2. The Letter
3. Thou Shall Follow
4. By the Lake of Sacred Eyes
5. Beware the King
6. The Accused and the Damned
7. A Promise
8. At the Witch's Door
9. Live in Dread
10. Ezrahmael
11. A Lifetime of Emptiness
12. Break the Vow
13. Ophelia's Prayer
14. Lullaby for Heathen Spawn
15. Child of Mine
16. Bleakest Fate
https://www.facebook.com/faethom
Members:
David Diacrono – Guitars
Mariela Muerte – Vocals/Keyboards
Hermes Reyes – Drums
Federico Vidal – Bass
Fabian Lopez – Guitars
Rating: 8 out of 10
~Sandra