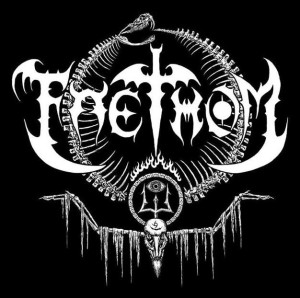 Click play to listen to the Audio Interview
Summon: How did the band get started?
Mariela: David and I both were residing in Cochabamba, Bolivia in 1999 and we started a Metal band with a few other musicians. Things went well for a while but after a few life changes, we both relocated to Florida, USA, and we started a new project from scratch, with a darker, heavier sound and concept, which would slowly develop into what is Faethom today.
Summon: What kind of music do you play?
David: Our style can be described as Blackened Heavy Metal but you can also find elements of other Metal styles in our music. Horror plays a significant role in the concepts of our music. Our first full-length concept album is based on a Horror story written by Mariela.
Summon: How has the fan response been?
Mariela: We have had a great response to our music from fans of Horror and Metal alike. People enjoy the theatrics on stage and the themes showcased in our music. They like the diversity of our sound and the fact that each song in our album is like a chapter in a book. We had a great response to the promotional material we released for the album and we have been lucky to spread our music to different parts of the world thanks to the Internet and social networks.
Summon: Where did the band name come from?
Mariela: As is common, finding a band name is not an easy task. You throw around different ideas which sound good at the time but then after a few months, you realize how silly they sound, no matter how awesome they were to you in the beginning. After a few failed attempts, I was reading a book, and mind you, we wanted to stick to a 1 to 2 word name, this word kept sticking out to me as I read: fathom. I suddenly thought "what a great word!" It signifies: to understand, to comprehend. I loved the way it sounded. And, it looked good on paper.
David: After a couple of months, I came across another band that had the same name, so we decided to change the spelling to: FAETHOM. And it actually looks better to us this way, more balanced, and the old English spelling suits us.
Summon: Introduce the band members and what they do in the band.
Mariela: My name is Mariela Muerte and I am the lead singer and keyboardist. I was born in Bolivia. Our lead guitarist is David Diacrono and he was also born in Bolivia. Our bassist is Federico Vidal and he is Argentinean. Our drummer is Hermes Reyes and he is Colombian and our second guitarist is Fabian Lopez and he is from Chile.
Summon: Who writes the music? Lyrics?
David: Both Mariela and I write the music. Mariela handles the lyrics.
Summon: And where do the lyric ideas come from?
Mariela: The lyrics are based on a horror story I wrote. I took the chapters in the story and turned them into song lyrics. The ideas sprout from a brain that has been overexposed to countless bouts of Horror movies and Horror novels over a period of many years. My motto: A horror movie a day, keeps the sanity away. A little crazy is always good when it comes to Metal. Let's just say my imagination is severely twisted.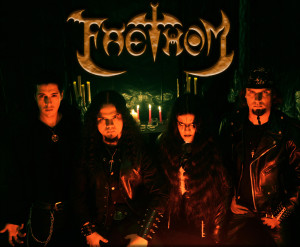 Summon: What is your view in Satanism and Occultism?
Mariela: The story of our album brings up themes of Satanism, Occultism, and things that go bump in the dark. But we are telling a story, a horror tale, fiction in the form of a Metal album. Satan is the most infamous villain of our times, as a writer and lover of Horror, it is hard not to ignore the appeal of a dark, all-powerful being scheming against humanity in the coldest pits of Hell. Yes, we are fascinated by the Occult and all things macabre and these elements will always prevail in our music.
Summon: How many albums/CD's have you released?
David: We first released an EP titled "Lullaby for Heathen Spawn" which contained five songs. In November of 2011, we released our first full-length album titled "In the Name of the Father, the Son, and the Unholy."
Summon: Tell me about some the songs on the latest CD?
Mariela: All the songs are like chapters in a story. For Example, "The Letter" is, as the title explains, about a letter sent to our main character, the hermit Victor Garcia, by the Mother Superior of a nearby convent. She explains to him that she needs his help in repairs needed around the convent and asks him to meet her "on the morrow." Victor agrees and sets off the next day. And now we go into the next song, "Thou Shall Follow," in which the Mother Superior tells him the rules of the convent and most importantly to stay away from her "sacred little nuns." And so the story develops on until we find ourselves in a dungeon, with a birthing young nun being eaten away by her demon child, as in the song "Lullaby for Heathen Spawn." This is just a sample of what to expect from the album.
Summon: Do you have any side projects?
David: No, none of us have any musical side projects. As of now, we all dedicate ourselves fully to Faethom.
Summon: Who are some of your musical influences?
Mariela: Some of our musical influences are: Mercyful Fate, King Diamond, Ancient, Witchery, Uriah Heep, Deep Purple, Black Sabbath, Unleashed, Morbid Angel, Candlemass, Hell, Sigh, Rotting Christ, etc…
Summon: Which current bands?
David: To be frank, all of our influences are from the old school. And there was so much good music put out there that I am always discovering a new band to love from back in the day.
Summon: What is the band like when you play live?
Mariela: We love to use props. Yes, we will take the time to set up candles and other horror memorabilia around the stage, even for a 30 minute set. We mean business. It's all about creating an atmosphere for the audience so they know what we're all about. I always joke that I have so many nun outfits I should join a convent. We hope to bring more and more theatrics to our performances as time goes on and money allows. King Diamond, Alice Cooper, all the way. That's what it's all about. Plus, we love to put a lot of energy into our performances. I love to get up on that stage and just give it my all, there is a lot of arm waving, hair flying about, screaming, eye rolling, head spinning, well, you get the picture. Looking good and pretty is not an option, it's all about letting go and unleashing the fury and if it is genuine, the audience will love it.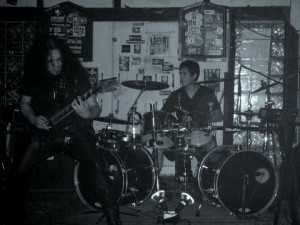 Summon: Have you guys ever played in another country?
David: Well, I guess playing in our own separate countries doesn't count, right? But, all kidding aside, no, Faethom has not played outside the US yet, but we hope to. We would love to come out and play for our Metal brothers and sisters across the world.
Summon: How big of crowd shows up at shows usually?
Mariela: It varies. We've had some awesome crowds, we've had some not so great ones. Sometimes, you'll play for a large crowd and have the best time and sometimes you'll play to an almost empty room. But, you always put on the best show you can because even if you play for a small crowd, you can make some die-hard fans and we have learned that time after time. Also, it has a lot to do with timing. It's just getting to play at a good time slot.
Summon: How is the crowd response when you play?
David: The crowd is always very animated, responsive, and LOUD! We love that. The closer and "in our faces" they are, the better.  
Summon: What do you think of the US Black Metal/Death Metal scene?
Mariela: The scene could be stronger. We need to realize we are all in this together and we need to get out there and support the bands, enjoy Metal to the fullest, and honor the bond we share as Metalheads.
Summon: What do you think of the Overseas scenes?
David: The scene is stronger, especially in Europe. The amount of Metal festivals held across Europe on a yearly basis and the great turnout is living proof that there is great support for the genre.
Summon: What are some of new favorite black metal/death metal bands?
Mariela: I guess one of the new bands that really stood out to me recently has been Ghost. I've actually been more interested in rediscovering the old school. But, I would advise Metalheads to check out their locals. You'd be surprised at the amount of great bands you can find, and with your support, these bands can achieve success. Just help them spread the Metal.
Summon: When do you guys plan on writing any new material?
David: We are planning to start writing new material later this year. Mariela already has another horror tale under her sleeve. This one will have more of an ethnic musical influence since the story will be based in Bolivia.
Summon: What does the future hold for the band??
Mariela: We hope to go on a small tour to promote the album, spread our music, and make some new fans. We will start recording our new album probably by the middle of the year. It's going to be another concept album and this time we are bringing our Bolivian roots into the music and story. We hope to have some lyrics in Spanish, possibly a song or two entirely in Spanish, and we also want to incorporate Quechua or Aymara into the lyrics. We are working on our first music video for "The Letter." That should be out soon. And just play, play, play, as much as we can, because that is what we love to do. We do want to take this opportunity to thank all the great people that have supported us so far and just send out a message to our Metal brother and sisters, to keep on supporting Metal, and to stay united and strong.
For those of you interested in learning more about the band or to purchase our album "In the Name of the Father, the Son, and the Unholy," please visit the our links
Contact them at:
Website: www.faethomweb.com
Facebook: https://www.facebook.com/faethom
MySpace: http://www.myspace.com/faethom
Reverbnation: http://www.reverbnation.com/faethom
CdBaby: http://www.cdbaby.com/cd/faethom2
You Tube: http://www.youtube.com/watch?v=oef35s62LvA (ALBUM PROMO VIDEO)