Extrema
"The Seed Of Foolishness"
2013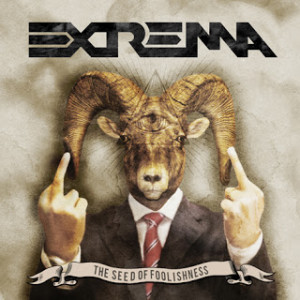 So after track 1 I had to ask myself, did Kip Winger form a Death/Thrash Band. I almost feel like this is Italy's answer to Baby Metal. The production is like listening to Nickleback and the melodies poppy and happy for a band who describes their themes as hate, anger and corruption. 

The musicianship is top notch and digitally overproduced. The vocals get really heavy at times, the singer has a great range but uses his powers for good and evil, that is if you consider pussified la la singing a crime punishable by death. Yes everyone on American Idol should be targets and the hunters set to kill. Over digitized harmonies, like gang vocals should be a crime. 
While it sounds like I don't favor these guys, I have to say that  the CD starts to grow on you. The way a girl who is only nice to you because she wants something is nice to confuses the shit out of you, then in a total stupor you give in. I think Extrema wants a wide audience and to be baddass. Sorry you can't have it both ways. I think that people like Eddie Trunk who is the biggest pussy in the whole world and hates Death Metal or any truly heavy music would find this to be a crossover album. There is enough of the Mutt Lange to summon the posers and some great guitar work and tones to satisfy those who are more musically inclined. 
Overall I hate myself for enjoying parts of the CD a lot. I will feel even worse if the songs stick in my head later and I find myself singing them.
Tracklist:
1. Between the Lines
2. The Politics
3. Pyre of Fire
4. The Distance
5. Ending Prophecies
6. Bones
7. Again and Again
8. Deep Infection
9. Sick and Tired
10. A Moment of Truth
https://www.facebook.com/pages/extrema/51303509991
Members:
GL Perotti: Vocals
Tommy Massara: Guitars
Gabri Giovanna: Bass
Francesco La Rosa: Drums
Rating: 7 out of 10
~Alaric Hannibal Barca