Exocrine
Unreal Existence
10 Track Debut Album
Great Dane Records
Released 25th October 2015
Reviewed By: Pagan Hel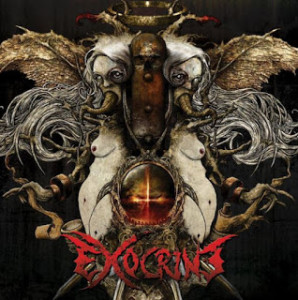 Debut album out now! 
The words inside this CD are very poignant and obviously dedicated to two special people in the bands life: In memory of Severin Mangin – 1979 – 2013 and Guy Perez 1954 – 2014
Exocrine – Bordeaux, France
Links:
https://www.facebook.com/Exocrine
Like and buy here:
https://greatdanerecords.bandcamp.com/album/unreal-existence
Artwork by David Therrce
Photos by Pierre Hontas
Recorded and Mixed by Silvain Octor – Perez
Final mix and mastering by Stephen Scot at Lynk Studios by Stephen Scott at Lynk Studios
Final Mix and Mastering by Stephen Scott
Genre: Progressive Death Metal
Biography:
Exocrine was formed in Bordeaux during 2013 by Sylvain O.P.
Exocrine have evolved in modern and technical metal styles, mixing influence without losing sight of the true essence of their music.
Our debut First album "Unreal Existence" combines Groove pattern, technical riffs with melodic leads.
Exocrine signed with Great Dane Records for the release of Unreal existence!
~~~~~~~~~~
The French are at it again – producing, this time some Progressive Death Metal from the likes of Exocrine who have just released their debut album 'Unreal Existence'
Instantly pulling itself into the spotlight is the track 'The Cycle Form' boldly making use of its technical guitar patterns and huge vocal gnarling and engaging with some magnificent blast beats that powerfully antagonize. It seers through the cerebral cortex and ferociously attacks the mind. 'World in Fire' explodes into a melee of super savage breath that growl hungrily in the face of some equally savage riffs and seething beats that together mingle with utter in trepidation. Firing unmercifully and defiantly to its close. 'Medusa's Embrace' simply notches up a storm of malignancy and weaving its twisted grooves to a harsh bass hook that maliciously conquers and demands attention. 'Voynich Manuscript Part I' doesn't even give the listener a respite from its dangerous claws before sinking its musical teeth into your ears and biting hard the realization is – this one is going to hurt! 'Voynich Manuscript Part II' however strokes the ears after their brush with the previous track and coats the ears in a malingering, dream-like state. Furthering on it begins to turn nasty and once more you find yourself in a battle zone of good versus Exocrine. Lyrically brawling into a dark haze of swagger, it builds into a toxic malignancy that is taken over by sultry and intricate riffs. 'Parasite' literally holds the attention with its crisp melody and thunderous beats that emotionally brutalizes the senses. Raging with a sure fire intensity it suddenly and out of nowhere produces a sonic bristling pulse of edgy enterprise and is a phenomenal track!
'The Blood for a Crown Part I' possesses a bruising of rapacious lures and sampled voice that is incoherent although it matters little as the intense wall of sound is built with a creative onslaught. Igniting to a glorious level it hits the highs and delves into the lows all guns blazing and is one punishing track to bear witness to. 'The Blood for a Crown Part II' takes a different direction with immediate effect and draws on a gentle fixation that is until all Hell is let loose and it thrives on utter recklessness as it surges into restless acclaim. 'The Last Council' takes no time to mess about and hits the ground with both feet running! Swirling with vitriolic pressure and vocally guttural presence it lands itself squarely at your feet and coaxes with its musical fingers as it brews up quite a dusty haze of dirty rhythms. 'Celestial Voyage' is very distinct from its previous tracks – creeping at the beginning of its creation only for you to realize that this can be likened to an awakening monster as it brushes with captivating urgency to be noticed.
Summary:
The corrosive feel that lies within this album is nothing short of spectacular as it prepares to do battle with the audial cavities.
Thoroughly engrossing and absorbing it nestles into the head and that is where it stays embedded! Igniting through sheer brute force and steely determination. It reminds me of a beast, chained to a cage but decides early on that it won't be kept there for long and wants to explore its surroundings!
The intricacies of the fret board dominate while the drums bear witness to a sonic roar and with total compassion that launches itself into the feel and mood of the track with sheer tight grooves and ongoing development.
It is safe to say that Exocrine have deemed themselves hunters making things get that little bit more interesting.
There is good reason for me to make you to believe that Exocrine are showing signs of becoming big in their genre and without a doubt will play mind games and fuck with your head!
9.5/10
Track List:
The Cycle Form
World in Fire
Medusa's Embrace
Voynich Manuscript Part I
Voynich Manuscript Part II
Parasite
The Blood for a Crown Part I
The Blood for a Crown Part II
The Last Council
Celestial Voyage
Cynic Bonus Track
Members:
Sylvain Octor – Perez – Lead Guitar
Jordy Besse – Vocals/Bass
Nicolas La Rosa – 7 & 8 Stringed Guitar
Antoine Fourre – Drums