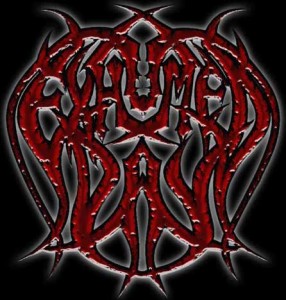 Summon: How did the band get started?
Mortis Rex: First, say hello. Well, Exhumed Day began in 1996, the band was formed with musicians who came from other bands in the south Spain area, with the idea of making ​​thrash-death metal, but with time we were entering the most extreme aspects: the black and death metal, to form the band's current style.
Summon: What kind of music do you play?
Mortis Rex: Extreme metal, we are in the death-black metal vein.
Summon: How has the fan response been?
Mortis Rex: For now the response is good. Fans will not be disappointed with this new album, follows the line of our previous album and even for us is much better.
Summon: Where did the band name come from?
Mortis Rex: The name has history, some members come from other bands and this band really was like a rebirth, a new awakening, see a new dawn…. a exhumed day.
Summon: Introduce the band members and what they do in the band.
Mortis Rex: The current line up is: Rex Mortis-vocals; J. Morgue-guitars and backing vocals; Exsul Fox-bass; Dani-drums.
Summon: Who writes the music? Lyrics?
Mortis Rex: Music is usually written by J. Morgue and lyrics by Mortis Rex, but all decided in music and the line must have the songs.
Summon: And where do the lyric ideas come from?
Mortis Rex: We talk about Satanism, gore, history, etc.. We take the ideas of ancient history and some that we invented, but based on real events.
Summon: What is your view in Satanism and Occultism?
Mortis Rex: We go against any religion. We do not believe in any religion to submit to the man and become trash or a slave to his god. We hate Christianity for everything bad he has done in the world and continues to do, but there are more religions that do the same and deserve the worst.
Summon: How many albums/CD's have you released?
Mortis Rex: Since 1996, we recorded 3 albums, "Convulsion" (self-released 1998) this was an album along the lines of thrash-death, sing entirely in Castilian, style away from the band practice today. "Madness Symphonies" (War is Imminent 2003) album of black-death metal where the letters are in English, where Satanism and gore are the main theme. "The Beauty of Putrefaction" (Crystal Eyes Records 2012) more death-black oriented, follows the same theme and the same speed of execution. Promo 2002, helped us to sign our first record contract. MCD 2006, is a continuation and a perfect bond of union between Madness and The Beauty.
Summon: Tell me about some the songs on the latest CD?
Mortis Rex: Well as I said before the songs are about Satanism and gore. "From Nun to Slut", talks about a woman who has been educated under the Catholic religion and discovers that following God is not the best way. "Catalepsy", is a man who is buried alive and feels like his life is going while others think he's dead. "Decapitated by his Wife", talks about a woman who is abused and decides to kill her husband cut off his head and walk around town. Generally all the songs tell a story, and try the music is combined with the letter.
Summon: Do you have any side projects?
Mortis Rex: No, all members are completely dedicated to the band. Right now we have no side project.
Summon: Who are some of your musical influences?
Mortis Rex: We've always had extreme metal influences of 90's and early 2000. But we also have many influences from heavy metal and rock of 80-90. Bands like Deicide, Morbid Angel, Sadus, Death, Emperor, Dark Funeral, Satyricon, Carcass, Mayhem, Behemoth, Vader, etc..
Summon: Which current bands?
Mortis Rex: Current bands that we like??…. the truth is that there are few, I was pleasantly surprised with the latest album of Fleshgod Apocalypse, Hate, Origin and Krisiun.
Summon: What is the band like when you play live?
Mortis Rex: We consider ourselves very aggressive, we demonstrate the rage and anger inside us and we want to involve the public in our stories and our thoughts. People tend to get really quite pleased with our shows.
Summon: Have you guys ever played in another country?
Mortis Rex: Nooo, it's really a shame, was impossible for us. The country that is closest to ours is Portugal and below us, is the third world (Morocco) where there is no metal scene, you can´t go and play there, so we can only move to the north. But we want to do it.
Summon: How big of crowd shows up at shows usually?
Mortis Rex: Usually, in Spain people are not flocking to the shows, just go when comes internationals bands or playing some great Spanish band. In extreme metal or underground gigs, more than 100 people is a success, but usually go a few people and in our shows this is no different. The world economic crisis is affecting a lot, no money in Spain.
Summon: How is the crowd response when you play?
Mortis Rex: Usually the answer is very good. The people in Spain, despite not attending the concerts, enjoy live music and concerts. People who know our music tends to shake his head to break his neck hehehehe, some circle pit or pogos, but there are people who stand still listening.
Summon: What do you think of the US Black Metal/Death Metal scene?
Mortis Rex: The American death metal scene has always been strong in Spain, we have always listened to bands from the scene of Florida, not to mention many bands across the continent that make good death metal. The Black Metal, however, is not so strong, most of the cult black metal bands come from northern Europe and they still are. But, we know bands like Absu, Acheron, Judas Iscariot, etc.
Summon: What do you think of the Overseas scenes?
Mortis Rex: In Europe the metal scene is very strong, especially in northern Europe, but differs because people are very cold and seem not to feel the music. By contrast, in South America the people are very passionate and live the metal, and fans are demonstrated every time when great bands visit them. By other way, have a couple of focuses where have good bands. The American scene has always been known, especially in death metal. These bands have always been very well received in Europe. And usually most European bands are very welcome in America.
Summon: What are some of new favorite black metal/death metal bands?
Mortis Rex: Almost all the bands I listen, are bands that are years in the extreme metal scene. As I said before, I like some new records, but they belong well-known bands. I always find something new that surprises me, I give the opportunity for new bands and new releases.
Summon: When do you guys plan on writing any new material?
Mortis Rex: We're always writing new material and probably start in early 2013 to record a new album. Now is stopped because we are in the promotion of this album and we'll start the presentation tour soon, but we never stop writing new material.
Summon: What does the future hold for the band??
Mortis Rex: Well, at first continue with promotion and start the tour. We want to go to many cities and would like to go to other countries to play. After that, start recording the next album, we hope will be a worthy successor of "The Beauty of Putrefaction".
Thank you very much for the interview and for allowing us to to bring our music and our band to your readers. Greetings from Spain.
Contact them at:
http://www.myspace.com/exhumedday666
http://www.facebook.com/ExhumedDay
http://www.crystaleyesrecords.com
http://www.myspace.com/crystaleyesrecords