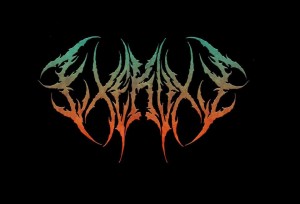 Exekute
"Doomsday Mourning"
2013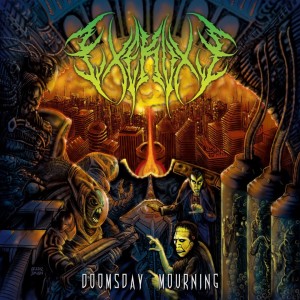 "release the vapors into the air, inhale and suffocate in the despair"

Do you love death metal like I do? How about old school Florida death metal from the likes of Death and Obituary? It doesn't get any better than that right? But it does get just as good! The band Exekute are from Sydney Australia and even though its a long way from Florida they share a lot in common with our legends of death from here in the states. Their sound for one, I haven't been so stoked about a straight up death metal release in quite some time now. And after speaking with their guitarist Elias Niahos I found out that listening to Florida death metal inspired him to write the music found on Doomsday Mourning, their four song EP and debut release out just this month of April 2013 on Grindhouse records.

The music on Doomsday is amazing and sounds amazing partly in thanks to legendary guitar man James Murphy of the bands Death and Testament! Yup, these guys got them a true guru to mix their debut and it really shows in the overall sound I can tell you. When I asked Exekute guitarist Elias about working with such a legend he told me that it was a "Very smooth and professional experience overall considering he is in Florida and I'm in Sydney. It started off as a professional mastering services relationship but I did have the odd Skype call and numerous chats on Facebook. We are good friends now. Its amazing having someone so influential in early death metal to make our product what it is and sound as good as it does.

Every slight detail from a sound engineering perspective that I didn't understand , he would fill me in about in basic English so I can fully grasp the mastering progression . A true professional. And having long conversation about each others culture , his early days working at aces records and working with chuck in death and cancer (the band) later on , to guitar conversations and then onto conversations about various things . He's a true pro and a gentleman. Someone I have major respect for and call a friend who I hope to meet in person."
Man after talking to Elias you can tell the love and respect that he has for the American death metal legend and for the music also and it shines through. You can see on recent posts on James Murphys own page that he is excited about the release of Doomsday Morning himself and yes I was excited to get my hands on a copy too for sure.

The other members of Exekute that I have not mentioned yet are Fred Jaya (Vocals),Adrian Williamson (Guitar),Jeremiah Dombek (Bass),and George Delinicolis (Drums).

The first track on Doomsday mourning is basically a minute and a half intro that is classic riffing and up tempo drumming with a doom feel leading into the song that's listed as track 2  entitled H.A.A.R.P. which is so brutal, heavy and crunchy, definitely bringing both Death and Obituary to mind and Fred Jaya's apocalyptic vocals are positively frightening and beautifully brutal at the same time. Such a pleasure to listen to. Death metal done right and the way it should be.

The third song is called Genetic monstrosity and starts out with some groove laden riffage and then off with a bang only to get faster. This hate filled anthem pummels the ear drums and showcases Georges timekeeping skills on the double bass and features a cool guitar solo to boot.

And finally we come to our closing track entitled Necrotic Debauchery which actually features a pretty hook laden chorus and the vocals that really stand out on this one sounding very black metal and death metal at the same time, and the break down in the middle of this song is to die for! It even comes with some old fashioned grindcore pig squealing and guttural vocals at the end that just leaves you pissed off that it's the last song! I want to hear more! Exekute are you listening? Make more music!

I can't say enough good things about this band and this release. I want a t-shirt to sport around in for sure, If you don't have a copy of Doomsday Mourning yet and you really love death metal…..GET ONE!

These guys are both new and fresh but have produced what sounds like an instant classic. Dig it! …….\,,,/ here is a link to the bands fb page below
Tracklist:
1. Doomsday Mourning
2. H.A.A.R.P
3. Genetic Monstrosity
4. Necrotic Debauchery
https://www.facebook.com/exekute
Members:
George Delinicolis – Drums
Fred Jaya – Vocals
Chris Puglia – Guitars
Finn Baulch – Bass
Anthony Ierardo – Guitars
Rating: 10 out of 10
~Soul Torn Down