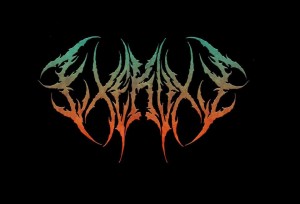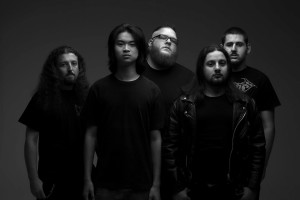 Summon: How did the band get started?
Elias: The band began officially in August of 2011, however it was various 'jam' sessions between George and I that ultimately led to the idea of forming a band.
Summon: What kind of music do you play?
Elias: We play Death Metal in the old school vain. Back from the influences of say the very late 1980's to early 1990's when death metal had ultimately established itself yet had very aggressive thrash elements in the music. Focusing on aggressive drumming, big riffs and solos as well as allowing the vocals to transform the song.
Summon: How has the fan response been?
Elias: The response has been excellent. From our very first show in January 2012, to the present day, the response has been extremely positive. We are very fortunate to have very supportive friends, family and fans and it has been beneficial of our progression as a band.
Summon: Where did the band name come from?
Elias: The band name came from George, during his high school days he wanted a band called 'Exekute', fusing the name and combining the name with equally aggressive songwriting.
Summon: Introduce the band members and what they do in the band.
Elias: Alright, we have Fred Jaya, who is the vocalist of the band. We invited him to rehearsal in September 2011, from the first time he growled right until this day, he has been extremely impressive. His vocals are extremely intense yet very clear. On the bass we have Jeremiah Dombek (Jay), who has been with us since December 2012. He has fit in very well and has grasped the songs as well as contributed to the song writing. He plays in a finger-picking style and has a very distinct bass tone that fuses into the band sound as a whole. On rhythm guitar we have Adrian Williamson, he is one half of the guitar combination in the band. He has a very tight playing style as well as very solid guitar mind when it comes to the writing process in the band. From the very first rehearsal it was a perfect fit for the style Exekute goes for. Drumming duties are occupied by co-founder George Delinicolis. His drumming is amazing, he is very versatile in drumming style. His ability to bring something unique into every single song is brilliant, his fills are very unique, being able to combine precise footwork on the bass drums with innovative hand work across cymbals and toms. He also contributes to the song writing process and allows his drumming to be prominent in the song structure. I (Elias Niahos) play lead guitar, when it comes to the song writing process as a whole, I split guitar duties with Adrian. Whether it be writing our own songs or splitting a song and writing its relevant parts, the partnership is very strong and allows for the songs to fill their potential. From a soloing point of view, I try to play in the old school vain, seeking influences primarily from Chuck from Death or Terrance from Suffocation as well as adding my specific playing style.
Summon: Who writes the music? Lyrics?
Elias: Lyrics duties are primarily occupied by Fred. Being a vocalist, he creates lyrics which are extremely well written as well as being written in the style that allows for them to be phrased appropriately for a specific song. I have written lyrics for a few songs as well when needed.
Summon: And where do the lyric ideas come from?
Elias: Lyrics have been derived from various forms. Sometimes we look up a concept (for example H.A.A.R.P or Sledgehammer Symmetry), other times we would watch movies that would want us to follow that theme (for example Rotting Mortality) and other times we would think of a title of a song first and lyrics would be written according to that song.
Summon: Tell me about some the songs on the latest CD?
Elias: So, the CD is our debut EP, entitled "Doomsday Mourning" (out via Grindhead Records, Mastered by James Murphy). It is a combination of two of our first songs written and two of our newer songs. The first track (title track) is a 90 second intro that we use live, up-tempo song that ends in a doomy type way. The second track is the first song we wrote entitled H.A.A.R.P, which is an in your face song and basically demonstrated our first ever attempt at writing a song. The 3rd track is "Genetic Monstrosity", we just wanted to go at a frenetic pace for this song. Combining speed with heaviness in this song and have a big bridge section. The final song is "Necrotic Debauchery" which we went for a groove based style, slowing it down but more of a focus on grooves and hooks.
Summon: Who are some of your musical influences?
Elias: Death, Benediction, Malevolent Creation, Monstrosity, Obituary, Dying Fetus, Gorguts, Suffocation, Cannibal Corpse, Monstrosity, Sodom, Exodus, Massacre, Demolition Hammer, Napalm Death, Pestilence. To name but a few.
Summon: When do you guys plan on writing any new material?
Elias: We are constantly writing new material, each one of the members would have a new idea that they would want to share and this would want us to expand on it and turn into something worthwhile.
Summon: What does the future hold for the band??
Elias: At this point in time, we are playing many shows supporting our release. We are planning on doing an Australian tour in the near future. On a longer scale of things we plan to play overseas as well as releasing a full length album,
Contact them at:
https://www.facebook.com/exekute
http://www.reverbnation.com/exekuteofficial
http://www.grindheadrecords.com/