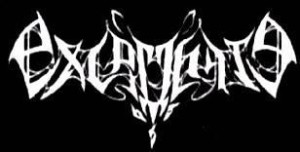 Excruciate 666
"Rites Of Torturers"
2103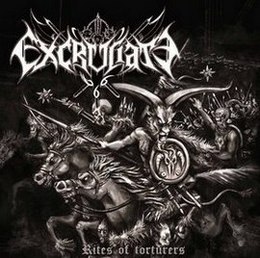 Excruciate 666 hail from France and have been around since 1994 so referencing their sound with cliche seems inappropriate. I love the sound of this kind of Black Metal. The themes, as with a number of bands from France, focus on war and warfare. 
The vocals, which I love, have a different quality than many other high raspy Black Metal singers. Morgraven's voice has the sound of an infuriated demon to his voice that is driving and addictive. Thy Antichrist 666 and Shagrath being two of my favorite singers, I prefer that cutting bite that is so amazing to hear live. 
One of the things that stood out for me are the cool speedy fills on the drums, the toms sound really awesome behind the high string tremolo picking of the guitar. The snare has a that distinct rattle to it and when focused brings to life the warfare themes the band is trying to create. 
A Call To Destruction and Obscene Perversion In Genocide I really liked, but the album is strong and consistent. I feel like there is a Burzum influence going on and fans of that era of Black Metal should enjoy Excruciate 666. Once again there is a cool cover that tells you what you are getting into. I RECOMMEND Excruciate 666.
Tracklist:
1. The Awakening Of The Tyrant
2. Sing Of Disaster
3. Rites Of Tortures
4. Sons Of Warfare
5. Tramp To Slaughter
6. Warblood
7. A Call To Destruction
8. Obscene Perversion In Genocide

https://www.facebook.com/Excruciate666
Members:
Morgraven –Bass, vocals
Blasphemort – Guitars
Oswald – Drums
O.B.X – Guitars
Rating: 8 out of 10
~Alaric Hannibal Barca