Evil Dead
Earth Inferno
9 Track Album
Witches Brew Records
Release Date: 31st January 2017
By: Pagan Hel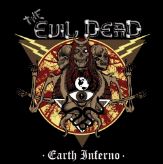 Evil Dead – Buenos Aires, Argentina
Links:
https://www.facebook.com/theevildeadargentina
Engineered by Pablo Fontan at Four Winds Studio, Produced by Michel (Guitarist),
Mixed by both Pablo & Michel
Artwork by 'Another Vision Design'
Genre: Electric Evil Metal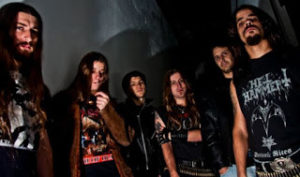 Biography:
"Imagine how it would sound if someone perspicaciously infuses the melodies from Classic Era Heavy Metal and Hard Rock with the force of Speed Metal and darkness of Melodic Black/Death Metal. The Evil Dead has experimented such a sound that is having the grooves of Thin Lizzy, AC/DC and Lynyrd Skynyrd, the outstanding harmonies of Iron Maiden, the aggression of Motörhead and Bathory, and the tenebrosity of Dissection. One can hear the slightly macerated version of Jon Nödtveidt's voice (that was later adopted by a lot of melodic black and death metal vocalists of the 90s) all over the album, where the guitarists offer a ride to enjoy the aesthetics of Blues oriented Hard Rock, New Wave of British Heavy Metal, and even Black Metal, their riffing pattern continuously changes the direction by slowing down or speeding up or sometimes even by generating grisly atmosphere. The genre of the band cannot be categorised so easily, and thus the band prefers to regard their music as "Electric Evil Metal!"
~~~~~~~~~~
I think this band are a bit of a family affair with Alejandro Regueiro – Vocals Ian Regueiro – Guitar/Backing Vocals and Michel Regueiro – Guitar/Backing Vocals I suppose it would make practising a whole lot easier providing they are all in the same household! However, on with the review: Earth Inferno is devilishly scathing and aggressive. You can almost hear the black metal vocal secretions skim past your ears leaving burn marks as they go! This band Evil Dead are from Argentina and it is hard to believe that metal expands that far across the globe, but so far this track is proving its metal. Electric Evil Revisited sparks fury into an already huge attacking riff with bold beats that desire attention and no doubt will get them in full force. Forlorn begins with a little doom and gloom but soon turns it into a paradise for power speed Metallers everywhere. It's superb that a blackened vocal is present alongside music that is so far removed from black metal it is quite an eye opener! They Live! Is a spiralling, haunting passage that screams and shouts savagery from great heights? Pumping fuelled aggressive slabs of metal through the airwaves is the only way to go! Madness Chimes is a rugged swamp of pulsating tones and winding rhythms. It marks its territory with an oozing torrent of caustic malice, both in music and in vocals. Marañon is a superb track that is starting with a melodic musical treat for the ears, and a scathing malevolent screech for lovers of extreme vocalry. Song of the Hunt is a raw and grizzly affair. Holding powerful grooves and raucous melody it does its bit to draw you in and does it with ease. The Sulfur Heart has a superb bouncing melody attached to it that is addictive and instantly likeable, I shall say it again – especially the vocals – the grizzlier the better for me and with chunky beats and strong rhythms what is not to like? Chariots of the Gods finishes the album and overturns everything in its path, causing a right fracas, but it is how I would expect an album like this to end. The bouncing grooves and melodic hues are rife and smoulder with compelling agitation and thrilling addictiveness!
I think Evil Dead have just put Argentina on the map!
9.5/10
Track List:
Earth Inferno
Electric Evil Revisited
Forlorn
They Live!
Madness Chimes
Marañon
Song of the Hunt
The Sulfur Heart
Chariots of the Gods
Line-up:
Alejandro Regueiro – Vocals
Ian Regueiro – Guitar/Backing Vocals
Michel Regueiro – Guitar/Backing Vocals
Santiago Giusti – Bass
Santiago Botalla – Drums