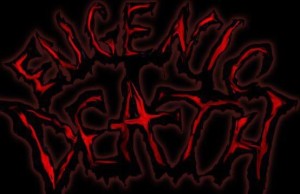 Eugenic Death
"Crimes Against Humanity"
2012
I have a bad habit I must confess. If a band is American, I instinctively listen to track 3 and 4 first. Why? The mighty dollar. Go back to major American metal releases in the 80's and 90's and I bet in most cases the single or strongest song is in that place. With Eugenic Death I listened to Medication Time first. That brings up another problem. I thought that perhaps this was comedy band like maybe the Steel Panther of Thrash. A lighter SOD even. There was something comedic about the vocalist's vocal attack. He sounds kind of like one of the pop punk bands that just make funny comments about everything. ED have a throwback sound that is genuine. Which is good and real retro. I also like the growly vocals despite waiting for a punchline that didn't come. The songs move along, real high energy and not boring at all. The guitars remind me a lot of Overkill, and once again there is a vocalist that has a comedy feel, something  that Bobby Blitz is known for lyrically.
Later tracks like Plagued By Ignorance and Epitaph are a little more heavy and serious. I like this CD for listenabilty overall. There are some things that might make you go I have heard this before. I think Thrash fans can enjoy this because the sound that isn't masked by crazy digital production.
Tracklist:
1. Crimes Against Humanity
2. Indictive Diety
3. Medication Time
4. The Devil Waits
5. Plagued by Ignorance
6. Epitaph
7. The Practice
https://www.facebook.com/Eugenic-Death-114414165293876/
Members:
Jonathan McCanless- Guitars
Keith Davis- Vocals
Shane Lucas- Bass
Jason Bowman- Drums
Rating: 8 out of 10
~Alaric Hannibal Barca
Eugenic Death
"Crimes Against Humanity"
2012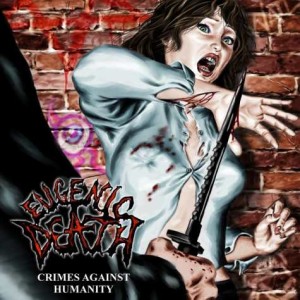 Simple songs that are good are very hard to write. Classic thrash metal grounded itself in fast, tight, and simple driving songs that contained a grand sound. Eugenic Death is a fierce thrash metal band hailing from the United States and their 2012 full-length debut album titled Crimes Against Humanity, while not the most original to hit the thrash scene, is a breath of fresh air for all those that love classic thrash metal. This is a familiar sounding album that has strong, spirited performances from everyone involved. Singer Keith Davis pulls a slight touch of Chuck Billy, but keeps his performance his own. He remains powerful though out. He is very one note, but it works for the benefit of the songs. The songs themselves are fairly straightforward. The real standout is guitarist Jonathan McCanless. McCanless gives us some brilliant classic thrash metal chugging riffs while adding in his own stylish and inventive leads. Even bass player Shane Lucas makes his presents felt at times. Never overplaying or overpowering, always keeping everything glued together. As Crimes Against Humanity plays on it becomes more creative as it sees the band stay within the limits but extends their inventive song writing a bit. The last two songs, Epitaph (an instrumental that works because of the strength of the guitar) and The Practice are the most notable on the record. Adding in more complexity and feeling while maintaining the classic thrash sense is a tough balancing act, and Eugenic Death nailed it. At thirty-one minutes this album is tight. There are no wasted moments anywhere on Crimes Against Humanity. For all those that love good thrash metal, it will be hard not to smile while listening to this record.
Tracklist:
1. Crimes Against Humanity
2. Indictive Deity
3. Medication Time
4. The Devil Waits
5. Plagued by Ignorance
6. Epitaph
7. The Practice
https://www.facebook.com/Eugenic-Death-114414165293876/
Members:
Shane Lucas – Bass
Jonathan McCanless – Guitars
Keith Davis – Vocals
Rating: 8 out of 10
~Kris