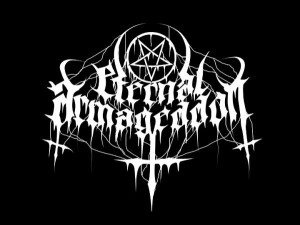 Band: Eternal Armageddon
Band Formed: 2009
Genre: Melodic Black Metal, Black/Death Metal
Discography:
Over Her Necropolis [Single, 2011. Label: G-Series, Bangladesh.]

Her Forlorn Monsoon [EP, 2012. Label: MTD Production, Malaysia.]
Members:
Invocations & Scriptures:
Asif Abrar [2009-present]
Desecrating Distortions:
Jamy The Armageddon [2009-present]
Diabolicus Hymns:
Count Morax [2009-present]
Blast Infernalia:
Kushal Warhorse [2009-present]
Hometown: Dhaka, Bangladesh
Lyrics: Suicide, Depression, Nature, Mythology, Satanism
Biography:
Eternal Armageddon is a majestic proclamation of absolute rebel against the meretricious hypocrisy and the primitive slavery of decades. It is the musical humiliation to the impotent civilization created with the filth of men. An ultimate disgrace to the morphological disorder of society. An angry denial to the domination of religious dynasties and their fragile orthodox.

Hailing from the Bengal shore, the horde is heading towards the path of enlightenment. The horde hymn the ancient Bengal mythology, evoke the evil from a long forgotten grave.

Let the evil awake! Let the eternal flame purify the ignorant soul of men! Let the ancient demon raise his Trishul against the hypocrisy, domination and orthodox! Let there be blood!

We, the Eternal Armageddon horde are summoning the dark with our unholy scriptures and diabolic symphonies.
Contact Info:

E-Mail: asifabrar1349@gmail.com
Myspace: http://www.myspace.com/eternalarmageddon
Phone: +88 01731805668
Local Address: Asif Abrar, 144/2/A, 1st Floor, Tejkuni Para, Tejgaon, Dhaka. Bangladesh.
Postal Code: 1215