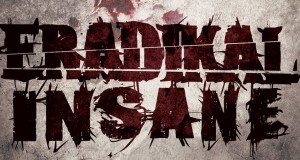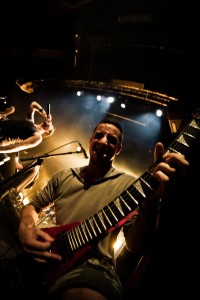 Summon: How did the band get started ?
Flo:  My brother Nico and I always wanted to create our own music. So we started a band in late 2004 from this common passion for metal music. This is how Eradikal Insane was born.
Summon:  What kind of music do you play ?
Flo:  Our music is mainly a mix of death metal and hardcore, but we don't confine it. Each one of us brings its own influence.
Summon:  How has the band response been ?
R.:  The response has been pretty incredible, especially since we released our first EP "The Dementia Process" on April 2011. We're really happy for the promo, it gives good results. Many French and international webzines are interested in interviews or reviews, a French radio station has played our music. For now, we have positive and very encouraging feedback.
Summon:  Where did the band name come from ?
Flo:  The band name's a neologism derived from the word 'insane' and the association of 'radical' with 'eradicate' to define someone at its very high level of craziness.
Summon:  Introduce the band members.
R.:  Nico and Flo are the core of Eradikal Insane, they play guitars since the beginning. Mathieu the bassist and I joined in 2007. Jtrom completed the line-up in 2008 as lead singer.
Summon:  Who writes the music ? Lyrics ?
Flo:  Everybody takes part in the music writing. R. writes most of the lyrics and determines the lyrical themes.
Summon:  And where do the lyric ideas come from ?
R.:  Basically, a lot of personal things that need to be exorcised. Readings and relationships also feed the psychological content of the lyrics.
Flo:  We know each other for years now, so we know well what are the common subjects we want to talk about. Ideas are suggested by the band or R., then it's him who develops and structures them.
Summon:  What is your view in Satanism and Occultism ?
R.:  Well… today they both tend to become an easy way of provocation for bands, who want to suit to a dark scene. And it works. But they are both misinterpreted, especially Satanism. Plus, it's kind of funny to observe some of the so-called "true Devil's adepts"… they're the entire opposite of what they pretend to be. But this concerns only a few people. You know, staying righteous in what you believe in and don't cheating with fake imagery is primordial I suppose. I'm more Luciferian-like, self-deterministic in a way. I don't follow any dogma, I have my own personal theory and practice. A spiritual path to learn to know yourself.
Flo:  I'm not an adept of any theory or "god". But as R. emphasizes, there is a large gap between the so-called followers and the true believers.
Nico:  I agree with Flo. I have no beliefs. For me, everything has an end and there's neither afterlife, nor other worlds, nor superior powers. Too many people utilize this to not face the real things. However, I have a deep respect for people who sincerely believe in something, as long as they don't impose it on others or flaunt. Each of us has its own belief, but we advocate nothing by means of the music.
Summon:  How many albums/CD's have you released ?
R.:  Despite all the demos recorded, "The Dementia Process" is our real first physical CD.
Summon:  Do you have any side projects ?
Flo:  I'd love to. But Eradikal Insane requires a lot of devotion and an enormous investment in terms of time.
Nico:  With  R., we started a two-man black metal project.
R.:  Yes, a project with Nico. I also play drums in Corpus Diavolis (www.myspace.com/corpusdiavolis).
Summon:  Who are some of your musical influences ?
R.:  We are influenced by many kinds of metal, from old school death metal to black metal, technical stuff to progressive.
Summon:  Which current bands ?
Flo:  Misery Index, Gojira, Whitechapel, The Faceless, Psycroptic, Decapitated, Aborted.
Nico:  Animals As Leaders, Cerebral Bore, Carnifex, The Black Dahlia Murder, Woe Of Tyrants.
Jtrom:  We Butter The Bread With Butter, Annotations Of An Autopsy, Despised Icon, Kronos.
R.:  Watain, Antaeus, Akercocke, Shining, Tsjuder, Burzum…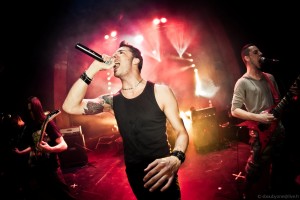 Summon:  What is the band like when you play live ?
R.:  "The beast is out" could be the right motto !
Flo:  For me, playing live is pretty transcending.
Nico:  A juggernaut.
Jtrom:  Totally insane !
Summon:  Do you have any type of stage props or special clothing ?
Nico:  Nothing special.
Summon:  What was the best band you played with ?
R.:  The French band Klone, definitely.
Flo:  Klone, Mumakil and As We Fight.
Nico:  As We Fight, Mumakil, Massive Charge, Slit.
Jtrom:  None.
Summon:  Have you guys ever played in another country ?
R.:  Not yet, sadly. But it's a question of time.
Jtrom:  No, but I'm hardly waiting !
Summon:  How big of crowd shows up at shows usually ?
Flo:  Over a hundred people.
Summon:  How is the crowd response when you play ?
Flo:  Our audience gathers friends and families and fans. Many people who heard about the band come give ear. It's always full of energy and lively.
Jtrom:  Generally, there's an excellent exchange between us and the audience. You just can't stay unsupported !
Summon:  What do you think of the US Black/Death Metal scene ?
R.:  I talk just for the black metal side. Despite one or two good bands, it's full of stereotypes and déjà vu.
Flo:  In my opinion, "US Metal" stagnates in the same range. All the bands are alike, too bad.
Nico:  Regarding the US Brutal Death US (Deeds Of Flesh, Disgorge, Vile, Decrepit Birth…) I like it a lot. Now about the Deathcore / Metalcore scene, just a handful of very good innovative bands. But in the majority, they are all copycats without any originality. For the US Black Metal… I don't even know a single band so !
Summon:  What do you think of the Overseas scenes ?
Flo: I'll answer you when I get there !
Nico:  Definitely more important than here in France.
Summon:  What are some of new favorite Black/Death Metal bands ?
Flo:  Carnifex, The Black Dahlia Murder.
Summon:  When do you guys plan on writing any new material ?
R.:  Creation is a constant thing. While we're talking, some new stuff are already on track.
Flo:  We work on the music every day. It can be new songs or improving others.
Jtrom:  As they said, we are currently writing new material.
Summon:  What does the future hold for the band ?
R.:  A full length album.
Flo:  Try to play everywhere.
Jtrom:  Everything is said. Eradikal the world !
Contact them at:
http://www.myspace.com/eradikalinsane
http://www.facebook.com/EradikalInsane?ref=ts&sk=app_178091127385#!/EradikalInsane?sk=info