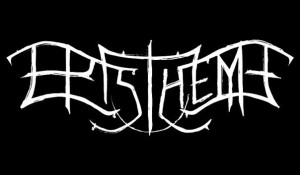 Summon: How did the band get started?
Riccardo: EpisThemE is a progressive-metal band born in Catania in May of 2010, thanks to an idea of the bass player Riccardo Liberti, member of the Italian underground Metal bands Noble Savage, Dark Maze, Denied, Jem In Eye. The project began as a studio-project with songs written exclusively by Riccardo. The decision of a studio-project was almost forced because of the difficulties in finding musicians who could have been part of a band whose aim was also to perform live. In September 2010 Riccardo decided to propose to Daniele Spagnulo (Devouring Sorrow, Jem In Eye) to join EpisThemE. After Daniele's arrival and after a few months, the search for a guitarist came to an end with the arrival of Francesco "Seven" Coluzzi. With this new line-up the band began to write new material, leaving behind everything that Riccardo had previously composed for the project. In the early months of 2011 EpisThemE started writing material for their first full-length. In the meanwhile they kept on seeking a singer but all this search was unsuccessful, so they decided to go on with the writing of the songs without the help of a singer, just to let the band grow and develop all the ideas. The result was a death/prog style, without missing melodic and clean parts and giving the songs particular sound and structure, all features that remind to a genre that is now called "Math-Metal". In June 2012, EpisThemE entered the studio to record the first 5 tracks for their demo CD. In August the band recruited Valentino Valenti (Noble Savage, Mendoza, Jem In Eye) on vocals. In May 2013 Luca Correnti (Mystura, Sinoath, Inqbdimaja) replaced Valentino behind the mic. Epistheme now look forward to begin the recording sessions of what will be their debut album and continue to perform live. 15/11/13 Enrico Grillo (guitar) joins the band. April 2014 "Descending Patterns" first release.
Summon: What kind of music do you play?
Francesco: Progressive metal, with various influences. We care more about the atmosphere of our songs, rather than about the "genre".
Summon: How has the fan response been?
Francesco: Good, and we' re glad about it. We had a good response even before the release of "Descending Patterns"; after the release, the response was even better.
Summon: Where did the band name come from?
Francesco: Riccardo came up with the name, even before asking us to join the band. He liked the meaning of the Greek word "Episteme".
Summon: Introduce the band members and what they do in the band.
Riccardo Liberti: bass, public relations, getting excited when new reviews of our album are published. Daniele Spagnulo: drums, transforming simple beats in very complicated ones.
Francesco 'Seven' Coluzzi: guitars, complaining when the songs' mood "doesn't feel right".
Luca Correnti: vocals, yellin' at the mayor during the gigs.
Enrico Grillo: guitars, strugglin' with the Min-Etune of his Les Paul.
Summon: Who writes the music? Lyrics?
Francesco: Almost all the songs on "Descending Patterns" were composed starting from a bunch of riffs written by me (Francesco); everyone contributed with some ideas, then the songs were arranged. The main riff in "Blindside" was written by Riccardo, while "Shades Of May" and "Nemesis" were written by me and arranged by all of us. The lyrics were written by Valentino Valenti (our former singer) and Luca, except for "Nemesis", written by me.
Summon: And where do the lyric ideas come from?
Francesco: They're mostly introspective. Feelings, emotions, isolation, madness, suffering, hate, love, that kind of stuff.
Summon: What is your view in Satanism and Occultism?
Francesco: Uhm, I don't think we have ever talked about that… anyway, I find Occultism kind of fascinating, mostly for its pagan roots; Satanism… well, I find it funny, makes me laugh very often.
Summon: How many albums/CD's have you released?
Francesco: One full length. That's all!
Summon: Tell me about some the songs on the latest CD?
Francesco: Well, they're all very "inspired". Each one of them has a specific meaning and a reason to be on the CD. I'm very attached to "Nemesis" and "Shades of May" of course, but also to "Erase That Frame", which was the very first song we wrote. Fun fact: "Shades of May" should have another guitar track, which wasn't recorded on the album, but is played live. Come see us!

Summon: Do you have any side projects?
Francesco: I have a one-man-band side project, but I'm not spending enough time on it; Daniele has quite a lot of side projects, Luca has another band, Inqbdmaja, Riccardo doesn't have any side project at the moment, and Enrico doesn't have any side project at the moment, we enslaved him and force him to work for us only.
Summon: Who are some of your musical influences?
Riccardo: Riccardo: Black Sabbath, Weather Report, JetrhoTull, Genesis, Led Zeppelin, Deep Purple, Megadeth, Opeth, Pantera, Death, Porcupine Tree, In Flames, Dark Tranquillity, At the Gates, Judas Priest, Iron Maiden, Saxon, Testament, Slayer, Metallica, Nevermore, Motorhead, Depeche Mode.
Daniele: Death, Emperor, Ihsahn, Meshuggah, Cynic, Carcass, Megadeth, Iron Maiden.
Francesco: Opeth, Porcupine Tree, Dream Theater, Dark Tranquility.
Luca: Slayer, Slipknot, Pantera, Moltheni, Death, Carcass, Stone Sour, Il Nucleo, Meshuggah, Mnemic, Sepultura, Hatesphere, Decapitated.
Enrico: Megadeth, Carcass, Testament, Death and so many other.
Summon: Which current bands?
Francesco: For me, Porcupine Tree and Steven Wilson, mostly. I'd like to mention Opeth too, but their last 2 albums will probably not influence me, even if they're pretty good.
Summon: What is the band like when you play live?
Francesco: We put a lot of energy, when we play live. It doesn't matter if we have to play 2 songs or the full album: we give everything.
Summon: Have you guys ever played in another country?
Francesco: Not yet, looking forward to it!
Summon: How big of crowd shows up at shows usually?
Francesco: Well, it depends. Small clubs, around 50 people; big events (open air, etc.), even 100 – 200+ people.
Summon: How is the crowd response when you play?
Francesco: Very good! We love feeling the energy we give coming back from the crowd.
Summon: What do you think of the US Black Metal/Death Metal scene?
Riccardo: Obituary, Morbid Angel, Suffocation are my favorite death metal bands. Agalloch is my favorite black metal band.
Summon: What do you think of the Overseas scenes?
Riccardo: Lately I've stopped with the new plays.
Summon: What are some of new favorite black metal/death metal bands?
Riccardo: There are new bands that we were particularly impressed.
Summon: When do you guys plan on writing any new material?
Francesco: We're already workin' on it! We have a bunch of new songs, some are ready for the arrangement phase, others are being written.
Summon: What does the future hold for the band??
Francesco: A lot of work, that's for sure! We'll keep on writing songs, recording, and playing live. Hope you' ll enjoy our music! Thank you for the interview, keep up the good work!
Contact them at:
https://www.facebook.com/epistheme
http://www.reverbnation.com/epistheme
https://twitter.com/EpisThemE1
https://www.youtube.com/user/EpisthemeOfficial