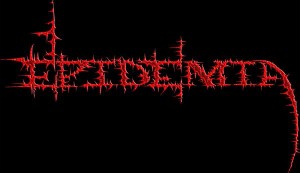 Epidemia, Quito death metal band formed in September 2003, initially by Adrian Salazar (vocals), Christian Naranjo (guitar), Jean Paul Sanafria (guitar), Daniel Villarreal (drums) and Edison Avellaneda (low). In that year the band recorded a promotional demo called Decadent Humanity and participated in a number of concerts in the country.
Epidemic in 2005 recorded his first album called Mutilator Corporation which had seven issues an intro and outro, after recording, the band suffered the first change in their lineup, entering Daniel Murillo on bass.
By then the band had already renowned within the Ecuadorian undergound scene and participated in festivals in virtually every city of Ecuador, and in 2007 the band called Corpse I promote a simple Possesed, and in August of the same year they opened Cannibal Corpse, from 2008 to 2009 the band continued playing regularly in the country as the opening act for Mortal Sin and Obituary, in 2010 the band recorded another single called Repulsive Existence and later in the same year for the first time epidemic goes out from Ecuador to Lima Peru at a concert in which the band played with monstrosity.
In 2011 the band took a break due to restructuring it.
Currently, the band returns with the following line Adrian Salazar (vocals), Daniel Villarreal (drums), Juan Carlos Cahuasqui (guitar), Roberto Amores (guitar), and Daniel Murillo (bass), and next to launch a demo tape in live only for collectors.
Discography:
Demo: Decadente Humanidad 2003
CD: Mutilador de Cuerpos 2006
Promo: Corpse Possessed 2007 Promo: Repulsive Existence 2010 Demo: Exterminio CD: Corpse Possessed