Empire Of The Scourged
"Transcend Into Oblivion"
2013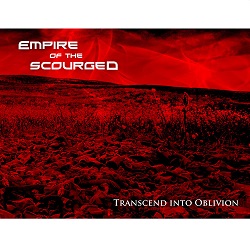 I am all for trying something new. I have nothing against keyboards/synth as a rule. But when your keyboards and synthesizers sound like they were lifted from Vangelis or Tangerine Dream you have me at a loss. If I had to listen to New Wave at any point in my life I would most likely be in prison right now. Fill in the crimes with your own imagination. Fortunately not the entire Demo is just keyboard bombardment. I can honestly say that A Scarred Horizon is an awesome track.
Empire Of The Scourged if separated from the synth industrial sound would be a Death Metal band complete with growling somewhat guttural vocals. Fuzzy guitar tones and straight forward power chord rhythms. 
I can see after reading some of the reviews that this effort at trying something different can be appealing. I have no doubt that there are those who will love this. It just doesn't work because the keyboards/synth  here are not inspired with a creative new sound or style. Neither were they way back when Eddie Van Halen added them to their sound, they were right out of the box keyboards. I would reject also the description as avant garde fore these reasons as well.
Maybe this will grow on me, I am one who is always willing to empathize and evolve my ideas and opinions.
Tracklist:
1. Der Wanderer uber dem Nebelsee
2. Hollow Machinations of the Foul Spirited
3. Trapped in This Massive Process
4. Foul Machinations of a Hollow Spirit
5. A Scarred Horizon


https://www.facebook.com/Empireofthescourged
Members:
PR – Bass/Clean Vocals
AW – Drums/Synths/Add. Vocals
RP – Guitars
FP – Synths/Add. Vocals
RM – Vocals
LV – Guitars/Synths
Rating: 6 out or 10
~Alaric Hannibal Barca