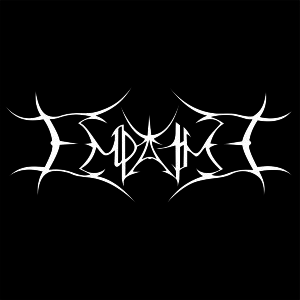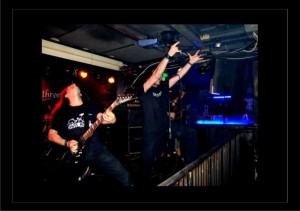 Summon: How did the band get started?
Archon: We came together as a band since 2002 as a company of 4 metalheads.
Summon: What kind of music do you play?
Archon: They describe us as a death metal, others as black or thrash metal band. We say that we are playing, just metal. We didn't stuck in just one kind of metal. We have no limits in our music. But if we must describe our music, we call it "extreme metal".
Summon: How has the fan response been?
Archon: Luckily we have no fans but friends. We think that the word FAN is a bit distand. We always had personal relations with our followers and we never consider anyone as a fan. If this ever happens then the identity of Empathy is lost. We are a band of a huge party.
Summon: Where did the band name come from?
Archon: The name came from the Greek word Empathia which means, biased, negative or hostile attitude. I know that in the English language the meaning is completely different.
Summon: Introduce the band members and what they do in the band.
Archon: Misanthrope (Vocals). Archon (Guitars/Backing Vocals). Vlad (Vocals). Disorder (Bass). Hatzi (Drums).
Summon: Who writes the music? Lyrics?
Archon: The music and lyrics are written by everyone in the band.
Summon: And where do the lyric ideas come from?
Archon: The lyrics usually concern the everyday life. Personal cases of our life. Some ideas are taken from horror films or metaphysical experience.
Summon: What is your view in Satanism and Occultism?
Archon: If you believe in Satan's existence automatically you believe in God's existence as well. From this point of view i can't see the reason to be a Satan's follower because he is weaker as existence than God. As Empathy we drove away any kind of occultism. The reason is that we don't see any use to be an idiot in any stage of life. Actually we believe that satanists are completely idiots. We respect any believer, atheist but not the Antichristians, Antibudists, Antimuslims and fanatics of any kind. To be "anti-something" means that you do not have any judgment and strength to make something new. You simply want to destroy whatever bothers you.
Summon: How many albums/CD's have you released?
Archon: We pay more attention on live appearances than any studio release. Our songs are more than enough to cover 3 full length albums. However we have released only 3 demo CDs.
Summon: Do you have any side projects?
Archon: Yes we do. Hatzi and Archon are behind the Celtefog band (Black/Ambient Metal). I met Vlad from Discretion (Death Metal), Hatzi is also a member of Discretion. Vlad, Hatzi and Archon are working in a project called Scirtus. It is a folk metal band, influenced by the Greek mythology and history.
Summon: Who are some of your musical influences?
Archon: Our main influence is metal and punk in general. Everyone is on different king of music. From Heavy/Power metal to Black or Punk. That's why there is a great variety in our music.
Summon: What is the band like when you play live?
Archon: Total madness. We love being on stage. That's the reason of playing in a metal band.
Summon: Have you guys ever played in another country?
Archon: Unfortunately it didn't happened yet. It will happen in the near future.
Summon: How big of crowd shows up at shows usually?
Archon: We usually play in middle capacity clubs or open stages. About 200 or 300 friends.
Summon: How is the crowd response when you play?
Archon: As I said we play in front of friends. They know every single song of Empathy which means they go berserk in our shows. That's fucking great!!!
Summon: What do you think of the US Black Metal/Death Metal scene?
Archon: We believe that USA is the mother of Death Metal. We are fans of Death, Obituary, Slayer, Cannibal Corpse etc. We also believe that Black Metal is a bit underestimated. There is a lot of talent and we are certain that it will grow as it should be. Do not forget about "Wolves in the Throne Room" or Black Chalice" that origin from USA and we love them.
Summon: What are some of new favorite black metal/death metal bands?
Archon: There are many notable new bands out there. The list is very long. I could place Discretion on top of that list.
Summon: When do you guys plan on writing any new material?
Archon: We are composing the music of our first full length album. This album will contain 10 songs. The first 6 tracks are ready and we are composing the music for the rest. The lyrical themes approaches the everyday life of the people in the war zones. It is going to be an aggressive record and we expect the rage from the fanatics. We faced reactions from idiots in the past. We can handle it.
Summon: What does the future hold for the band??
Archon: A lot of live appearances like in the past. We love being on stage as i said. We love being in touch with our friends and of course our first album. This would be a wonderful future for Empathy.
Thanks for the interview
Contact them at:
https://facebook.com/empathy999