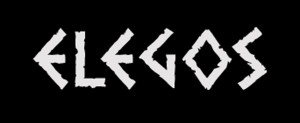 Summon: How did the band get started?
Admetos: The project of Elegos had been in our minds for many years, since me and Mantitheos have been playing together in some other black metal bands. We begun to compose some songs as Elegos, experimentally in the beginning, we liked the result and so decided to form the band.
Summon: What kind of music do you play?
Mantitheos: We play Black Metal, with some epic and folk elements. It's always in our minds to awake epical feelings to the listener.
Summon: How has the fan response been?
Admetos: The feedback that we get from the fans is very encouraging and promising. We receive many good words regarding our music, and we would like to thank all those that support us.
Summon: Where did the band name come from?
Mantitheos: Elegos is an ancient Hellenic term, that described mournful songs, usually followed by the tunes of a pipe. Later on, as war poems they praised and induced acts of heroism. This is exactly what we want to express through our songs and so we chose to name the band as Elegos.
Summon: Introduce the band members and what they do in the band.
Admetos: The band consists of two members, Admetos and Mantitheos. Mantitheos is the vocalist, while I play all the instruments.
Summon: Who writes the music? Lyrics?
Mantitheos: All music is composed by Admetos, while all lyrics are by me.
Summon: And where do the lyric ideas come from?
Mantitheos: The lyrical themes of our music are about ancient battles, fallen warriors and acts of heroism. Lyrics play an important role in our music, and we always try to elicit an epic feeling from both our music and our lyrics. The major pool of ideas for our lyrics is Ancient Greece, where our ancestors had a strong belief in their Gods, and fought for their country when needed. Apart from that they introduced and founded arts, philosophy and science, and that is what inspired us.
Summon: What is your view in Satanism and Occultism?
Admetos: Beliefs as Satanism and Occultism do not relate to our music. Personally though I believe that free thinking and free belief is the core of our existence and so one can express his self as he pleases.
Summon: How many albums/CD's have you released?
Admetos: Recently we self-released our first demo, entitled "To Those Lying in the Fields of Glory" in limited 40 copies. We have written some new material though, and soon enough we'll enter the studio to start recording our first full length album.
Summon: Tell me about some the songs on the latest CD?
Mantitheos: The demo consists of 2 songs. The first song is called "The Last Remembrance of a Dying Warrior", and is a low tempo epic song about the last thoughts of a great warrior who after many victories finally died in battle. The second is the one that gives the title to the demo, and is dedicated to all those brave that gave their life for freedom, in battlefields full of glory and honor.
Summon: Do you have any side projects?
Admetos: At the time being we have no side projects. However, I write songs that someday might give birth to a side project.
Summon: Who are some of your musical influences?
Admetos: We are both huge fans of the Hellenic Black Metal style, and specific some extremely good bands like Kawir and Rotting Christ. We also have been inspired by the British Black Metal wave, with bands like Winterfylleth, Wodensthrone predominating our tastes. I am also keen on folk and neofolk music, as well as ambient black metal.
Summon: Which current bands?
Mantitheos: Apart from the bands that Admetos mentioned above, some all time classics are Burzum, Mayhem, Drudkh, early Ulver and the list could go on and on…
Summon: What is the band like when you play live?
Admetos: We haven't yet performed live. However, we're in discussions for a couple of live shows, which we are more than looking forward to take place.
Summon: What do you think of the US Black Metal/Death Metal scene?
Mantitheos: I think that the US Black Metal scene is pretty good, and still progressing. Bands like Agalloch, Wolves in the Throne Room and Falls of Rauros are among the best Black Metal bands worldwide.
Summon: What do you think of the Overseas scenes?
Admetos: I really like many of the European Black Metal scenes. Apart from the Hellenic, the British, Norwegian, German, and the Ukrainian and Russian scenes have their own distinguishable sound which we enjoy listening to.
Summon: What are some of new favorite black metal/death metal bands?
Mantitheos: I always try to listen to emerging bands, really enjoying the feeling of discovering fresh great bands. If I started to list them though, I would probably never stop…
Summon: When do you guys plan on writing any new material?
Admetos: Soon, really soon. We have the material, we are now just working on the details to make them exactly as we've imagined them. I believe that in a couple of months we will enter the studio to start the recordings! So stay tuned…
Summon: What does the future hold for the band?
Admetos: Our first priority is to record our first full length album. That is something that never escapes our minds. We also are in discussions for some live performances, which we are more than looking forward to take place!
Contact them at:
https://www.facebook.com/pages/Elegos/1521295141482174
https://www.elegos.bandcamp.com