Summon: How did the band get started?
Ruslan & Oleg: In 2007 or 2008 after unsuccessful youth attempts we decided to make a real band, the group consisted of 3 people and we rushed about from punk to metal, but after a few years we threw back all unnecessary and still playing like duo.

Summon: What kind of music do you play?
Ruslan & Oleg: That's always hard question for us. The music we play is eclectic because we always want to play all styles at once, but what would we have not recorded we still position ourselves as a group that plays dark and leisurely.

Summon: Where did the band name come from?
Ruslan & Oleg: The name Electric Jesus us very amused, then we're analyzed most popular names of sludge\stoner groups and realized that it is the most known words in the title. Then we combined it into one word and got a great sarcasm and sneer from our side. And letter Z appeared thanks church candle with a similar inscription.
Summon: Introduce the band members and what they do in the band.
Ruslan: Plays guitar (which is bass simultaneously) and yells at a microphone.
Oleg: He plays the drums as said Eric Cartman – and beats out them out of last spirit.
Summon: Who writes the music? Lyrics?
Ruslan & Oleg: Ruslan comes up a riff and then Oleg picks on his drums. Together choose the best sequence and the further style songs and Ruslan completely writes the lyrics.
Summon: And where do the lyric ideas come from?
Ruslan & Oleg: Except for the historical events,  book or movie that is born of bullshit that you see every day in the life. All this is mixed and activates personal experiences with any questions. The most common theme is gloomy selfishness and fatalism of life.
Summon: What is your view in Satanism and Occultism?
Ruslan & Oleg: We do not believe in religion or Christianity, nor anti-Christianity, as a set of symbols, ceremonies, rituals and dogmas. We do not fight with anyone, we are away from it. But it is necessary to say that in contrast to the same Christianity in Satanism fairly allure external component, this does not take away. Instead of all this, we recognize the "death drive" if you use the concepts of Freudian psychoanalysis, it is more compatible with our lives.
Ruslan: About the occult, sometimes I like to read books of Helena Blavatsky and Papus, pretty entertaining reading, or "Hammer of the Witches".
Summon: How many albums/CD's have you released?
Ruslan & Oleg: For all the time we released:
demo – available online
split with group The Grayscales (Russian label Destroy Sounds Records released it on CD)
and the debut album – we wanted to release vinyl, but in the end everything went ashes, and we decided not to pollute the planet unnecessary plastic (although if we go on tour we will publish a limited edition on CD).
Summon: Tell me about some the songs on the latest CD?
Ruslan & Oleg: There is a song for every taste – there irony on suicide, a fully text from entry of the Russian serial, about the place of art in human life, the injustices in life, hypocrisy, etc.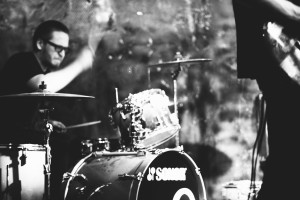 Summon: Do you have any side projects?
Ruslan & Oleg: Ruslan parallel plays at grunge group – Diet Pill  and played a little in sludge/doom group The Fall of Mammoth.
Summon: Who are some of your musical influences? Which current bands?
Ruslan & Oleg: We have always orient on such styles like – sludge, drone, doom, at the same time we also love grindcore, crust and thrash. Of course it is groups such as Melvins, Jucifer, Earth, Today is the Day, Bolt Thrower, Dystopia, Burning Witch, Acid Bath, Monarch.
Summon: Have you guys ever played in another country?
Ruslan & Oleg: No, but in the near future we want to correct this omission.
Summon: How big of crowd shows up at shows usually?
Ruslan & Oleg: Not as much as we would like but sometimes a bit crowded.
Summon: How is the crowd response when you play?
Ruslan & Oleg: Sometimes people just leave the room (ha ha ha). But often make merry or shaking their heads to the beat.
Summon: What do you think of the US Black Metal/Death Metal scene?
Ruslan & Oleg: We like blackened punk and blackened crust and do not like groups with prefixes post, atmospheric black metal (except group Ambersmoke, who released the debut album this year). We also like group Wolves in The Throne Room, but not the group who followed them, so to say the group Cascadian wave. As for the American death metal here we will look like all another and call group from Relapse –  Deicide, Nile, Devourment. Well, continuing the theme of banality we like group Winter.
Summon: What are some of new favorite black metal/death metal bands?
Ruslan & Oleg: Of new releases for this year's of black metal we like the album Darkthrone and Nocturno Culto – Gift of Gods – Receive (though there is no Black). And also groups Blackrat, Bloodmoon, Skeletonwitch. Death Metal not much has been heard this year, although we like to  highlight new albums of Autopsy and Grave Upheaval.
Summon: When do you guys plan on writing any new material?
Ruslan & Oleg: We have already got to write new material and have some successes, most likely it will be EP of leisurely songs.
Summon: What does the future hold for the band??
Ruslan & Oleg: We hope to continue and started to play wherever have not played. And of course the new releases as the forces and capabilities.
Contact them at:
http://electricjezus.bandcamp.com/
https://www.facebook.com/pages/Electricjezus/575252375818127